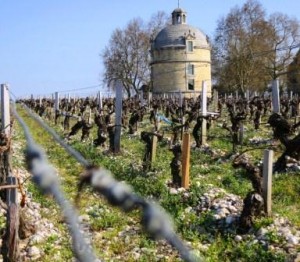 2011 Latour – 2011 Chateau Latour was crafted from an assemblage of 84.5 % Cabernet Sauvignon, 15% Merlot and .5% Petit Verdot, this vintage represents just 34% of the production. 3% press wine was added to blend, which is  half of what's normally included in the assemblage. The estate continues its march towards biodynamic farming. At this point, 62 acres are farmed using biodynamic techniques. The eventual goal of Chateau Latour is to become completely biodynamic within a few years.
2011 Chateau Latour is dark ruby in color with purple accents at the rim, the perfume offers wet forest floor aromas, cassis, cedar wood, spice, earth and blackberry. Subtle, refined and elegant, this finesse style of Latour is long, clean and pure.  Lacking the concentration of 2010 or 2009, the stylish 2011 Latour is long and filled with pure, spicy cassis in the fresh finish. 94-96 Pts
Chateau Latour announced 2011 Chateau Latour was the last vintage that would be sold as a future. Subsequent years would be offered when the chateau deemed the wine to be ready for drinking. The wines of Chateau Latour would still be sold through Bordeaux negociants. Chateau Latour is one of the few wines able to successfully follow this business model for numerous reasons. It remains to be seen if other estates follow this trend.
2011 Les Forts de Latour – Blending 61.5% Cabernet Sauvignon, 35% Merlot, 3% Petit Verdot and a tiny portion of Cabernet Franc, the wine represents 43% of the production. Deep ruby in color with scents of truffle, cassis, earth and blackberry, this is fresh, bright and vigorous in the mouth. The wine ends with clean cassis and spice. 90-92 Pts
2011 Pauillac de Latour – Produced from 62.5% Cabernet Sauvignon and 37.5% Merlot, this wine represents 23% of the production. The third wine of Latour is deep ruby in color, with cedar, earth and cassis on the nose. Fresh, spicy cassis and cherry in the finish.  88 – 90 Pts
Following the barrel tasting of 2011 Chateau Latour, I was able to taste 2009 Chateau Latour in bottle on this trip as well. If one wine from Medoc deserved more than 100 Pts, this is the wine!
2009 Latour – Inky dark, ruby in color, Complex aromas of truffle, cedar wood, cassis, blackberry, blueberry, smoke, cherry wood, tobacco and forest floor.  The wine coats your mouth with pure silk, and velvet intensity.  Incredibly lush and opulent, layers of sweet cassis, black cherry, plum and blackberry coat your senses.  Beautiful, fresh and pure, with a finish that remains and builds for over 90 seconds… there was no way on earth I was going to spit this wine out. It was so good, I wanted to cancel my remaining appointments for the day and drink the entire bottle, peacefully relaxing in their vineyards. . And it was only 9:00 in the morning!  100 Pts