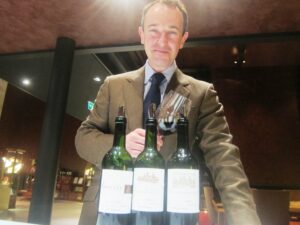 2010 Cos d'Estournel 2010 Bordeaux Wine review, tasting notes and ratings.
2010 Cos D'Estournel  was produced from 78% Cabernet Sauvignon, 19% Merlot, 2% Cabernet Franc and the remainder Petit Verdot. The wine reached 14.5 % alcohol which is a little lower than they achieved in 2009.  Representing 55% of the harvest, the 2010 Cos d'Estournel looks as dark as a midnight sky, with coaxing the wine offers smoke, Asian spice, cassis, boysenberry, stone and minerality in the complex nose.  Powerful, dense, pure and packed with tannins as well as a wall of fruit, this wine requires serious aging. Long, fresh and mouth filling, while the tannin levels are less than they were in 2009, due to the higher levels of acidity, (which shaped the wines character) the wine feels more tannic.  This broad shouldered, muscular wine will not be fun to drink in its youth. In time, it may become the perfect blend of tradition and modern. Tasters who were not happy with 2009 Cos should love this wine, as it's closer in style to 2005, with a dash of 1986 blended in, than it is to 2009.  96-98 Pts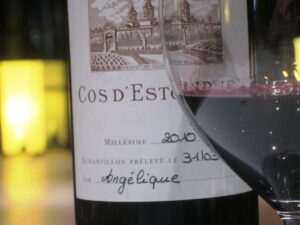 Prats thinks 2010 Cos d'Estournel is a perfect definition of what Bordeaux does at its best,blending austerity, power and elegance. While he loves the 2009 for its glamorous style, he considers that a unique vintage for the chateau.
With the new gravity cellars at Cos d'Estournel, it appears like Prats is seeking perfection in wine. Is he?  We discussed optical sorters, a technique that is not used at the chateau.  Prats is not using the machine because he likes a little of the character that a small amount of stems adds to the wine.  Provided they are ripe and brown in color, which can add acidity along with tannin and character if included in a very small quantity. 
2010 Les Pagodes de Cos from an assemblage of 62% Cabernet Sauvignon, 38% Merlot, this is a brawny, focused and straight forward style of wine. In the mouth, the wine is tannic, fresh and filled with dark berries.  Prats called this vintage a severe style of Pagodes that requires time. 90-92 Pts