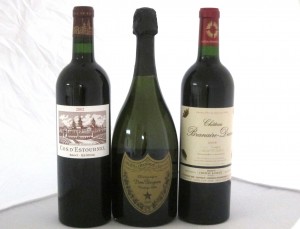 Win Free Bordeaux Wine or a bottle of Dom Perignon Champagne!
Normally, when something is too good to be true, it is too good to be true. But not in this case. If you want to win free wine, all you have to do is share your thoughts on any wine topic of your choice. The best post of the week wins a bottle of 2004 Chateau Cos d'Estournel, St. Estephe, 1999 Dom Perignon Champagne or 2005 Chateau Branaire Ducru  St. Julien .
Manfred Krankl of Sine Qua Non just signed up and made his first post. If Manfred can hang out and post, you can too!
It's easy to enter or win.
All Bordeaux wine and Dom Perignon prizes are courtesy of Macarthur Beverages, Fine Wine and Spirits since 1957 – www.bassins.com/- 1 -202-338-1433