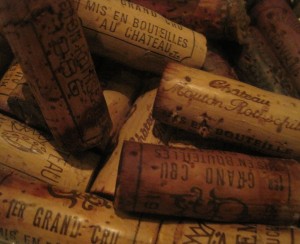 It's always a great night when dinner is paired with Bordeaux wine like Haut Brion, Latour, Mouton Rothschild, Leoville Las Cases, and ends with d'Yquem. But it's even better when it's being held your first night in Hong Kong! That's what happened with John Kapon Acker Merrall.
After three days in Shanghai, I was set to leave in the morning for Hong Kong.  With my ticket and suit case in hand, I was off to the airport with time to spare. Or was I?  The hotel doorman told the cab driver Shanghai airport.  That was what I wanted to hear. Telling the driver to bring me to correct terminal would have been better.  But then I would have missed out the fun of trying to find the right terminal, which as it turned out, was not in the airport! You got there by bus.  While most visible signs were in Chinese, the signage for the bus was in English.   Paraphrasing it, the sign read, "You are at the wrong terminal. This bus will take you where you should have gone in the first place. It leaves every 30 minutes and it takes 30 minutes to get there. Sit down and enjoy the ride." 
It's a good thing my flight was cancelled as I might have missed it.  The next flight was set for an hour later.  I was still set to be on time for the dinner in Hong Kong. The plane was empty. This was the kind of flight you never see any more.  Entire empty rows beckoned you to raise their stiff arms and take advantage of the equivalent of a badly stuffed mattress that was better suited for Sanford and Son.
Entering Hong Kong was a breeze.  Getting my luggage wasn't.  First on, first off did not apply.  It was first on, last off.  My bag was the last one to appear, rising like a Phoenix from the distance, we were finally reunited and ready. 
A land sea record was set last night. I checked into my hotel at 6:45. Dinner was set for 7.  In a quarter of an hour, I managed to unpack, shower, shave, put on a suit and make it out the front door.  Several flights of Bordeaux wine were calling my name and who was I not to answer?
Flight 1
2001 Latour opens with cassis, spice, cedar, earth and blackberry notes.  This is an elegant style of Latour that will drink well early.  While charming, it lacks the body and depth found in the best years for this Bordeaux wine producer.  Another 5-7 years will add more complexity to this wine.  93 Pts
2001 Mouton is already showing secondary notes.  Smoke, truffle, cassis, burnt leaves and blackberries make up the perfume. The hint of greenness in the finish is not helped by the sensation of cranberry which ends with a fresh cassis note. Still young, it may flesh out in the future. But I'm not holding my breath. 91 Pts
Flight 2
1990 Leoville Las Cases makes itself known with aromatics of Asian spice, earth, fresh blackberry, caramel, cigar box, tobacco and cassis. This powerful, full bodied, rich, intense wine is polished, sophisticated and intense. It fills your mouth with strong, ripe tannins and round textures. The long, pure, concentrated finish could be mistaken for a top First Growth from a great year. Still young, this can be enjoyed today, but it's only going to get better with time. 97
1989 Leoville Las Cases offers tobacco, truffle, spice, red and black fruits and forest floor notes. Full bodied, and filled with cassis, the wine does not fully come together. The traditional finish ends with cassis and a slight hint of tart cherry. This will not improve. 91 Pts
1982 Leoville Las Cases is all about the aromatics.  Underbrush, truffle, forest floor, tobacco, charcoal and cassis.  Tannic and powerful, but lacking the finesse and grace, as well as the level of ripeness in the tannins that the 1990 shows.  The wine ends in a long, black cherry, spice and cassis filled finish. 95 Pts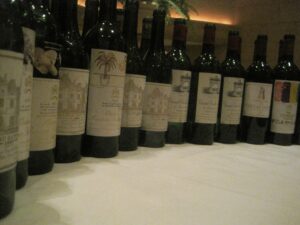 Flight 3
1982 Haut Brion offers smoke, Mesquite wood, truffles, earth, caramel, Cuban cigar tobacco and stone aromatics.  With polished, round, silky, opulent textures, this sexy wine ends with waves of soft, velvet laced fruit.  This is drinking great today, But it should improve for at least another 15-20 years. 97
1985 Haut Brion gets better each time I taste it. It is in competition for the wine of the vintage.  Smoke, ash, leather, tar, tobacco, forest, BBQ and hot brick aromatics are all over the place. In the mouth, the wine offers soft, elegant, juicy, plums with round, plush textures. The wine ends with layers of silky, dark chocolate, black cherry and spice flavors. 96 Pts
1988 Haut Brion is a traditional style of Haut Brion.  Cassis, spice, earth, smoke, mushroom and tobacco notes open the perfume.  Full bodied and filled with ripe, juicy cassis, the wine lacks the polish and ripeness found in the top vintages.  93 Pts
1989 Haut Brion remains the quintessential Haut Brion of our time.  At 21 years of age, this wine is still young.  Tar, incense, smoke, tobacco, truffle, bitter chocolate and crushed stone with forest floor scents make up the perfume. This concentrated, dense, powerful wine fills your palate with multiple layers of dark berries and plums. This intense wine demands another decade before it begins to reveal its secrets.  99 Pts
Flight 4
1986 Mouton Rothschild remains an adolescent.  That is quite an accomplishment for a wine that is approaching 25 years of age! Asian spice, tobacco, cigar box, cedar, smoke, black cherry and cassis,  This special wine is packed and stacked with dense, powerful, layers of exotic fruit. But it remains almost primary. There is a lot to like about this expression of Bordeaux wine, but it requires another 5-10 years before it finally opens up to reveal its magic 97 Pts
1996 Mouton Rothschild is ripe, rich, powerful and filled with juicy cassis. The fruit shows purity and intensity along with richness.  Still young, this will open early for a top vintage of Mouton. It can be enjoyed today, or held for decades. 95 Pts
2006 Mouton Rothschild is the wine of the vintage. It's only 4 years old, and its potential is already clearly evident. The best wines offer a uniqueness of character and 2006 Mouton has that in spades!  The aromatics explode from the glass.  The complex perfume is filled with primary scents of smoke, caramel, tar, espresso, coffee, chocolate, spicy black cherry and cassis.  This dense wine is extremely rich and offers multiple layers of fruit and freshness. It coats your palate with a finish that lasts close to 60 seconds!  The fruit displays an intense purity that is hard to find.  Consumers wanting to own a great vintage of Mouton should be laying down the 2006.  In my opinion, in the years to come, this will be considered one of the legendary vintages of Mouton Rothschild.  While it's expensive, it sells for less than other recent vintages like 2000, 2005 and 2009 and this is a better wine! 99 Pts
Flight 5
1986  Château d'Yquem  offers the perfect balance of acidity and sweet, ripe, honeyed tropical fruit. Pineapples, crème brulee, apricots, honey, grilled nuts and vanilla with freshness, sweetness and lift.  95 Pts
Acker Merral is hosting a two day auction this weekend in Hong Kong.  Friday is at the Island Shangri-La at 4pm HK time and again Saturday at 11am at the Grand Hyatt starting at 11am featuring over 1,300 different lots.
For more information: www.AckerAsia.com