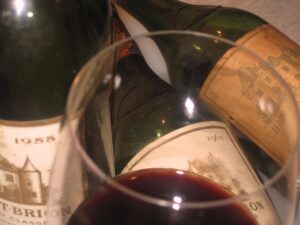 Haut Brion Wine Tasting – With my "7 Blind Men" tasting group, you never know what is going to be opened. And that's part of the experience! All the members are interesting, generous and a lot of fun. I belong to several different tasting groups. But my favorite people to drink with are members of "7 Blind Men."
We do not have many rules. However, all wines are always served double blind in peer groups. We do allow an exception when it comes to white wines. By tradition, (which was probably caused by a lack of white wines in our cellars,) whites do not need to be served in proper peer groups. It is up to the host.  For this special night, the host was Gregg Tenser.
The night opened with 85 Salon. The members that are used to tasting Champagne with some age did not feel that was a correct bottle. We moved quickly to the opening flight of white wines.
Flight #1
99 Kistler Cuvee Cathleen is a disaster. Cloudy and with orange tints, the dirty nose was not made better by the oxidized fruit on the palate. Clearly, deserves to be scored DNPIM. That's Do Not Put in Mouth for our newer readers. 75 Pts.
99 Chave Blanc was tight. Smoke, citrus, petrol and earth were found on the nose of this thick, oily wine. Young and tight, this will hopefully be better with age. 87 Pts
Flight 2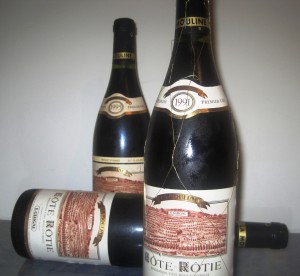 1991 La Mouline opens with bacon fat, pepper, kirsch, black cherry and earthy aromas. Plush, soft, rich and sweet on the palate, the wine offers layers of exotic textures. The finish ends with a long, spicy black cherry note. 98 Pts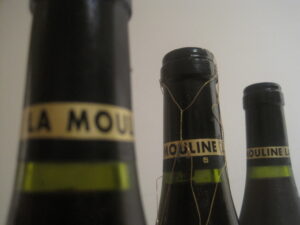 1995 La Mouline starts out with a nose filled with smoke, black cherry, kirsch, bacon fat and truffle. In the mouth, the wine is big and powerful with a lot of brightness and acidity. This high pitched wine ends with notes of kirsch, chocolate and cherries. This requires at least a few more years of bottle age. 97 Pts
1999 La Mouline is filled with smoky bacon fat, kirsch, oak and pepper. Round opulent textures are paired with a mélange of red and black fruits. This bottle seemed tight and not as fresh, concentrated or lively as other bottles. I do not think this is a perfect example as this wine usually knocks me out. 95 Pts
Flight 3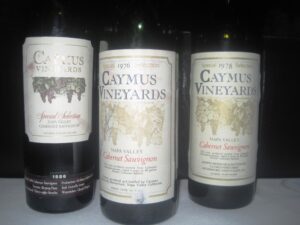 1976 Caymus Special Selection offers cherry pipe tobacco aromas, earth and hints of cassis. Full bodied and filled with fruit, the wine ends with sweet, dark chocolate and black cherry flavors. 93 Pts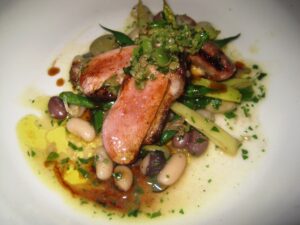 1978 Caymus Special Selection is filled with tobacco, earth, truffle, chocolate and cassis flavors. Still powerful, but with a rustic, austere sensation in the style. 94 Pts
1986 Caymus Special Selection offered an interesting nose with earthy, chocolate, cherry and cassis aromas. In the mouth, the wine was tart, bordering on lean and ended with a drying sensation. 88 Pts
Flight 4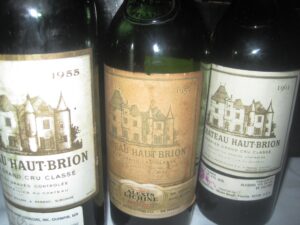 1955 Haut Brion pops with smoke, earth, fire, cassis, BBQ, tobacco and mushroom scents. Full bodied and filled with fruit, but there is a sense of greenness in the finish along with tart sensations. This Bordeaux wine offered further proof that with age, there is no such thing as great wines, just great bottles. 90 Pts
1959 Haut Brion is filled with smoke, truffle, cigar box, pipe tobacco, mineral, cassis and blackberry aromas. Supple, opulent, round and soft, this sensuously textured wine feels great as it slips and slides over your palate. 97 Pts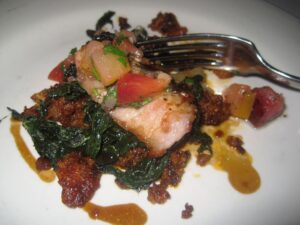 1961 Haut Brion explodes from the glass. The powerful aromatics are filled with truffle, Cuban tobacco, earth, herb, rhubarb, cigar, leather and smoke sensations. This Bordeaux wine is huge, but perfectly in balance. Soft, sweet, structured, elegant and graceful is what this feels like on your palate. The long spicy, cassis and earthy finish is pure harmony. About a glass remained in the bottle overnight. The bottle was simply left on the counter and a cork was placed back in the neck. In the morning, while some of the fruit had faded, the textures and fragrance remained. Well stored bottles will easily last another 20, 30 or 40 years! 98 Pts
Flight 5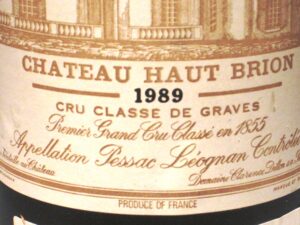 1982 Haut Brion smells like cassis was spilled over hot bricks. The perfume was further complicated with aromas of smoke, licorice, truffle, honey and wood, which added more complexity to the wine. This elegant Bordeaux wine finishes with dark chocolate and ripe black cherries. This wine continues to improve every year. It's still young, fresh and vibrant. I would not be surprised to see this get better over the next few decades or longer. 97 Pts
1989 Haut Brion steals your attention with an impressive display of kirsch, blackberry, minerality, smoke, spice and earthy aromas. The wine coats every nook and cranny of your palate with long, fresh, pure, blackberry and cassis filled flavors that must last close to sixty seconds! This is a remarkable when that is still young. If you are going to spend a lot of money on a wine, this is the wine buy. 99 Pts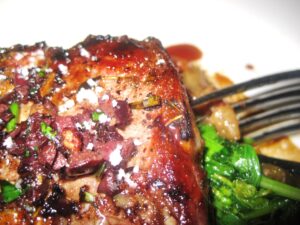 1990 Haut Brion opens with licorice, tobacco leaf, cassis, smoke, fresh herbs and stone. Soft, round, plush and sexy, this hedonistic wine pleases the palate and senses. 97 Pts
Flight 6
This was an interesting flight. Not just because it offered wines most people seldom get the chance to taste, but because the flight was supposed to feature three different vintages of Bonneau Celestins. There were definitely three bottles in the flight. And all three were Bonneau Celestins. Where's the surprise? By accident, the host brought two wines from the same vintage! Sadly, one bottle was corked. It would have been interesting if one of the members would have noticed that two of the bottles were similar in style.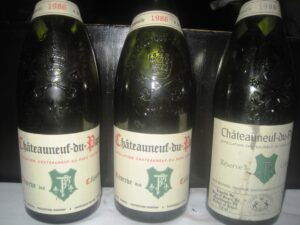 86 Bonneau Celestins offered a unique nose of orange peel, pepper, kirsch, beef blood and grilled meat. Thick, sweet, peppery, ripe and alcoholic, the wine ended with hints of orange, clay and spice. 93 Pts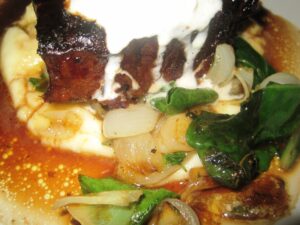 88 Bonneau Celestins opens with pepper, red and black roasted cherries, herbs, spice and earth. This is a powerful style of Chatteauneuf du Pape with a lot of structure and concentration. This is not a graceful wine. But it's an interesting style that is probably how the best Chateauneuf wines tasted in 40's, 50's and 60's. 95 Pts
Dessert wine 1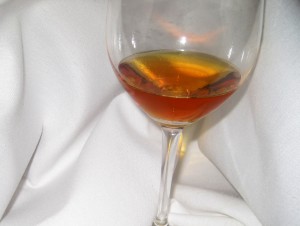 1959 Suduiraut was a revelation. I was shocked when I learned the age of this wine. I pegged it as a 76!
The wine offered orange, honey, grilled nut, caramel, coffee and crème brulee notes that were a pleasure to sniff, swirl and sip. There was ample acidity to give it lift. This Bordeaux wine ended with intertwined orange and vanilla flavors with honey that reminded me of an orangesicle. 93 Pts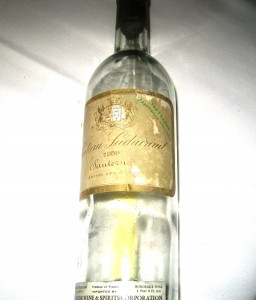 What a great night of wine, fun and friends. It's always an honor to drink with the blind men. I can assure anyone reading, with all this good wine, I did not go to bed sober. I look forward to the annual year end dinner.
google-site-verification: google1c105de83cbdf284.html