If anyone was in doubt of the popularity of Chateau Lafite in the Asian market, look no further.  The 2008 vintage of this First Growth Bordeaux wine will feature the Chinese symbol for the number 8. The symbol represents good luck, especially in the Chinese market. The symbol will appear on all bottles and magnums produced.
While this does not happen often with the traditional company, artwork has been added to previous vintages of their Bordeaux wine bottles. 1999 was embossed as was the 1985, which featured Halley's Comet.  In fact, if you travel back in time to 1811, that vintage was embossed with an image of a comet as well. 
2008 is an important year for Domaines Barons de Rothschild, the owner of Chateau Lafite Rothschild. They announced in 2009 they had started a partnership to produce wine in China with the CITIC. They plan on making wine from a 25 hectare vineyard  located in Shandong, on the Penglai peninsula which is Located roughly 300 miles southeast of Beijing.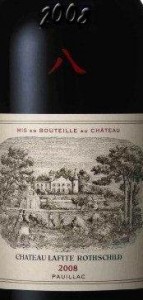 The project with the CITIC is not the first venture into Asian markets by Domaines Barons de Rothschild. DBR had  entered into a partnership with the Japanese company Suntory who also own Beychevelle in St. Julien. DBR and Suntory are  releasing a small production wine called Century. The name was chosen to honor one hundred years of wine making at  Suntory. The wine is produced from fruit grown in Suntory's Tomi No Oka Winery in Kai, Yamanashi Prefecture along with grapes grown in Shi ojiri, Nagano Prefecture,…
The wine is projected to sell for close to $250 per bottle. But good luck finding any as only 100 cases of wine were produced.
Will other Bordeaux wine producers in the Medoc  follow in the footsteps of Lafite and produce a special label or bottle?  It's possible that certain brands that are popular in the Chinese market like Grand Puy Lacoste,  Lynch Bages  or  Beychevelle might follow the trend. Chateau Mouton Rothschild   is the most probable candidate to create a special label as they produce new label artwork every year.
What will this do to prices in the already hot Chinese wine market for Bordeaux wine?  It isn't going to make wines less expensive! That is something you can take to the bank.
Personally, I think this is an amazing marketing job.  It's a clever idea.  What do you think?