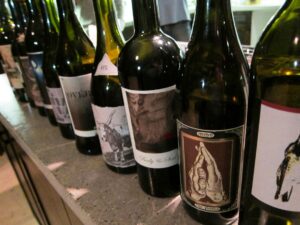 Sine Qua Non is contender for one of the most unique winery programs in the world. Founded in 1994, by Manfred Krankl, within a few years, Sine Qua Non began making the benchmark wines for
Rhone
wine varietals produced in
California
. In some years, other wineries might produce a better Syrah or Grenache than Sine Qua Non, but there is no competition when it comes to consistency.
Once past consistency, there is no winery on earth that competes with what Manfred and Elaine Krankl have done at Sine Qua Non for creativity.  For 17 years, they have produced unique wines in every vintage of Sine Qua Non . Not only do the wines have different blends year after year, but each has a unique name, label and bottle shape. The wine and the bottles are hand crafted works of art.  Like Rod Stewart said, "Every Picture Tells s Story."
When Krankl first started Sine Qua Non, the wines were produced from a variety of sources, including the famed Alban vineyards. Today, with almost 30 acres under vine, they are slowly moving to producing wine from their own vineyards.  Much of their plantings are located in Santa Rita as well as in Ventura county.
Sine Qua Non is a wine many Rhone wine fans claim is an essential element in their cellar. Some collectors say is indispensable. This makes sense when you consider that Sine Qua Non is an archaic, Latin legal term which  is loosely translated into an essential action, condition, or ingredient, that without which, something cannot be.
Sine Qua Non produces wines from white and red Rhone wine varietals  that are typically grown in
Chateauneuf
du Pape and Cote
Rotie
. Krankl discontinued their
Pinot
program with the aptly named "Over and Out." While most Sine Qua Non Syrah Syrah and Grenache bottling's see 18-24 months in oak, Krankl began a program of making some wines that see extended aging in new oak. This is similar to what
Guigal
does with their legendary
Cote Rotie
wines,
La Mouline
, La Landonne and
La Turque
. Those see between 36 and over 40 months in new oak.  The majority of the Sine Qua Non production is sold through a mailing list with a wait list of several thousand thirsty fans.
Manfred Krankl is also producing a Chateauneuf du Pape called Chimere with Philippe Cambie, the most famous consultant in the Southern Rhone. The first vintage of Chimere is 2010. The majority of the small production wine will be sold via a mailing list, similar to the practice of Sine Qua Non.
The style of Sine Qua Non wine at its best is, rich, full bodied, ripe, concentrated, mouth filling, decadent and opulent.
Wine Tasting Notes
Displaying 38 vintages | 162436 Views Sorted by vintage
2009 Sine Qua Non Grenache Upside Down

With a blast of fresh brewed espresso, licorice, blackberry, blueberry, fudge, cherries and jam, the wine is sweet, plush, voluptuous and showy. If you like your wines on the young side, and I often do, especially when it comes to fruit forward styles of wine, this blend of 84% Grenache, 11% Syrah and 5 % Mourvedre is drinking great today.

94

points - Tasted

Mar 15, 2013

1456 Views

Licorice, black cherry, earth, spice, vanilla and smoke scents open to a rich, soft, polished, full bodied, plush wine that can be enjoyed today. Produced from a blend of 84% Grenache, 11% Syrah and 5% Mourvedre, drink this now or age it for a few years.

94

points - Tasted

Nov 25, 2012

1892 Views

2009 Sine Qua Non Syrah The Thrill of...

Inky purple ruby colored with tears that stain the glass. Blackberry, blueberry, smoke, chocolate malt, black cherry smoke aromas get you going. Massive, concentrated, powerful and rich, but lacking the density of the best vintages, this thick, plush, California Syrah wine ends with a big, juicy, sweet mouthful of smoky blueberry, coffee bean, iron and black cherry.

96

points - Tasted

May 14, 2012

3888 Views

2009 Sine Qua Non On The Lam

From a unique blend of 48% Roussanne, 34% Chardonnay and 18% Viognier, the wine offers scents of smoke, flowers, white peach and stone. Medium bodied, soft in texture and already showing well, the wine finishes with sweet peaches and honey.

92

points - Tasted

Dec 30, 2011

4606 Views

2008 Sine Qua Non Syrah B 20

Powerful, intense aromatics meshing blueberry, coffee, almond joy, blackberry liqueuer and 5 spice explode in your face. While concentrated, for Sine Qua Non, the wine lacks the weight and richness found in most vintages. In density, think of the 2001 or older Sine Qua Non Syrah wines, but with less ripeness. The wine ends with a rich, vanilla, blueberry pie sensation.

94

points - Tasted

Oct 26, 2011

5866 Views

Midnight black with a purple sheen in the color. The perfume displays jammy blackberries, coffee, blueberries, spice, smoke, black cherry liqueur and earthy scents. Plush in texture, this dense wine fills your mouth with waves of lush, ripe, sweet fruit. From a blend of 91% Syrah, 6% Grenache and a pinch of Viognier, this pleasure machine of a wine ends with a rich, espresso and black with blue fruit profile. A few more years are needed before the oak is fully integrated.

95

points - Tasted

Jul 23, 2011

4765 Views

2008 Sine Qua Non Grenache THE Line

Licorice, black cherry preserves, black raspberry and spicy scents open to rich, plush, forward, fruit filled wine that is powerful, sweet, lush and ready to drink now.

95

points - Tasted

Nov 24, 2012

1709 Views

The person bringing the wine must have mugged the UPS driver in front of his house to get it in time for dinner as the wine was opened the day it arrived. Smoke, coffee, blueberry, blackberry and slate aromatics made up the perfume. This ripe, fat, sexy, plush wine floated across your palate. There was not a hard edge to be found. No heat was detected in the wine, even though it was 15.7% percent alcohol by volume. The wine finished with layers of Maraschino cherry liqueur.

96

points - Tasted

Mar 17, 2011

6202 Views

2008 Sine Qua Non Kolibri

With a deep gold hue, the honeysuckle, floral, peach, vanilla and petrol nose opens to a full bodied, robust, sweet, spicy, cantaloupe and petrol flavored wine. This is a blend of 69% Roussanne and 31% Viognier. This wine is not for everyone, but if you like a full throttle style of white Rhone, it could be up your alley.

94

points - Tasted

Feb 1, 2011

4055 Views

2007 Sine Qua Non Syrah Labels

Big, intense, fleshy and packed with dark berries, blueberry, jam, smoke and espresso bean, the powerful wine ends with a mouth coating finish of ripe, fleshy, sweet, jammy berries.

95

points - Tasted

Mar 29, 2013

1458 Views

A pungent perfume of black and blue fruit, earth, cappuccino, spice and caramel greet your nose. Full bodied, dense and rich, this powerful, fat, intense wine requires a few years before it fully opens.

95

points - Tasted

Feb 1, 2011

5332 Views

2007 Sine Qua Non Body & Soul

Body and Soul offers a boat load of spice, honey, bees wax, cinnamon and citrus aromas and flavors in this big, fat, juicy, concentrated wine.

92

points - Tasted

Feb 1, 2011

4942 Views

2007 Sine Qua Non Syrah Dangerous Birds

Another stunning wine from Manfred Krankl and Sine Qua Non! This is close to the level of many of Krankl's best efforts including Inaugural, Pokerface and Just for the Love of it. Black with ink in color, the intense perfume is stuffed with blueberry, coffee, smoke, liqueur, blackberry jam, truffle, cocoa, chocolate, grenadine and spice. Thick, packed and stacked, the wine coats your mouth, palate, teeth and gums with flavor that must last well over a minute. What I find amazing is, with so much of everything, it's all in perfect balance. Drink it young, age it, or enjoy it after a few years. From a blend of 93% Syrah, 4.5% Grenache and 2.5% Viognier from Krankl's Eleven Confessions vineyards, this decadent experience is as good as it gets for Rhone varietals in California. Keep in mind, these are young vines. When these vines get older, as good as this wine is, imagine what Manfred will produce in the coming years!

99

points - Tasted

Jan 31, 2012

3219 Views

2007 Next of Kyn Syrah No~1 Cumulus Vineyard

From Manfred Krankl, the wine wins the most impressive packaging of the year award. The box, which houses 3 bottles and a magnum is as big as a small coffin. Once the box is open, it's time to open a bottle. Deep in color, oak, licorice, blackberry jam, fresh herbs, boysenberry and stone aromas create the perfume. Soft, supple and elegant in texture, the wine does not have the weight and density found in most vintages of Sine Qua Non. That will please some tasters and upset others. Think of it as a better, cleaner, riper and more pure expression of fruit with softer textures than Krankl's pre 2000 Sine Qua Non Syrah's. From a blend of 92% Syrah and 6% Grenache with the remainder coming from 2% Roussanne, coupled with a miniscule production of 125 cases, good luck finding any.

95

points - Tasted

Dec 31, 2011

3965 Views

2006 Sine Qua Non Syrah Raven Series

06 Sine Qua Non Raven pops from the glass like a jack in the box! Espresso, blackberry, blueberry, black raspberry, spice, jam and vanilla aromatics are all over the place. Thick, rich, dense and packed with layers of juicy ripe and over ripe fruit, this powerful Syrah ends with ripe jammy berries, chocolate, plums and oak. With so much fruit, I believe the oak will fully integrate. This wine is showing much better than it did a year ago.

96

points - Tasted

Sep 2, 2010

5344 Views

2006 Sine Qua Non Grenache Raven Series

A blend of 90% Grenache and 10% Syrah produced a wine packed with licorice, vanilla, ripe cherries, black raspberry, earth, spice, coffee bean and blueberries. Round, plush, open and packed with layers of sweet, ripe, jammy berries, spice and earth, the wine is already showing well. Popped and poured, the wine improved in the glass. This is already drinking well. If you have a bottle, there is no reason to wait.

95

points - Tasted

Mar 7, 2012

3440 Views

2005 Sine Qua Non Chardonnay Mr. K The Noble Man

This incredibly dense, rich, sweet wine offers sweet, apples, pears, honey, pineapple, apricot and vanilla. The wine is too sweet and cloying and needs more acidity.

90

points - Tasted

Jun 30, 2009

2921 Views

2005 Sine Qua Non Syrah Atlantis Fe2O3~1a, b & c

Popped into the decanter and poured, this Syrah offered pungent blueberry, blackberry jam, fennel, coffee, spice box and liqueur aromas. Thick, rich, dense and mouth filling, this full bodied wine is a tactile experience. Gobs of soft, ripe, polished berries coat your palate. The wine with a blast of espresso, dark berries and jammy flavors. This is a wine for pleasure seekers. I was happy to share this with friends from Bordeaux and my special co-hostess.

97

points - Tasted

Mar 9, 2011

6439 Views

2005 Sine Qua Non The Petition

Produced from a blend of Viognier, Roussanne, and 30% Chardonnay from two vineyard sources, Alban and Eleven Confessions, the full bodied wine offers a powerful melange of fresh peach, hot stones, spice, earth and petrol flavors.

91

points - Tasted

Feb 1, 2011

4651 Views

2005 Sine Qua Non Pinot Noir Over & Out

The aptly named wine earned its moniker because it represented the final vintage of Pinot Noir produced by Manfred and Elaine Krankl. The perfume is filled with ripe black raspberries, cola, strawberry jam and earthy scents. The wine feels a little hot in the mouth before finishing with jammy berries and cola flavors.

91

points - Tasted

Feb 1, 2011

3209 Views

2004 Sine Qua Non Syrah Poker Face

Boom! That's what happens with the perfume the moment the wine leaps from the bottle. Espresso, blackberry, caramel, jam, chocolate, spice and blueberries fill the air. This thick, luxurious, full bodied, opulent wine coats your mouth and palate with velvety textured fruit. This wine is huge, but everything is in balance. The wine finishes with a pallet full of palate staining black and blue fruit. This is a true benchmark wine for Syrah in California!

99

points - Tasted

Feb 1, 2011

6553 Views

This is almost black in color. Very rich, ripe aromas of oak, pepper, blackberry liquor continue gaining strength in the glass. This very dense, concentrated wine has enough lift to keep it exciting and fresh in the mouth. The massive wine finishes with a tidal wave of ripe, black cherry, vanilla, blue fruit and blackberries. This wine truly coats your palate.

98

points - Tasted

Jun 13, 2009

3767 Views

Almost opaque in color. The aromatics are intense. Black and blue fruit as well as plums, vanilla and spice explode from the glass. Incredible levels of concentration. This has a bit more structure than JFTLOI, but, it lacks the same plush texture. The finish must last close to a minute. Give it a few years to add more complexity. This is a monumental California Syrah.

99

points - Tasted

Jun 21, 2007

1221 Views

2004 Sine Qua Non Into the Dark

The current benchmark for Grenache in California. The nose explodes with massive layers of fruit and sweet spice aromas. The palate enjoys the soft, ripe fruit that gently flows over it. Already showing well…. this is a wine for hedonists

97

points - Tasted

Jun 21, 2007

865 Views

2003 Sine Qua Non Sublime Isolation

It reminded me of a white Chateauneuf with its exotic taste and opulent texture. Notes of honey, flowers and citrus oil beckoned. The plush, mouth feel was rich and semi oily.

92

points - Tasted

Feb 23, 2006

533 Views

2003 Sine Qua Non Li'l E

Lil E, Named after Elaine Krankl opens with fresh coffee, blueberry pie, oak, and jammy black raspberries. Fat, rich and round, this mature, plump, Grenache wine ends with a melange of ripe, black and red fruits.

93

points - Tasted

Feb 1, 2011

1612 Views

2003 Sine Qua Non Syrah Papa

"Papa" wants to know, "Who's your daddy now?" The only answer possible is, "You are!" Intense layers of fat, ripe, juicy dark berries, smoke, espresso bean, blueberry, truffles and spice, what's not to like? With so much weight, it's amazing to experience equal amounts of finesse and precision. The mouth feel combines hedonism with polish. The label like all of Manfred Krankl's is a work of art dedicated to his father. The chocolate covered blue and black fruit finish remains on your palate for close to sixty seconds! This is drinking at perfection today. The only reason this does not hit triple digits is, as hard as it is to believe, Inaugural and a few other vintages of Sine Qua Non are even better!

99

points - Tasted

Aug 23, 2011

5427 Views

2002 Sine Qua Non Syrah Just For the Love of It

Decanting is not needed to experience the powerful, blackberry, blueberry, smoke, coffee, cinnamon and clove drenched aromas. Thick, rich and voluptuous in texture, this Syrah based wine is intense. The long, viscous finish ends with black cherries and espresso bean. Except for feeling slightly lighter than it did a few years ago, the wine has not changed much over the past several years.

98

points - Tasted

Sep 7, 2011

5247 Views

2002 Sine Qua Non Just For The Love of It offers an insane nose of fresh picked blueberries, jammy blackberries, cappuccino, spice and smoke. Dense, thick and juicy, this palate drenching wine coats your mouth with layers of plush, ripe berries, chocolate and jam. The wine has not evolved over the past few years. I am not sure it will change much with more aging. I expect it to remain at this level for the next several years. This is such a hedonistic tasting experience, there is no reason not to pop a bottle and see for yourself. 100 Pts

100

points - Tasted

Dec 14, 2010

7726 Views

Blue fruit, jammy blackberry, licorice, vanilla and chocolate screamed form the glass. Thick, rich, dense and intense. The opulent mouth filling texture fills your senses with ripe, juicy fruit that gushes all over your palate! To me, this wine does not seem to improve in the bottle. It has been drinking at this level since it was released. The only reason I did not give it a triple digit score is, Inaugural and On your Toes were both better wines.

99

points - Tasted

Jun 29, 2009

6837 Views

This wine is special. It coats your mouth, palate and senses with so many layers of concentrated, decadent, ripe fruit, you could easily get lost in it. For me, this remains the bottling of Calif Syrah that all other wine makers should strive to produce.

99

points - Tasted

Sep 20, 2005

2080 Views

The color had this striking, bright, shiny, purple hue. The aromatics were off the charts! Complex and very concentrated. After experiencing the perfume, your palate is awash in thick, concentrated, opulent, endless layers of ripe fruit. This has a palate presence that must be experienced to be believed!

100

points - Tasted

Apr 21, 2005

2691 Views

2002 Sine Qua Non Pinot Noir Hollerin' M

This is filled with ripe black cherry, spice, jammy berries and smoke aromas. Powerful, concentratedl and packed with ripe fruit, the wine finishes with a long sensation of jammy, red berries. This is not Burgundy, and it's not trying to be Burgundy. But it's a tasty Pinot Noir in the prime of its life.

94

points - Tasted

Feb 1, 2011

3032 Views

Deep colored with scents of blackberry liqueur, anise and herbs. The big, concentrated lush wine offered a juicy mouthful of sweet, ripe, black and red fruits.

90

points - Tasted

Oct 15, 2006

2442 Views

2002 Sine Qua Non Grenache More Than a Number

Deep color. Fat, plush, ripe and sexy. Blue tinged fruit, blackberry, cherry and licorice notes are easy to find. The opulent wine coats over your palate. This is drinking at a great place. I wish I had a few more bottles to see how it ages.

94

points - Tasted

Oct 21, 2007

2205 Views

2002 Sine Qua Non Sémillon Mr. K The Straw Man

This opens with an intense, sweet perfume filled with fresh picked apricots, brown sugar, honey, roasted peanuts and orangesicle Thick, dense and stuffed with as much sweet fruit as possible, it was too much of a good thing for me. With the texture of syrup feels fat and lazy on your palate. More acidity would have given it better lift. Fans of Essencia from Tokaji will love this wine more than I did.

90

points - Tasted

Feb 1, 2011

1882 Views

2001 Sine Qua Non Albino

Huge, concentrated wine with lemon, crushed rock, floral and citrus oil scents.

91

points - Tasted

Jul 12, 2005

586 Views

2001 Sine Qua Non Chardonnay Mr. K The Noble Man

Deep orange in color, the wine is packed with scents of vanilla, orange, honey, lemon, pineapple, apricot and tropical fruit drenched in macadamia nut honey. Thick, intense and with the texture of syrup, the wine coats your glass and palate. It's pure intensity. I would have liked a bit more acidity.

93

points - Tasted

Mar 29, 2012

1568 Views

The color of honey, which is perfect for this wine. Scents of honey coated, apricots, mango, orange, mango, flowers, spice, roasted nuts and pineapple are easy to find. Thick, rich and intense, this immense, sweet wine is about power and sweetness and not finesse or freshness. I get the quality, but its a wine for sugar addicts.

94

points - Tasted

Oct 6, 2011

1610 Views

2001 Sine Qua Non Midnight Oil

Combining black and blue fruit, with caramel, coffee and vanilla, the wine is rich, concentrated, full bodied and deep. There is a touch of heat in the otherwise outstanding finish.

94

points - Tasted

Mar 29, 2013

638 Views

Blueberry, blackberry, coffee, smoke, licorice and black cherry scents pop from the glass. This huge, mouth filling, powerful, plush textured wine is concentrated with layers of fat, juicy, ripe, jammy blackberries, blueberry and chocolate flavors.

96

points - Tasted

Feb 1, 2011

4646 Views

2000 Sine Qua Non Syrah Heels Over Head

Heels over Head is the rarest Sine Qua Non wine after the Queen of Spades. The wine was a semi joint venture between Manfred Krankl and Dan Phillips of the Grateful Palate. Phillips purchased a barrel and raised it in 100% new American oak without the assistance of Krankl. Under 300 bottles were produced. The wine was sold to customers of The Grateful Palate. If you're a pickle fan, this wine is for you. It smells like an oak barrel of fresh, chocolate covered pickles. The wine is drying out and ends with a sour finish. There are wines to drink, wines to buy and wines to sell. At a value of over $1,000, this is a wine to sell! This is funny! The last time I tasted this wine about 6 years ago. I was positive I would never have the chance to taste it again. After posting this note, I just saw my score from 6 years ago. It was exactly the same! Great minds think alike...

80

points - Tasted

Feb 1, 2011

1303 Views

25 cases were produced. The wine was raised and sold through the Grateful Palate. Unlike any Sine Qua Non I've tasted previously. I think it spent too much time in American Oak. The nose was filled with dill pickle, pepper and bizarre herbs. Completely out of balance. Sour and unpleasant finish.

80

points - Tasted

Feb 22, 2005

1557 Views

2000 Sine Qua Non Syrah In Flagrante

Dark black, purple. Jammy blackberries, coffee, herbs, blueberry and kirsch. Full bodied, rich, opulent fruit. Very sensuous mouth feel. Extremely ripe cherries, strawberries, raspberries and plums take over you palate. Beautiful :50 finish slightly marred by a tinge of heat from the 14.9% alcohol. This may gain additional complexity with age, but I prefer it in its youth.

96

points - Tasted

Sep 5, 2004

679 Views

2000 Sine Qua Non Viognier Mr. K The Noble Man

This thick, extremely concentrated and full bodied wine has a nice perfume with notes of apricot, papaya, mango, vanilla custard and fresh cut grass. The palate enjoys honeyed tropical fruits with a clean 30 second finish. But the wine lacked acidity and was slightly flabby. Others who enjoy levels of concentration will like it more.

90

points - Tasted

May 10, 2004

2060 Views

1999 Sine Qua Non Icarus

Big, bold and beautiful style of Grenache. It has nothing in common with Chateauneuf Du Pape. But, who cares? That's what I own Chateauneuf for. Ripe, black fruit, blueberries, boysenberries, chocolate, spices and herbs are easily found in this voluptuous wine. Probably mature, definitely ready to drink.

91

points - Tasted

May 12, 2005

1451 Views

Spicy, ripe, rich blue and black fruits. Yes, it's lush, plush and in your face, but that's the beauty of it. I doubt this will be a long lived wine, but it delivers ample pleasure today

91

points - Tasted

May 3, 2005

1366 Views

1999 Sine Qua Non Sémillon Mr. K Vin De Paille

This is so concentrated, a half bottle was enough for all 9 of us. Very thick, tropical, exotic and concentrated. Immense concentration and sugar levels. A little goes a long way, but it was the perfect end to a perfect evening.

93

points - Tasted

Jul 1, 2006

1280 Views

Thick, juicy apricots with accents of guava, orange and toasted bread. Amazingly concentrated. This wine can be eaten or drank! Needs more acidity.

95

points - Tasted

Jul 11, 2005

1421 Views

1999 Sine Qua Non Gewürztraminer Mr. K. Eiswein

Beautiful aromas of honeysuckle, apricots, oranges, flowers and crème brulee' blended into a great perfume. The palate was very thick, dense and concentrated, but it could have used a more acidity as the wine was flabby in the mouth.

93

points - Tasted

Feb 12, 2005

962 Views

1999 Sine Qua Non Pinot Noir Ox

Earth, spice, dark cherry, truffle scents make up the perfume. Medium bodied with some heat, the wine ends with a spicy, black cherry and cola sensation. The wine is slightly past full maturity and needs to be drunk up sooner than later.

90

points - Tasted

Feb 1, 2011

2029 Views

1998 Sine Qua Non Backward & Forward

High pitched aromatics with notes of lemon, lime, petrol and apples. Dense, full bodied. On the palate, sweet, lemony, lime flavors with a spicy quality. Slightly hot finish. This was not a wine I enjoyed. For me, it was too over the top. It had too much of everything. It reminded me a bit of Turley's White Coat. As a reference point, I liked the Albino much more.

88

points - Tasted

Jul 10, 2004

1956 Views

1998 Sine Qua Non E-Raised

At close to 10 years, time has been good to this wine. Mountains of jammy black fruit and spices jump from the glass. Very concentrated. The sexy juice coats your palate with layers of dark berries. There is no reason to hold this wine any longer. This is probably fully developed.

95

points - Tasted

Oct 21, 2007

2179 Views

1998 Sine Qua Non Viognier Mr. K. TBA

Still incredibly concentrated, with multiple layers of apricot, honey and assorted tropical fruit aromas, the passage of time has made this a much better wine. Served double blind, no one confused this with Sauternes, but everyone asked for seconds

94

points - Tasted

Jul 20, 2007

1666 Views