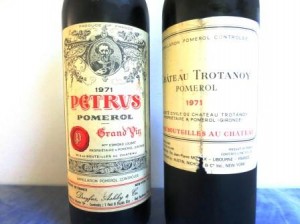 1971 Bordeaux Wine Vintage Summary with harvest information, vintage characteristics, buying tips and links. If you are seeking more in-depth information on anything and everything related to the Bordeaux wine region please see the: All About Bordeaux Wine Guide
1971 Bordeaux wine was helped by the naturally, extremely low yields, which gave the wines depth and concentration. In part, this was brought on by poor flowering in the Merlot, which forced producers to add more Cabernet Sauvignon to their Bordeaux wine than they might use in their usual blends.  That being said, the best 1971 Bordeaux wine came from Pomerol. Chateau Trotanoy and Petrus are stellar wines, but at over 40 years of age, they are slowly starting to drop their fruit. Every 1971 Bordeaux wine requires drinking.
Some 1971 Bordeaux wine from Medoc are holding on to a shadow of life today. Of those, Chateau Latour is the wine of the Medoc.  Pomerol produced some stunning wines, notably, Trotanoy and Petrus.  Sweet Bordeaux wine from Sauternes was reasonably successful, although most are past their prime today. Climens made a better 1971 Bordeaux wine than Chateau d'Yquem! In fact, Chateau Climens could be the wine of the vintage!
The following Bordeaux wines represent the best blend of price and quality from the vintage:  1971 Best Bordeaux wine for the money today
To read about other Bordeaux vintages from 1945 to today: Bordeaux Year to Year Detailed Vintage Reports & Guide 1945 to Today