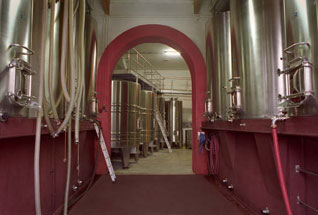 Learn everything about Chateau de Fonbel St. Emilion with wine tasting notes and wine with food pairing tips. Learn all the best vintages, a history of the property and information on the vineyards and winemaking. If you want to read about other important, Bordeaux Chateaux: Links to all Bordeaux Wine Producer Profiles
Chateau Fonbel History, Overview
Chateau Fonbel has a long, ancient history that dates all the way back to the times when the ancient Romans were active in St. Emilion cultivating grapes for wine. However, the modern era for Chateau Fonbel starts in 1971, when Alain Vauthier purchased the estate.
The Vauthier family are of course better known for owning the famous estate, Chateau Ausone, as well as Chateau Moulin St. Georges in Saint Emilion and the neighboring vineyard of Chateau La Clotte.
The vineyard is located at the bottom of a slope on almost flat land, not too far from Chateau Ausone, Chateau Moulin St. Georges or the picturesque village of Saint Emilion. The property is still owned by the Vauthier family. Pauline Vauthier is firmly in charge of managing the property today.
Chateau Fonbel Vineyards, Terroir, Grapes, Winemaking
The 16 hectare Chateau Fonbel vineyard is planted to 70% Merlot, 20% Cabernet Sauvignon, 7% Petit Verdot and 3% Carmenere. This planting represents the largest percentage of Carmenere in the Right Bank.
In fact, this is also one of the largest plantings of Carmenere in all of Bordeaux! Chateau Fonbel could have the highest portion of Petit Verdot in the Right Bank as 7% of their vineyard is planted to Petit Verdot.
The vineyard has a terroir of clay, sand and gravel soils. The vines are on average, close to 25 years of age.
The large amount of Carmenere and Petit Verdot in the vineyards provide a unique styling to Chateau Fonbel. The actual blend is often the same as what you find planted in the vineyard at Chateau Fonbel.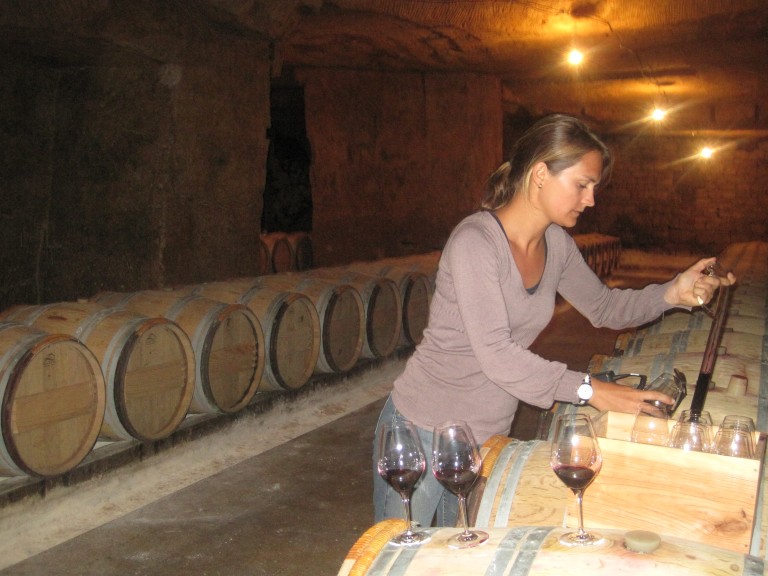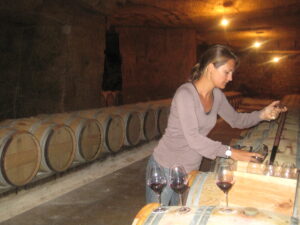 To produce the wine of Chateau Fonbel, the grapes are vinified in stainless steel, temperature controlled vats. Malolactic fermentation takes place in vat. Chateau Fonbel is aged in 30% new, French oak barrels for close to 10 months before bottling. The wine of Fonbel is produced by the same team that makes Chateau Ausone. The production is quite large, with close to 10,000 cases made here each vintage.
The best vintages of Chateau Fonbel are: 2022, 2021, 2020, 2019, 2018, 2017, 2016, 2015, 2014, 2010, 2009, 2008, 2005 and 2000.
The young, talented, Pauline Vauthier is slowly, but surely, taking a more active roll at Chateau Fonbel, Chateau Moulin Saint Georges and Chateau Ausone, while her father, Alain Vauthier continues to take a step back. On average, 8,000 cases of Chateau Fonbel wine are produced every year.
When to Drink Chateau Fonbel, Anticipated Maturity, Decanting Time
Chateau Fonbel is better with at least 4-5 years of bottle age. Of course that can vary slightly, depending on the vintage. Chateau Fonbel is best enjoyed in the first 4-16 years of life.
Young vintages can be decanted for about 1 hour or so. This allows the wine to soften and open its perfume. Older vintages might need very little decanting, just enough to remove the sediment.
Serving and Decanting Chateau Fonbel with Wine and Food Pairings
Chateau Fonbel is best served at 15.5 degrees Celsius, 60 degrees Fahrenheit. The cool, almost cellar temperature gives the wine more freshness and lift.
Chateau Fonbel is best paired with all types of classic meat dishes, veal, pork, beef, lamb, duck, game, roast chicken, roasted, braised and grilled dishes. Chateau Fonbel is also good when matched with Asian dishes, rich fish courses like tuna, salmon, mushrooms and pasta.
Chateau Fonbel is a really fine example of a Bordeaux value wine that combines character, quality and fair prices. Current vintages can be found on average for about $25.
www.chateau-ausone-saint-emilion.com
Château de Fonbel Wine Tasting Notes
12 Vintages 57,610 Views Sort by Vintage-Rating
2022
Château de Fonbel (St. Émilion Grand Cru)

Ruby in color, the wine shows a perfume of plums, flowers, and spice before you get to the medium-bodied, fresh, vibrant palate with its spicy red fruit profile and peppery spice note that comes in at the end of the finish. The wine was made from a blend of 85% Merlot, 10% Cabernet Sauvignon, and 5% Carmenere. Drink from 2025-2038. 91-93 Pts.

1,275 Views

Tasted

May 8, 2023

2020
Château de Fonbel (St. Émilion Grand Cru)

Soft, supple-textured and refined, the wine is floral in nature before moving to its core of sweet, ripe, soft and spicy, fresh, cherries, kirsch and earthy, bright, red plums. Drink this on the young side. Drink from 2023-2034.

546 Views

Tasted

Mar 21, 2023

2018
Château de Fonbel (St. Émilion Grand Cru)

Appreciably better in bottle than in barrel, the wine offers spicy fruits, flowers and licorice on the nose. The wine has filled out, adding additional layers of silky textured, sweet, fresh red fruits with a light touch of oak in the finish. The wine was made from blending 70% Merlot, 16% Cabernet Sauvignon, 7% Carmenere and 7% Petit Verdot.

2,354 Views

Tasted

Mar 9, 2021

A nose of spice, licorice and black raspberries, the wine is medium bodied with a bright character to the fruit. The tannins are ripe with a hint of chocolate and you'll really feel the addition of the spice from the Carmenere and Petit Verdot, which lends all the piquant qualities. Give this a few years to age. The wine was made from a blend of 70% Merlot, 16% Cabernet Sauvignon, 7% Carmenere and 7% Petit Verdot. The harvest began September 29, starting with the Merlot and finishing October 15 with the Carmenere. 89-91 Pts

3,652 Views

Tasted

Apr 19, 2019

2016
Château de Fonbel (St. Émilion Grand Cru)

Ruby in color, the wine offers a nose of smoke, thyme and spicy cherries. Medium-bodied, soft and forward, this is already charming and easy to drink with its fresh, sweet, spicy red fruit, silky tannins and fruity finish. The wine was made from a blend of 70% Merlot, 16% Cabernet Sauvignon, 7% Carmenere and 7% Petit Verdot. Drink this on the young side.

2,389 Views

Tasted

Sep 21, 2019

A nose of spice, licorice and black raspberries, the wine is medium bodied with a bright character to the fruit. The tannins are ripe, the fruit is fresh with a hint of chocolate and you really feel the addition of the Carmenere and Petit Verdot, which lends all the spicy qualities. Give this a few years to age. The wine was made from a blend of 70% Merlot, 16% Cabernet Sauvignon, 7% Carmenere and 7% Petit Verdot. The harvest began September 29, starting with the Merlot and finishing October 15 with the Carmenere.

4,126 Views

Tasted

Apr 29, 2017

2015
Château de Fonbel (St. Émilion Grand Cru)

Blending 80% Merlot, 10% Cabernet Sauvignon, 5% Carmenere and 5% Petit Verdot, this medium bodied, forward wine shows soft, black cherry and spicy notes with the freshness coming in at the end.

4,321 Views

Tasted

Apr 29, 2016

2014
Château de Fonbel (St. Émilion Grand Cru)

From a blend of 80% Merlot, 10% Cabernet Sauvignon, 5% Carmenere and 5% Petit Verdot, this wine exhibits a soft, elegant, black cherry and spicy character. 88-89 Pts

4,050 Views

Tasted

Apr 27, 2015

2013
Château de Fonbel (St. Émilion Grand Cru)

Herbs, strawberry and spice are in the nose, followed by a medium bodied, crisp, bright cherry finish. Blended from 65% Merlot, 25% Cabernet Sauvignon and 10% Petit Verdot, the wine is aging in 30% new French oak. 86-88 Pts

4,564 Views

Tasted

Apr 28, 2014

2012
Château de Fonbel (St. Émilion Grand Cru)

Blending 60% Merlot, 25% Cabernet Sauvignon, 10% Petit Verdot and 5% Carmenere, the wine is aged in 30% new French oak. Soft in texture, with spice, cherry and herbal notes, the wine ends with spicy blackberries. 87-88 Pts

3,762 Views

Tasted

Apr 26, 2013

2011
Château de Fonbel (St. Émilion Grand Cru)

With the highest concentration of Petit Verdot in St. Emilion, as well as the largest plantings of Carmenere in the Right Bank, the assemblage is 63% Merlot, 20% Cabernet Sauvignon, 10% Petit Verdot and 7% Carmenere. The wine will be aged in 30% new oak. With spice, floral, earth and dark cherry scents, this medium-bodied wine ends with soft red berry flavors. 89-91 Pts

3,426 Views

Tasted

Apr 24, 2012

2010
Château de Fonbel (St. Émilion Grand Cru)

Easy going, easy to like, medium bodied, soft wine with ample black raspberry and earthy notes in its character. This is not a wine built for aging. I'd drink it in its first decade of life.

6,258 Views

Tasted

Sep 14, 2013

2009
Château de Fonbel (St. Émilion Grand Cru)

Licorice, earth, spice and fresh plum aromatics make up the perfume. On the palate, the medium bodied wine is soft in texture, finishing with fresh, sweet, ripe, blackberry. This crowd pleasing style of St. Emilion should drink well young.

4,490 Views

Tasted

Feb 21, 2012

Fonbel 66% Merlot 20% Cabernet Sauvignon, 7% Petit Verdot and 7% Carmenere opened with jammy berries, licorice and floral scents. Medium bodied and soft textured, the wine ends with a licorice and sweet jammy berry finish 89-91 Pts

4,729 Views

Tasted

Apr 22, 2011

2005
Château de Fonbel (St. Émilion Grand Cru)

Licorice, flowers, black and red plums, spice and minerality scents are easy to find. This medium/full bodied, round textured wine is already starting to drink well.

7,668 Views

Tasted

Aug 11, 2011