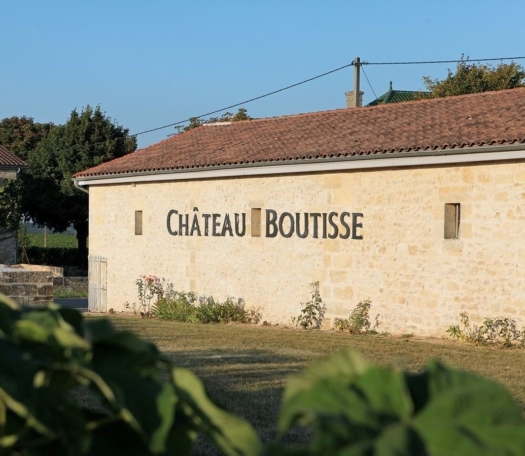 Learn everything about Boutisse St. Emilion with wine tasting notes and wine-with-food pairing tips. Learn the best vintages, a history of the property, information on the vineyards, and winemaking. If you want to read about other important, Bordeaux Chateaux: Links to all Bordeaux Wine Producer Profiles
Chateau Boutisse History, Overview
The Milhade family get their start in Bordeaux in 1938 when Damase Milhade purchases Chateau Recougne. Chateau Boutisse was purchased by the Milhade family, who are well-known all over Bordeaux, for owning various vineyards in the region. They bought the property in 1996. Today, Chateau Boutisse is managed by Marc Milhade and his sister Elodie Milhade.
It is interesting to note that Chateau Boutisse has quite an extensive history in the region, dating all the way back to 1783. Chateau Boutisse derives its name from a type of masonry work that previously took place in the stone quarries of Saint Emilion. Boutisse is a type of rough cut stone that is used to build walls, however, a Boutisse is the small end, not the long, side piece.
Chateau Boutisse Vineyards, Terroir, Grapes, Winemaking
The 25-hectare vineyard is well-placed in the commune of Christophe des Bardes. The vineyard is planted to 88% Merlot, 10% Cabernet Sauvignon and 1% Carmenere. The sizable, Right Bank vineyard is unusual, as it is in one solid parcel of vines. The terroir is limestone and clay.
Vinification takes place in stainless steel tanks. Malolactic fermentation takes place in barrel. The wine is then aged in a combination of various sizes of French oak barrels, of which, 60% are new. The wine is aged for between 12 to 15 months before bottling.
The best vintages of Chateau Boutisse are: 2022, 2021, 2020, 2019, 2018, 2017, 2016, 2015, and 2009.
There is a second wine, Baron de Boutisse. On average the production is 16,500 cases of wine per year. In addition, the Milhade family also owns Chateau Recougenly, Bordeaux Superieur.
When to Drink Chateau Boutisse, Anticipated Maturity, Decanting Time
Chateau Boutisse is better with at least 3-5 years of bottle age. Of course, that can vary slightly, depending on the vintage. Chateau Boutisse is best enjoyed in the first 4-18 years of life.
Young vintages can be decanted for up to 1 hour or so. This allows the wine to soften and open its perfume. Older vintages might need very little decanting, just enough to remove the sediment.
Serving Chateau Boutisse with Wine, and Food Pairing Tips
Chateau Boutisse is best served at 15.5 degrees Celsius, 60 degrees Fahrenheit. The cool, almost cellar temperature gives the wine more freshness and lift.
Chateau Boutisse is best served with all types of classic meat dishes, veal, pork, beef, lamb, duck, game, roast chicken, roasted, braised, and grilled dishes. Chateau Boutisse is a perfect match with Asian dishes, hearty fish courses like tuna, mushrooms, and pasta as well as cheese.
http://www.chateau-boutisse.com
Château Boutisse Wine Tasting Notes
9 Vintages 20,298 Views Sort by Vintage-Rating
2022
Château Boutisse (St. Émilion Grand Cru)
Luscious, creamy, ripe, deep, dark, opulent fruits that come in layers with nuances of espresso, cocoa, and chocolate on the medium-bodied, fresh, polished palate. Drink from 2025-2040. 92-94 Pts.
1,060 Views
Tasted

May 8, 2023
2021
Château Boutisse (St. Émilion Grand Cru)
Medium-bodied, fresh, bright, fruity and polished, with a nice touch of minerality in the endnote. Drink from 2023-2036. 89-91
995 Views
Tasted

May 20, 2022
2020
Château Boutisse (St. Émilion Grand Cru)
Even better in the bottle than it was in barrel, the wine exudes smoke, licorice, cocoa, plums and cherries in the nose. On the palate, the wine is lush, soft, and silky with layers of lusciously-textured plums that linger. It is easy to see why they were recently reclassified as a Grand Cru Classe. Drink from 2024-2042.
482 Views
Tasted

Mar 21, 2023
Licorice, black plums, oak, roasted cherries and bitter chocolate standout on the nose. Forward, lush, round and polished, the sweetness, freshness, soft textures and ripe fruits on the palate and finish are all working together perfectly this year. 91-93 Pts
1,214 Views
Tasted

May 20, 2021
2019
Château Boutisse (St. Émilion Grand Cru)
Dark, smoky red fruits with a touch of cocoa in the nose. The wine is medium-bodied, with a medicinal cherry note before you get to the round, oaky finish. This could get better if everything better integrates as it matures. 87-89 Pts
2,712 Views
Tasted

Jun 23, 2020
2018
Château Boutisse (St. Émilion Grand Cru)
Opulent, rich, ripe, fruity and just a blast to drink thanks to all the sweet, cherries and plums. There is a good sense of purity in the fruit, length and complexity. This is one of the better values in Saint Emilion today!
2,179 Views
Tasted

Mar 9, 2021
2016
Château Boutisse (St. Émilion Grand Cru)
This is a hit. The wine has fatness, it is also richly textured and fruity. But it also shows minerality, complexity, concentration and freshness, which makes all that ripe fruit taste as good as it feels. This is one of the better values in Saint Emilion today!
3,038 Views
Tasted

Sep 21, 2019
Juicy, ripe, fresh, sweet, ripe, black and red fruits, earthy and licorice kick things off. Round textured, with a polished, spicy, ripe, plummy finish.
2,707 Views
Tasted

Apr 29, 2017
2015
Château Boutisse (St. Émilion Grand Cru)
Lush, round, showy, dark, sweet, fresh, red pit fruit-filled wine with nuances of black plums, espresso, flowers, spice, and chocolate from start to finish. Drink from 2022-2030.
1,909 Views
Tasted

Sep 15, 2022
2014
Château Boutisse (St. Émilion Grand Cru)
Fully ready to go as it already delivers its ample, ripe, round, black cherry and plummy core of fruit that is made even better with its slight spicy accent and chalky, oceanic finish. Drink from 2023-2030.
1,930 Views
Tasted

Dec 23, 2022
2009
Château Boutisse (St. Émilion Grand Cru)
Fully mature, medium-bodied, round, and earthy, with ample, black cherry, cocoa, licorice, and espresso notes in the nose, mid-palate, and in the finish. No decanting needed, just pop, pour and enjoy. Drink from 2022-2027.
2,072 Views
Tasted

Oct 12, 2022