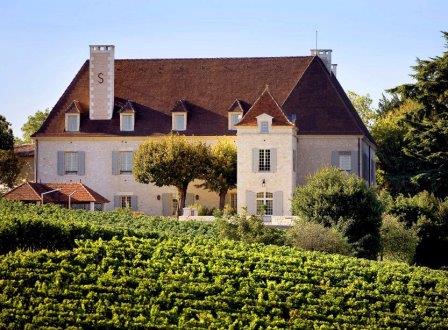 Learn everything about Chateau Thenac Cotes de Bergerac, Bordeaux adjacent wine with wine tasting notes, wine and food pairing tips, best vintages, a history of the property, and information on vineyards and winemaking. If you want to read about other important, Bordeaux Chateaux: Links to all Bordeaux Wine Producer Profiles
Chateau Thenac History, Overview
Chateau Thenac has a long history in the Cotes de Bergerac appellation. In fact, the estate was created on the ruins of an ancient, dilapidated, Benedictine Priory built by monks at the start of the 12th century.
The estate takes its name from the local commune where it's situated, Thenac. However, the modern era for Chateau Thenac begins when the property was purchased by Eugene Shvidler in 2001. Eugene Shvidler made his fortune in the oil industry in his native Russia.
Chateau Thenac is located just east of Bordeaux in the Bergerac area of Southwest France. If you're a fan of truffles, you're in luck as Chateau Thenac is placed in the center of the Perigord region, which is famous for French, black truffles.
Chateau Thenac is a beautiful estate. Not only is the chateau stunning, but the perfectly manicured grounds, rolling, verdant hills, lakes and wildlife are something to see.
Chateau Thenac Vineyards, Terroir, Grapes, Winemaking
The massive 200-hectare estate of Chateau Thenac has 45 hectares under vine. For the red wine, 33 hectares of the vineyards are planted to 65% Merlot, 15% Cabernet Sauvignon, 10% Cabernet Franc and 10% Malbec.
12 hectares of vines are reserved for the white wine grape varietals, which are planted to 70% Sauvignon Blanc, 20% Semillon, and 10% Muscadelle.
The vineyard is planted to a vine density of 5,000 vines per hectare. The vines are on average, 25 years of age. The vineyard has a terroir of clay and limestone soils. The vineyards are planted for the production of both red and white wine.
To produce the red wine of Chateau Thenac, vinification takes place in stainless steel vats. Malolactic fermentation takes place in the tank. The wine is aged in 60% new, French oak barrels for 12 months. The average annual production is close to 3,800 cases of wine per year.
To produce the white wine of Chateau Thenac, vinification takes place in 100% New, French oak barrels. There is no malolactic fermentation. The wine is aged in 100% new, French oak barrels for 8 months. On average, the production is close to 1,000 cases of wine per vintage.
The wine-making and vineyard management was consulted by Denis Durantou, the owner of Chateau LEglise Clinet in Pomerol. He was replaced by Hubert de Bouard starting with the 2017 vintage.
Chateau Thenac also produces sweet, white wine and there is a second wine, Fleur de Thenac. The total production of Chateau Thenac is 16,000 cases of wine per year.
The best vintages of Chateau Thenac are: 2022, 2021, 2020, 2019, 2018, 2017, 2016, 2015, 2014, 2012, 2010 and 2009.
When to Drink Chateau Thenac, Anticipated Maturity, Decanting Time
Chateau Thenac is much better with at least 2-3 years of aging in good vintages. Young vintages can be decanted for 1 hour, allowing the wine to soften and open its perfume.
Older vintages might need very little decanting, just enough to remove the sediment. Chateau Thenac offers its best drinking and should reach peak maturity between 3-8 years of age after the vintage.
Serving Chateau Thenac with Wine, Food, Pairing Tips
The red wine of Chateau Thenac is best served at 15.5 degrees Celsius, 60 degrees Fahrenheit. The cool, almost cellar temperature gives the wine more freshness and lift.
Chateau Thenac is best paired with all types of classic meat dishes, veal, pork, beef, lamb, duck, game, roast chicken, roasted braised, and grilled dishes. Chateau Thenac is also good when matched with Asian dishes, rich fish courses like tuna, mushrooms, and pasta.
The white wine of Chateau Thenac is best served with all types of fresh, seafood, shellfish, chicken, and veal.
Château Thenac Wine Tasting Notes
14 Vintages 21,654 Views Sort by Vintage-Rating
2020
Château Thenac (Bergerac Sec)

Bright lemons, crisp green apples, honeysuckle and pears are found on the nose and on the sweet, fresh, creamy palate. You can enjoy this over the next few years. 88 Pts

1,638 Views

Tasted

May 20, 2021

2020
Château Thenac (Côtes de Bergerac)

Forward, fruity, medium-bodied and chewy, with a nice core of sweet, ripe, crisp red fruits and savory accents. 86-88 Pts

1,789 Views

Tasted

May 20, 2021

2019
Château Thenac Rouge (Bergerac)

Smoky, with licorice, underbrush, green olive and red fruit on the nose and medium-bodied, earthy palate in this classically styled wine. 84-86 Pts

1,990 Views

Tasted

Jun 8, 2020

2019
Château Thenac (Bergerac Sec)

Light, fresh, yellow fruited, citrus oriented wine with a tangy grapefruit finish. 85 Pts

1,861 Views

Tasted

Jun 8, 2020

2018
Château Thenac (Côtes de Bergerac)

Medium-bodied, earthy, mineral-driven, red pit fruit-filled wine with a lean, stony character that will please some people more than others. 84-86 Pts

1,385 Views

Tasted

Apr 19, 2019

2017
Château Thenac (Côtes de Bergerac)

Medium bodied, bright, crisp red fruits with an edge of dark chocolate, herbs and underbrush, this is the debut vintage for Hubert de Bouard as the consultant for Thenac.

1,652 Views

Tasted

Apr 26, 2018

2014
Château Thenac (Côtes de Bergerac)

The wine is fresh, bright, crisp and offers red fruits, a medium body and an open, earthy, spicy personality. 86-88 Pts

1,374 Views

Tasted

May 1, 2015

2014
Château Thenac Fleur de Thenac Blanc (Bergerac Sec)

Fresh citrus on the nose, with a sharp, crisp, tangy, medium bodied, grapefruit finish.

1,266 Views

Tasted

May 13, 2015

2013
Château Thenac (Côtes de Bergerac)

A new project consulted by Denis Durantou of L'Eglise Clinet, the aromas pop with vanilla, black raspberry and forest floor scents. There is good fruit here, with some depth, but the peppery, red berry finish feels dry in the end notes. 86-87 Pts

1,356 Views

Tasted

May 1, 2014

2013
Château Thenac Fleur de Thenac Blanc (Bergerac Sec)

Floral, honeydew, white peach and orange rind on the nose. With a light, honeydew and sharp, tart, crisp, lemon finish.

1,393 Views

Tasted

May 13, 2015

2012
Château Thenac (Côtes de Bergerac)

Earth, fresh ground coffee bean and cherry girotte in the nose. Medium bodied and just starting to soften on the palate, with a spicy, fresh, red berry finish.

1,410 Views

Tasted

May 13, 2015

2009
Château Thenac (Côtes de Bergerac)

Mushroom and black raspberry on the nose, with roundness to the tannins and a medium bodied, dusty, black cherry finish.

1,935 Views

Tasted

May 13, 2015

2008
Château Thenac (Côtes de Bergerac)

Herbs, mushroom, red fruits and musty, forest floor scents on the nose, with a bright, crisp, medium bodied, dusty, cherry finish.

1,262 Views

Tasted

May 13, 2015

2005
Château Thenac (Côtes de Bergerac)

Already fully mature, the nose is all about the earthy, red fruits. Medium bodied, with a tangy, bright, fresh, red berry finish.

1,343 Views

Tasted

May 13, 2015