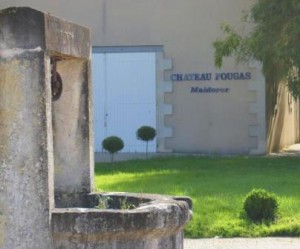 Learn everything about Chateau Fougas Maldoror Cotes de Bourg with wine tasting notes, and wine with food pairing tips. Learn the best vintages, a history of the property and information on the vineyards and winemaking. If you want to read about other important, Bordeaux Chateaux:Links to all Bordeaux Wine Producer Profiles
Chateau Fougas Maldoror History, Overview
Chateau Fougas Maldoror is situated in the Cotes de Bourg appellation, not all that far from St. Emilion, which is less than 30 kilometers away. Even though Chateau Fougas Maldoror dates all the way back to 1778, the modern era for the chateau starts in 1976, when the property was purchased by Yves Bechet and Michele Bechet.
The Becht family were well known in Bordeaux at the time of purchase, as they were already established Bordeaux negociants. The estate takes its name from name from a poem, "Les Chants de Maldoror." Thomas Duclos was recently named the consultant.
Chateau Fougas Maldoror Vineyards, Terroir, Grapes, Winemaking
The 21.25 hectare vineyard of Chateau Fougas Maldoror is planted to 64% Merlot, 29% Cabernet Sauvignon and 7% Cabernet Franc. The vineyard is in one large, single block of vines. The vineyard has a density of 5,000 vines per hectare.
The vines are old with an average age of close to 40 years. The terroir of Chateau Fougas is a mix of sand, gravel and clay with iron deposits in the soils. Since 2010, the vineyard has been farmed using only 100% biodynamic, farming techniques. They were certified as biodynamic in 2013.
To produce the wine of Chateau Fougas Maldoror, vinification and alcoholic fermentation take place in tank. Malolactic fermentation takes place in new and used French oak barrels. The wine is aged in an average of 33% new, French oak barrels for up to 18 months. Chateau Fougas Maldoror produces close to 9,000 cases of wine per year.
There is a second wine, Chateau Fougas. There are also 2 higher end, special cuvees, Chateau Maldoror Organic Premium, which is made from a specific, parcel selection in the vineyard and Fougas Forces de Vie cuvee, which is produced from almost 100% old vine Merlot.
The best vintages of Chateau Fougas are: 2022, 2021, 2020, 2019, 2018, 2017, 2016, 2015, 2014, 2012, 2010, 2009 and 2005.
When to Drink Chateau Fougas Maldoror, Anticipated Maturity, Decanting Time
Chateau Fougas Maldoror needs an average of 1 hour or so in the decanter. This allows the wine to soften and open its perfume. Older vintages might need very little decanting, just enough to remove the sediment.
Chateau Fougas Maldoror is usually better with at least 1-3 years of bottle age. Of course that can vary slightly, depending on the vintage character. Chateau Fougas Maldoror offers its best drinking and should reach peak maturity between 2-9 years of age after the vintage.
Serving Chateau Fougas Maldoror with Wine, Food, Pairing Tips
Chateau Fougas Maldoror is best served at 15.5 degrees Celsius, 60 degrees Fahrenheit. The cool, almost cellar temperature gives the wine more freshness and lift.
Chateau Fougas Maldoror is best paired with all types of classic meat dishes, veal, pork, beef, lamb, duck, game, roast chicken, roasted braised and grilled dishes. Chateau Fougas Maldoror is also good when matched with Asian dishes, rich fish courses like tuna, mushrooms and pasta.
Château Fougas Wine Tasting Notes
12 Vintages 28,326 Views Sort by Vintage-Rating
2022
Château Fougas Maldoror (Côtes de Bourg)

Cherries and spice open the wine. On the palate, the wine is supple, creamy and spicy, with nuances of crushed rocks and refreshing mint that comes in on the end of the finish. Drink from 2025-2036. 89-91 Pts.

1,082 Views

Tasted

May 8, 2023

2020
Château Fougas Maldoror (Côtes de Bourg)

Fresh, spicy, meaty and round, the wine serves up its blend of savory, earthy, juicy fruit with ease, leaving you with a finish of dark, red fruits, peppery herbs, tobacco and forest leaf. 89-91 Pts

1,239 Views

Tasted

May 20, 2021

2019
Château Fougas Maldoror (Côtes de Bourg)

Flowers, spice, forest leaf and red fruits come through on the nose with ease. The wine is fresh, fruity, spicy and packed with loads of crunchy deep, red fruits, green olives and a touch of vanilla in the finish. Give it a year or two to soften. Drink from 2023-2033.

627 Views

Tasted

Mar 29, 2022

2018
Château Fougas Maldoror (Côtes de Bourg)

Spicy, meaty, black fruit, herbs, wet earth and tobacco on the nose, The wine is full-bodied, soft, round, and with an earthy, leafy essence to the fresh, sweet, dark berries.

704 Views

Tasted

Mar 9, 2021

The wine is full-bodied, and deep, letting the ripe plum, blackberry and earth sing out. Rich, sweet and fleshy, there is freshness in the end, giving the fruit its much-needed lift. 90-92 Pts

1,536 Views

Tasted

Apr 19, 2019

2016
Château Fougas Maldoror (Côtes de Bourg)

Medium bodied, fresh, bright and fruity, with spicy, meaty, dark fruits and a plummy, dusty textured finish. This is nice now, and will be even better in a few years.

1,915 Views

Tasted

Sep 21, 2019

Floral, with red and dark cherry, plum and licorice on the nose. The wine is medium/full bodied, fresh, earthy and bright.

1,638 Views

Tasted

Apr 29, 2017

2015
Château Fougas Maldoror (Côtes de Bourg)

Deep in color, with bitter chocolate, flowers, licorice and plums. Medium/full bodied, with soft, lush tannins and a fruity, dark chocolate finish.

1,886 Views

Tasted

Mar 19, 2017

2014
Château Fougas Maldoror (Côtes de Bourg)

Early drinking, medium-bodied, soft, bright and fresh, with an earthy core of red fruits and espresso, this is already drinking well.

3,312 Views

Tasted

Oct 21, 2019

2012
Château Fougas Maldoror (Côtes de Bourg)

Easy drinking, with roundness, sweet, black raspberry and chocolate, this is a nice, early drinker from the Cotes de Bourg.

2,022 Views

Tasted

Jul 6, 2015

2011
Château Fougas Maldoror (Côtes de Bourg)

Sporting a new label, this organically farmed property is currently applying for biodynamic status. With soil that included blue and red clay along with limestone, the wine blends 75% Merlot and 25% Cabernet Franc, the wine will be aged in 50% new oak. Licorice, spice and black cherry with soft textures and a black cherry finish. 87-89 Pts

2,846 Views

Tasted

Apr 20, 2012

2010
Château Fougas Maldoror (Côtes de Bourg)

Pleasant, easy drinking, forward, round, open, ripe style of wine that will be best in its youth.

3,513 Views

Tasted

Nov 5, 2014

2009
Château Fougas Maldoror (Côtes de Bourg)

Earthy black cherries, smoke and black raspberries are easy to find in this concentrated, easy to like and already open, Bordeaux value wine.

3,183 Views

Tasted

Aug 4, 2013

2005
Château Fougas Maldoror (Côtes de Bourg)

Still going strong, fully mature, the wine offers a charming, rustic blast of cocoa, dark chocolate covered cherries and wet earth aromatic profile. There is lots of flesh and a nice sweetness to the earthy, dark, red berries.

2,823 Views

Tasted

Nov 3, 2016