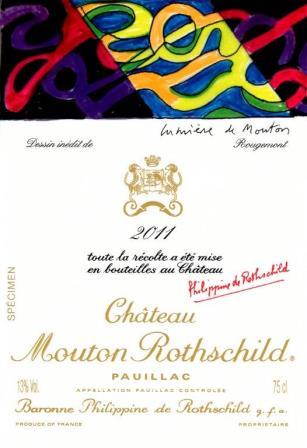 Chateau Mouton Rothschild, the famous First Growth, Pauillac producer continues their tradition of using a different artist every year to create their wine labels. The tradition began in 1945, following the end of World War 2. For the 2011 Mouton Rothschild, the Baroness Philippine Rothschild chose the renown artist, Guy de Rougemont.
The 2011 Mouton Rothschild label from Guy de Rougemont, with its abstract, winding, multi-colored motif celebrates the birth of a new vintage and wine with its creative use of changing hues that move from deep gold to dark red. The winding, rich display of colors allows viewers to think of sun lit vineyards and dark, wine cellars, which is the natural course of a wines birth and aging cycle.
Guy de Rougemont, the creator of the 2011 Mouton Rothschild label was born in 1935. Educated at the National school of Decorative Arts in Paris, Guy de Rougemont spent two years at the Casa de Velazquez. Guy de Rougemont is known as one of the world's foremost artists and has an impressive career as a designer, who has created a myriad of architecturally designed items ranging from household items like lamps to furniture.
The 2011 Bordeaux vintage is known for being a difficult year for Bordeaux wine. However, Mouton Rothschild produced one of the better wines from the Medoc.