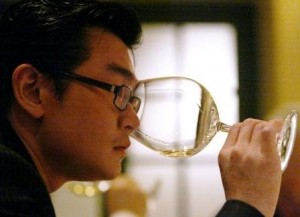 Breaking news on Rudy Kurniawan.  Spoiler alert. It's not good news for Rudy!
And the hits just keep on coming. When news that Federal Judge Richard Berman ruled the FBI had probable cause to search the home of Rudy Kurniawan broke, wine lovers all of the world rejoiced! Now that Judge Berman ruled that the search warrant had a sound basis for probable cause, the trial of Rudy Kurniawan could take to place shortly!  That is unless he folds like a cheap suit and pleads guilty.  That is about the only remaining option left for Kurniawan, with the exception of naming others who could be guilty in participating in his multi million dollar wine counterfeiting scam.
For background on the original March 8 arrest and compelling evidence against Rudy Kurniawan: Rudy Kurniawan Arrested by FBI on Numerous Fraud Charges
The full extent to the damage done to the collectible wine market cannot be determined.  The amount of fraudulent bottles that wealthy collectors purchased, consumed or that remain on the auction cannot be counted.  But trust me, there are more than enough fake Burgundy bottles out there that seasoned and neophyte collectors have good reason to be concerned. Bordeaux wine lovers, especially those that have been buying rare bottles from Pomerol or the First Growths in large formats have good reason to be concerned.
The wheels of justice often move slow. Does the name Hardy Rodenstock ring a bell? Rumors circulated for years about the possibility that the young, extremely wealthy, wine collector, turned dealer was involved in potentially shady practices. That all ground to a halt almost 10 months ago with the FBI issued a search warrant on the residence of Rudy Kurniawan, also known a Dr. Conti, when he was a popular, player in the world of big lumber tastings.  "Big Lumber" was the term tossed around by a group of very rich consumers who thought nothing of opening $100,000 worth of wine during a dinner. Gordon Gecko would have been proud.
Since the arrest of Rudy Kurniawn, Rudy, who grew accustomed to the best of everything in life has been the guest of the New York State penal system. His current address has him as a resident of the Metropolitan Detention Center in Brooklyn, New York.
His days of Armani suits are over. He spends his time in orange jump suits.  Today, and with luck, for many years to come, he'll enjoy similar accommodations
The last stand of Rudy Kurniawan took place because his lawyer tried to have the evidence found in the search excluded as fruits from a search without a warrant.  The reasoning behind that was, because the FBI obtained a key from Rudy Kurniawan, which led to a locked room filled with evidence of an ongoing, massive, wine counterfeiting operation.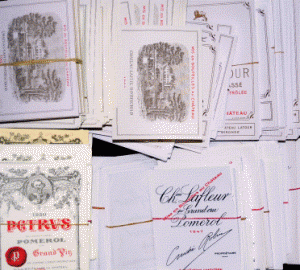 FBI agents found and seized numerous items used in the furtherance of the massive counterfeiting scheme.  Countless empty bottles waiting to be refilled were all over the place.  Empty bottles were busy soaking in the kitchen sink, until the glue was wet enough for the labels to be removed without tearing.  A vast array of wine labels that could be placed on wine bottles from many of the world's most expensive and in-demand wines from Bordeaux and Burgundy ranging from Chateau Lafite Rothschild, Domaine Romanée-Conti, Chateau Lafleur, Chateau Lafite Rothschild, Chateau Latour and Petrus. Multiple types of glue and special scissors that could be used to cut paper in the particular pattern of certain wine labels were also found.
Further examples of evidence were cited by the judge including, multiple types of ink pads, stamps and special drawing paper to produce labels. It did not bode well for Kruniawan that he personally delivered potentially, fraudulent wine bottles to Antonio Castanos, who tried to place them in a auction held by Spectrum, and sell the wine on the behalf of Rudy Kurniawan, claiming he was the true consigner. Those bottles were eventually removed from the Spectrum after numerous complaints were received by the auction company from knowledgeable collectors and experienced merchants. Wine collectors owe a debt of gratitude to Don Cornwell for his tireless efforts to find and help prove fraud against Kurniawan.
The next date that matters for Rudy Kurniawan is only a month away, February 14, Valentines day. Instead of a hot date, or perhaps before a date with his cellmate, he has a status conference at which he'll need to decide if he wants to ask for a plea bargain. As the mountain of evidence is more like an avalanche, my guess is, Rudy Kurniawan will need to have something serious to trade with the District Attorney in the hopes of reducing his sentence. That means he will most likely need to turn over the names of others involved in counterfeiting wine. This could be either private people, merchants, or even auction houses. Else he'll need to throw the dice and go to trial.
Rudy Kurniawan faces charges on more than forgery, counterfeiting or fraud, he's looking at charges to commit fraud on a finance company, defrauding individuals and numerous other charges. Rudy Kurniawan faces up to 20 years in jail if he's convicted on all the charges.
I know I will not be alone in celebrating when he either enters a plea or is found guilty.  His actions have placed a black eye on the wine world. This is a stain that the world of fine wine did not need.
Now, what to open to celebrate? If only I had one of those magnums of Petrus, or was that 1947 Cheval Blanc?  Anyone else what to share?
This is a big issue that effects all wine lovers.  If you have thoughts on this, feel free to post your views.