Masi Tupungato, Touch of Italy in Mendoza Argentina
Written by Chrissie Bettencourt 
Since their early days, Masi has been finding ways to take traditional Italian wine making methods and transforming them into something new and more importantly "spectacular" to produce Mendoza wine in Argentina.  One of their core principles is to "make modern wines with an ancient heart".  And they have been true to their word.  Throughout Italy they have initiated projects where they have created marvellous wines based on variations of ancient varietals and techniques.  One of these experiments is to try the Apassimento technique on grape varietals outside of those traditionally used in the Amarone wines.  And not only that, but then taking those varietals and then growing them outside of their native Italian terroir.  And one new terroir that has been producing amazing results for Mendoza  Argentina.
For years Masi has been making beautiful wines that highlight the Apassimento and Ripasso wine making techniques.  Just to give you a little background if you are unfamiliar with them,   the Apassimento method essentially uses grapes that, after harvesting, have been dried on straw mats in a special warehouse.  This concentrates the flavours, aromas and sugar, resulting in a more intensely flavoured wine.  The Amarones we know and love are made with this method.
The Ripasso technique takes a fully fermented Valpolicella and then passes it over the lees of an Amarone fermentation.  This provides the Valpolicella with more structure.  These wines are then named Ripasso Vapolicellas.
Argentinian Soul and Venetian Style
La Arboleda is the Masi vineyard located in the Tupungato Valley, in the province of Mendoza, Argentina.  Located at 1100 meters above sea level, the valley's popularity has been on the rise as a hot spot for grape growing and wine making.  Because of the cold nights and hot days, the grapes from the area are perfect for making flavour intense wines with fruit forward notes.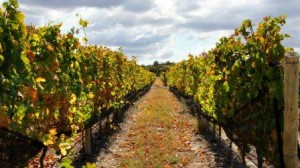 I had the pleasure of taking a visit to their vineyard here and was met by Colleen Clayton and Diego Ortiz Maldonado (their agronomist), who took me for a tour and talked about all the new and exciting Masi experiments that were taking place here.
As you walk through the large iron gates, you are greeted with a beautiful Spanish style house to one side, and 130 hectares in Mendoza Argentina of green rolling hills filled with grapevines on the other.  I was pleasantly surprised at this as many vineyards you visit often flatten out the terrain to plant the vines, but not here.  Masi was very keen on keeping the natural eco system on the property intact and wanted to work with it in the most natural way possible.   And what a breathtaking vista!  Rolling hills laden with grapevines and the majestic snow capped Andes in the background.  Not a difficult office to come to work at every day I must say.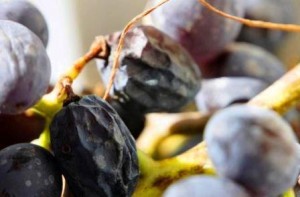 As we walked along I was shown where the grapes are air dried for the Apassimento technique.  In Italy you will find them laid out on bamboo slats in warehouses with a special temperature control system so that the humidity does not creep in.  Here however things are much simpler.  Due to the hot and arid climate the freshly harvested grapes are laid out on special ventilated plastic boxes in an open warehouse.  The air flow coming in from the open walls dries the grapes instantly and they are ready within 20-25 days compared to the three months it usually takes in Italy.  Italian technique coupled with traditional  Mendoza Argentina method and climate equals superior product.
As we walked along further, we passed a number of different grape varietals being grown along the neatly planted rows.   Always pushing the way forward in new ways of thinking within the wine making world, Masi wanted to see how a number of different Italian varietals would fare in this new terroir.  The result?  Corvina.  One of the grape varietals used in the famous Amarone wines, it BLOSSOMED in this combination of climate, soil and environment, creating a flavour and aroma intensive grape.  Also grown here is Malbec, Torrontés, Pinot Grigio and Croatina.  The Apassimento technique is currently being tried on the Malbec and Pinot Grigio, and I daresay will produce some fantastic results.
One of the aspects of the Masi operation that I highly respected was that instead of coming in and only focusing on Italian methods, they keep "Argentinian heart and soul" in the wines they make, yet maintaining the elegant Venetian style.  By blending both Italian and Argentine worlds together they are creating unique wines that bring a plethora of sensory tasting pleasure to wine lovers all over the globe.
A Sensory Experience
As we concluded our tour, we moved back to the Spanish style house where a lovely table was laden with wines and appetizers.  I was now going to have the chance to taste the flavours of the wonderful experiments that I had heard so much of.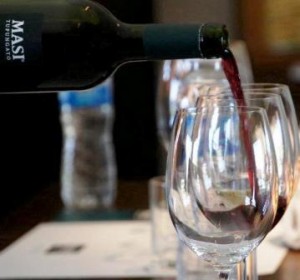 The first of these "nouveau" wines was called the "Passo Blanco", a combination of 60% Pinot Grigio and 40% Torrontés, a white varietal native to Argentina.  I will admit that I am a lover reds compared to whites, however the combination of Pinot Grigio and Torrontés intrigued me.  Pinot Grigio normally has a fresh grassy flavour with a nice dry, acidic finish.  Combine that with the beautiful floral and fruity bouquet that the Torrontés offers and you have a very interesting potential result.  These two varietals were fermented separately, however one of the interesting things that they do here is add dry ice to the grapes immediately after they are harvested.  This stops the grapes from fermenting before they move into the tank yet still allows them to breathe.
And the results were indeed fantastic.   With notes of honey, lavender and fresh grass on the nose it then burst forth in the mouth with flavours of fresh grapefruit, honey, and light floral notes.  Yet at the same time provided you with a crisp and dry sensation.  As these flavours then subsided, it left you with a lingering smooth and creamy finish.  The wine was just an overall delight to the senses, a beautiful dance between flowers and fruit with undertones of dryness and crispness that balanced out and guided this intricate dance.  On a hot summers day I would have happily lounged on the patio with a bottle of this on ice, enjoying the sunshine and soaking in the joie de vivre it emanated.
My ruminations on hot summer days however were brought to a standstill as we moved onto the next one.  Ah a red… I quickly forgot my love affair with the delicate beauty I had just tasted and delved into the world of dark and rich.  In front of me stood a glass of their "Passo Doble", a combination of 70% Malbec and 30% Corvina.  The Corvina had gone through the Apassimento technique, while the Malbec a regular fermentation.  Again, another interesting combination.  Similar to a Valpolicella in body and structure, this wine had beautiful aromas of cherries, dried plum, blueberries and notes of leather.  Then as you slowly begin to let it move through your mouth the cherries and plum intensify and notes of strawberry burst forth.  If you allow it it sit a few minutes more you are then greeted with deeper aromas of mocha, coffee and cacao.  And to finish, it leaves you with a nice light acidity, familiar in many Italian wines.  It was a beautiful and elegant wine, easy to drink yet full of aroma and flavour.  I couldn't help but keep going back to it, bringing it to my nose and taking in the constantly changing aromas.  Somewhat evasive and mysterious, and just when you think you know it, it shows you a new aspect to its personality and you have to get to know it all over again from scratch.  Now that is a wine worth getting to know.
The last wine was called Corbec, a new take on the traditional concept of Amarone.  A blend of 70% Corvina and 30% Malbec, both varietals having undergone the Apassimento technique.  This wine bursts with aromas of raspberries, roasted cherries, and plum jam…  It was love at first sniff.  I had to put the glass down and compose myself.  Such rich aromas…deep and mysterious.  There is nothing that wins my heart over more.  And I hadn't even tasted it yet…  However, it did not disappoint.  As I let it slowly settle in my mouth I could feel the wonderful balance of structure and body, with well rounded tannins gliding across my tastebuds, assertive yet smooth like butter.  And then the fruit took centre stage.  Bursts of deep cherry coupled with hints of spicy cake and plum tart flavours.  It was a beautiful integration of deep rich fruits with an undertone of smoky elements.  And to complete the experience it leaves you with a dry and well rounded finish.  I leaned towards the bottle and kept inching it towards me, maybe they wouldn't notice….
After tasting these three wines I then understood what Masi was about.  This was not just about combining traditions and creating new products.  It went beyond that.  What had taken place here was "fusion" taken to another level.  It was about the dynamic integration of two backgrounds, coming together in perfect harmony to create something greater… a new energy and a new taste experience.  They had created a wine that is the pure epitome of Italian tradition coupled with Argentine soul.  You can feel the pulse of the distinct varietals beating to their own unique rhythm yet in perfect sync with each other.  In drinking these I felt I had tasted and experienced the heavens coming together to create a new soul.
As we took our leave back through the large wrought iron gates I smiled.  It is not often I am left with such a deep impression after doing a wine tasting.  Yet here I was in deep philosophical thought, and arms wrapped protectively around the bottles I had brought with me, as if I was transporting gold.  I felt like I had just experienced a Renaissance, a new way of looking at wines and at the world as whole.  Masi had created the perfect integration of two cultures and traditions, coming together to create a new world within the old one.  Just a few sips (okay maybe more than a few sips…) of these wines made me deliriously happy and transported me to a new state of being.  Maybe we could learn a little from Masi's technique and apply it to our own lives.  Learn to meld our past experiences together and create a brighter future from them…  Yet like everything Life, this is a process and takes time.  So in the meantime we can keep enjoying their wines and let them continue to pave the way to our future.