Written by Roy Hersh Publisher of www.fortheloveofport.com
At what point along the path to maturity should you start opening your Vintage Port? If you have a case, when do you want to start tasting your wines to assess their quality and evolution?  It is always good to have a data point along the way. What works best for me, taste them as cask samples (whenever possible) then again within a year or two of bottling. The next step is when the Vintage Port's have twenty years of age. 
Vintage Port is built to last. Typically, the wine improves with decades of bottle aging.   Whether that is ten, twenty, forty years or more depends on one's personal preference.  Port collectors have grown to appreciate the tradition of waiting for the day when their patience is rewarded by enjoying delicious mature Vintage Port. There's nothing wrong with enjoying Vintage Port when their vibrant personalities are still forming and primary.  After all, it helps to understand what these youngsters are like in order to ascertain a specific shipper's house style and ability to improve with age.
For this tasting, all the Port wines were poured single blind into glasses just prior to getting started. The tasting included fifteen different Ports with two ringers. The ringers were not meant to fool anybody, as they were also from 1991. They were single harvest Tawny Port's (Colheitas) instead of true Vintage Ports. We had three flights of five bottles apiece.
FIRST FLIGHT
1991 ~ Quinta do Vesuvio ~ Vintage Port – Medium dark scarlet color with a clear pink edge.  Fine fragrant stewed prune and raisin notes had me thinking Douro bake, but then a gentle whiff of mocha, baking spices and cinnamon red hots added a broader palette. Served blind of course, Vesuvio delivered soft, smooth and elegant characteristics which were a bit evolved for a 20 year old Vintage Port.  Dry in style with lots going on in the middle, generous cherry and cranberry flavors spiced up by clove and pepper nuances, ending with a gentle warming sensation and good length.  Fine symmetry here, but closing in on its peak with possibly a decade or even a dozen more years at this level.  Once revealed, few were surprised at the producer given this was only the third vintage of Vesuvio in the modern era.  In my opinion, it was not until 1992 came along that the wines showed better, with less of the baked qualities that prevailed in the earlier vintages. I bought a six pack one day after returning from Portugal, in mid-May 1994, from Winexchange for $34 per bottle.  89 points ~ 4/16/11
1991 ~ Croft ~ Vintage Port – Vibrant magenta color and nearly opaque, with a dark ruby rim.  Featuring an interesting assemblage of scents including espresso bean, a roasted/char note, ripe strawberry, and a stalky character which was in the background.  Medium-full weight and densely concentrated with just-crushed grape appeal and flavors ranging from cocoa to boysenberry with an intricately layered, suave middle and subtle sweet chocolate on the prodigious lingering finish.  Grippy slightly astringent tannins, most evident in the core of this VP, had me wondering if this wine had been crushed without de-stemming. 1991 Croft is still on the upswing and will reward patience, as I've always considered this one of the handful of Ports at the apex of this vintage.  Drink now to 2030. My sticker on the back of the bottle: "1/20/96, Winexchange, $28. JS 94 pts."  92+ points ~ 4/16/11
1991 ~ Morgan's ~ Vintage Port – Although I've only had this Morgan once before, this bottle was a gift from a friend in the UK.  Very dark cranberry color with slight bricking and a broad tawny-pink edge.  There was a hint of some bottle funk, even though this had been decanted six hours in advance; but also some sensuous notes of cherry, savory herbs, leather and black pepper which added depth and had me nosing my glass often throughout the night. Light to medium bodied, easy to approach, with precision and refinement, this drinks beautifully today, supported by snappy acidity, genteel fully resolved tannins and gobs of maturing fruit. The finish was lovely and overall this wine was a pleasure to drink.  If you own the Morgan, I'd suggest drinking up during this decade, at peak.  87 points ~ 4/16/11
1991 ~ Ferreira ~ Vintage Port – Exhibiting mature brick red color, this bottle was surmature and not what I'm used to, as it had a distinct tawny edge.  A bouquet which also provided signals of possible poor storage or exposure to heat with light VA, stewed purple fruits, smoky nuances, nut skin and some heat.  The palate was considerably better and I actually thought it was quite tasty, but again, somewhat pre-maturely advanced for a '91.  Texturally this was amazing, light and seamless across the tongue which is a hallmark of Ferreira Vintage Ports.  Smoky cherry berry flavors were evolved and luscious with a medium length finish that showed a tad too much heat.  87 points ~ 4/16/11
1991 ~ Niepoort ~ Colheita Port – In any blind tasting it's always fun to toss in a ringer or two.  Of course the orange-tawny hue with red glints and a golden meniscus fooled no one, yet the guesses ventured by some guests made for a lively discussion. The bouquet was a dead giveaway for anyone still not convinced what type of Port this was. Sandalwood, marzipan, apricot preserves, light VA and golden raisins presented a rather intense silhouette.  A true light weight with sheer elegance and sublime, delicate texture and flavors of tangerine, toasted almond, mace and a serious citrus edginess that left a dry impression on the mid-palate, but ended up sweeter as the toffee aftertaste kicked in, almost Malmsey like.  It is impressive for such a young Colheita. 91 points ~ 4/16/11
SECOND FLIGHT
1991 ~ Churchill ~ Vintage Port – Dark opaque maroon color with a dark ruby rim.  Initially quite spirituous, with dried floral notes, mocha and dominant blackcurrants and blackberry aromas and a hint of soy.  Chewy and concentrated, full and complex from the first sip, nicely balanced acidity and resolved tannins supported the rest of the cast of characters.  Somewhat austere black fruits in a soft and feminine style, with velvet-like mouthfeel and an exuberant persistent finish.  A pleasant surprise, this Churchill Vintage Port is not one I've had much of and it was a pleasure to drink. A mid-term ager and it's nearing peak, but has another 12-15 more years at this level.  90 points ~ 4/16/11
1991 ~ Dow ~ Vintage Port – Bright medium ruby color with a pink rim.  This was one of the very best Ports we had at this particular tasting and for my money, the Port of the night.  Stunningly complex spiced aromas of plum, clove, cocoa, anise, menthol and spearmint.  Wow!  Stacked with gobs of fresh, youthful brambly boysenberry and blueberry fruit, it is a mouth filling and full-bodied VP.  Offering excellent overall balance, with tannins that are still ripe and powerful, yet smooth and well integrated.  Dow has the best long term cellaring prospects of any 1991 we've had to this point. In my opinion, there's a solid 25-30 years of fine future consumption.  94+ points ~ 4/16/11
1991 ~ Kopke ~ Vintage Port – Fully evolved brick red throughout with a strawberry-pink meniscus.  An ethereal nose and an unexpected surprise from Kopke: Strawberry, smoky leather note, toffee, mocha, cedar and Asian spice.  A profound bouquet!  Full and rich, yet maturing on the early side, but very enjoyable at the moment.  Medium-full, zippy acidity and no signs of tannins here. Dense and perfectly in synch for current consumption with a super long finish.  Consume 1991 Kopke by 2022. 92 points ~ 4/16/11
1991 ~ Rocha ~ Vintage Port – Opaque and slightly cloudy with a broad rust colored rim.  The nose was the weakest link while the palate was much better.  Aromatically, there was a slight medicinal nuance which never blew off, seasoned by graphite, cocoa powder and an herbal essence. Sipping this was MUCH more fun; a refined Port at peak and I was clueless as to which Port this was when guessing blind.  Graceful and accessible today, well-balanced, with a refined mid-palate consisting of moderate complexity.  Structurally the acidity and tannins are in synch and this is drinking at the perfect moment in time.  I'd not wait too long as this Rocha has another 8-12 more years before heading into its tawny phase.  Catch it now and enjoy the long chocolaty finish.  88 points ~ 4/16/11
1991 ~ Quinta de Vargellas ~ Vintage Port – This has always been one of my personal favorite vintages for Vargellas and is another Port in the "Top 3" of the 1991 vintage, in my opinion. Opaque vibrant garnet color from core to edge.  Unfortunately, I sensed very low level TCA on the nose, which was unmistakable, but this Vargellas was stuffed with so much overlying material that I was able to sip around the corkiness in this particular case.  Smoky plum note, fresh lavender and a dominating chocolate characteristic.  Full rich and berry filled, I was waiting to sense the TCA on the palate too, but was unable to do so for several hours.  Intense and still a massive young Port today.  It has 2-3 decades of life ahead of it, exemplified by the big ripe, round and grippy tannins that arrive late.  This was a low scoring '91 Vargellas for me, but the TCA did have an affect overall.  92+ points ~ 4/16/11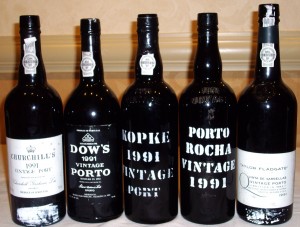 THIRD FLIGHT
1991 ~ Warre's ~ Vintage Port – I've had better bottles of 1991 Warre, this one was good but not in top form.  Medium ruby with a pink edge and a cloudy appearance. I had one not long ago that was still very dark.  Blueberry, vitamin pill and rose petals made for a unique profile and not quite as lively as usual.  Medium bodied, velvety smooth and quite sweet.  Showing the telltale Warre's elegance, with raspberry and grenadine flavors along with a backdrop of chocolate covered almonds. In possession of a well-sculpted, intricate mid-palate that led up to a slightly warm but stylish long finish.  90 points ~ 4/16/11
1991 ~ Kopke's Dona Matilde ~ Colheita Port – This was the 2nd "ringer" of the night, included more as an intro to this young beauty, not expecting anyone to mistake it for VP.  Bottled in 2009.  Orange-golden optic and a clear rim.  Fruit filled nose of dried dates, peach marmalade, almond paste and mahogany.  For such a young Colheita this is really expressive both aromatically and on the palate.  Smooth and unctuous, delicate and delicious and light on its feet.  Juicy nectarine, praline, lemon peel and pecan pie flavors are seductive and the mild candied nuttiness is balanced by exquisite acidity which keeps this in the off-dry realm. It finishes with great length and an exotic aftertaste of crème caramel and butterscotch. Young Colheita rarely gets any better than this. 93 points ~ 4/16/11
1991 ~ Fonseca Guimaraens ~ Vintage Port – Opaque dark ruby color with considerable browning on the edge. Fresh lilac fragrance along with spicy red licorice, leather and Sultana notes.  Another finely tuned VP eliciting a soft, warm and smooth presence; with raspberry and redcurrant flavors that are ripe and sweet.  The 1991 Guimaraens is harmonious and graceful, with a warm and nutty aftertaste that follows a medium-long finish.  Ready to drink today, but the upside is ten to fifteen years or so from here.  90+ points ~ 4/16/11
1991 ~ Graham's ~ Vintage Port – Usually a brilliant youngster, this had a musty odor and several of us felt it might be very lightly corked. I paid careful attention to this over the next couple of hours and never noticed it gaining any more signs of being corked.  Lush blackberry was short of jammy in its briary sense, and it showed a distinct tobacco and chocolate nuance as well.  Smooth, ripe and intense with powerful tannins that take hold of the sweet mid-palate, lead to a remarkably long chocolate laden finish.  Enjoyable now but will reward cellaring over the next fifteen years. A very well made Guimaraens. 92+ points ~ 4/16/11
1991 ~ Gould Campbell ~ Vintage Port – Dark magenta color that is just short of opaque.  A spicy profile of black pepper, licorice, cedar, mint, raspberry and Raisinettes. Rich, concentrated, but silky smooth textured crushed red berry fruit, framed by cedar and black pepper. This GC delivers a soft and complex, well-defined core, snappy acidity and firm chewy tannins that forebode a long upside from here. One of the longest finishes of any Vintage Port we tasted, this is a gorgeous young Gould and requires either a long decant for current consumption, or it will reward patience if cellared.
Another in a long line of stellar bottlings of Gould Campbell, a shipper that is underrated and offers great QPR. Drink now through 2040.  93+ points ~ 4/16/11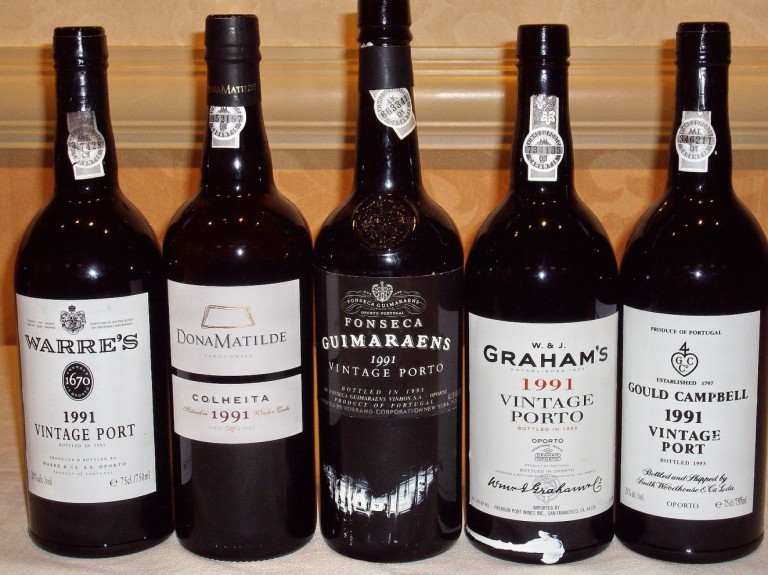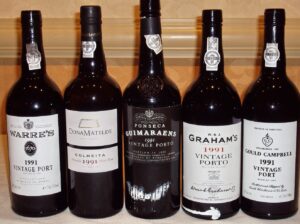 The 1991's are hard to put into a neat little box.  There are some that are drinking extremely well today, ready for consumption with the proper decant regime and are within a decade of their peak.  Several others, were also approachable now, but exhibited their youthfulness and are probably fifteen to twenty years away from being ready to be consumed during their maturity.  Lastly, two or possibly three of the 1991 Vintage Ports tasted at this event will be able to age for another 30 or even 40 more years.