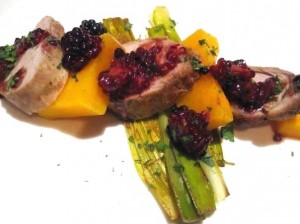 Pork is a staple in our kitchen because it's versatile and easy to work with. It's lighter than beef and it can be paired with a wide variety of wine from
Bordeaux
, to
Rhone
, to
California
or Burgundy. This includes red, white and Champagne. What more could you ask for?This dish looks great and it's easier to make than it appears.  The cut we used is a rich cut known as pork rib cap.  But a pork tenderloin can easily be substituted.  Use a pork chop if you like.  The most important thing to remember is, have fun in the kitchen making what tastes good to you.
Take the cut of your choice, generously coat it with salt, pepper, cayenne, brown sugar and olive oil.  Heat your oven to 375.  Place leeks and squash in the bottom of the roasting pan.  Generously drizzle olive oil on the leeks and squash.  Place the pork on a rack over the squash and leeks so the juices drip onto the pork and roast until it reaches about 160-165.
Once the pork is done, take berries, which add sweetness and acidity and using the juices from the bottom of the roasting, baste the berries and them soak in the juices while the pork is resting. After 5-10 minutes, slice, plate and pair with the wine of your choice.