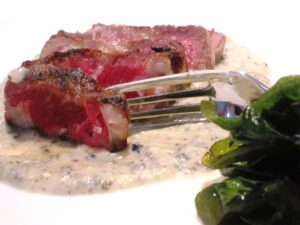 Steak and Bordeaux wine were meant for each other. Add truffles and get set for a sensory experience.  If you think this sounds good and looks even better, wait until you taste it!
I like cooking. It's fun.  It allows me to create something from raw ingredients. From a few simple items, along with luck and a prayer, from time to time I come up with a pairing that delights your senses, especially when you can make something as easy as Steak and Bordeaux Wine.
Dishes like this are perfect for wine.  It's said, we take the first sip or bite with our eyes. The deep ruby hue from the night's wine, 1996 Pichon Lalande from  Pauillac  captured my attention .   A glance at the plate, with its stark, white background, allowed the deep red of the beef, grains of sea salt, and crisp green spinach to catch my eye.
Wine is perhaps the most complex beverage in the world.  The cornucopia of fragrances, licorice, truffle, cassis, tobacco, earth, blackberry, coffee bean and tapenade scents in this bottle easily grab your attention.  This prepares you for the intoxicating aromas of smoke, truffle, pepper and the unmistakable rich perfume of fresh grilled, dry aged beef, gently resting on the gleaming white plate.  
Wine and food pairing can be about the texture.  The decadent, rich, silk and velvet wine caress your mouth as it flows over your palate.  The flavors move from earthy,  sweet  blackberry, to spicy cassis. After each sip and swallow, a residue of flavor remains, reminding you of the wine.  You're hungry.  The knife easily slices through the beef. Like a scalpel in a surgeons hand, you cut a piece. The knife, no longer needed is laid on the left side of the plate.  You switch hands. Deftly grasping your fork, you spear a freshly cut slice. Finally, you're ready to put that steak where it belongs. Each bite of the densely textured beef, squirts its smoky flavors. The truffle in the potato accentuates the earthy aromas in the wine.  A nice paring indeed.  
One of the hallmarks to a great wine is the finish. How long did the flavors remain in your mouth.  Did you want another sip? What about another taste after that?  Great food offers the same pleasures and in part, can be looked at using the same criteria.  Were the flavors pure? After eating, was it memorable?  Would you want to experience it again?
Food and wine parings that work well together offer a better experience and they're easy to create.  Find a wine you like, a dish that offers pleasure and share it with someone that matters to you and you're set. 
I told you it was easy.  What time is dinner tonight?
If you like cooking, eating and wine, feel free to post your comments…