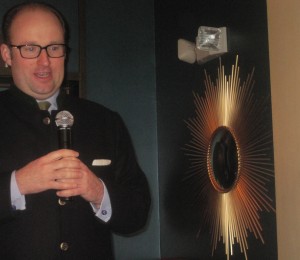 A tasting of Chateau La Mission Haut Brion tasting with Bipin Desai  covering the years 1961 – 1999. A once in a lifetime event for a Bordeaux wine lover.
Bipin Desai has tasted more old Bordeaux wine than I will ever have the chance to even read about. In some ways, Desai can be considered a walking Bordeaux wine history book. With Bipin's encyclopedic Bordeaux wine tasting experince, you'd think he'd publish a book.  He did.  However, his book has nothing to do with wine. "Quantum Mechanics, with Basic Field Theory."
Desai is a Theoretical Physicist.  A Theoretical Physicist describes natural phenomena using mathematical formulas. I'd like to see the mathamatics practiced that explain how a Doctor of physics, that seeks cut and dried explanations for life's greatest mysteries ended up with a passion for something that cannot be explained or even quantified.  Next time I sit down with Bipin, who's been teaching Physics at the University of California, Riverside since 1965, that's exactly what I'm going to do.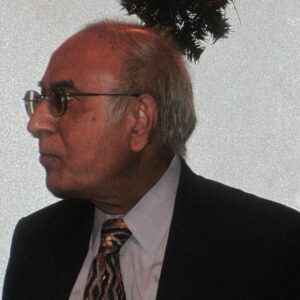 But this time, our attention was focused on tasting a wide array of vintages from two of the best Bordeaux wine producers; Chateau Haut Brion and Chateau La Mission Haut Brion.
 For this tasting, Bipin assembled an amazing array of bottlings from both Pessac Leognan chateaux covering 1921 to 1999!  Tastings of this magnitude require planning.  Especially when Prince Robert de Luxembourg, the owner of Haut Brion is present, as well as the director, Jean Philippe Delmas. Both attended the event to represent the wineries and discuss the wines.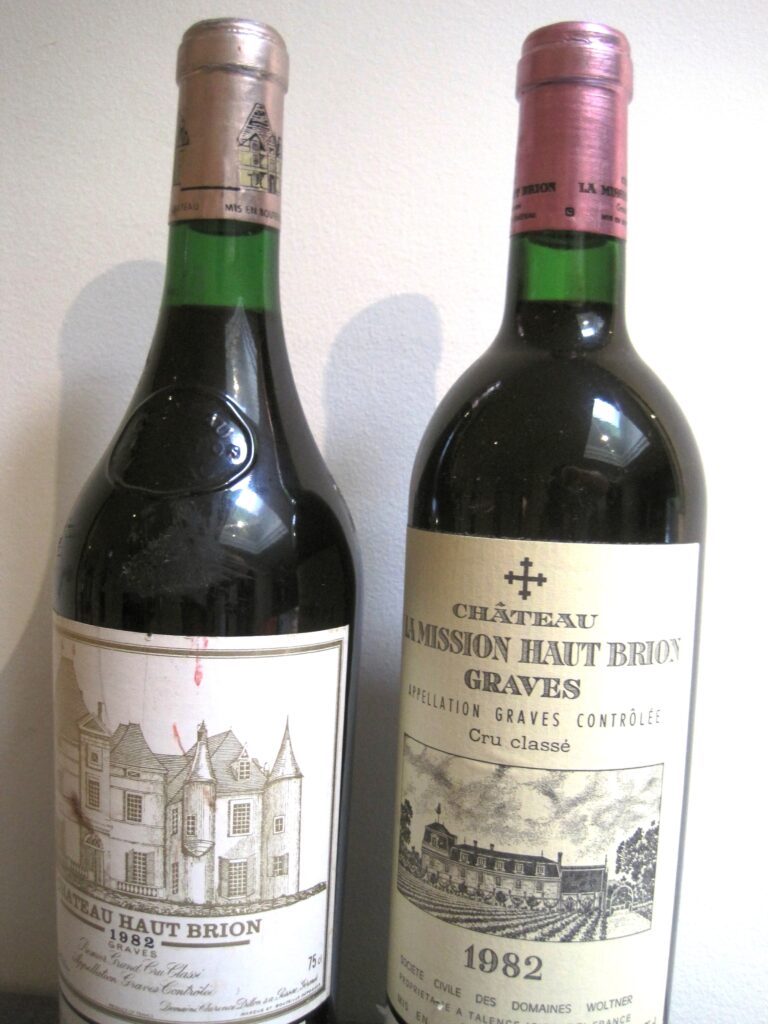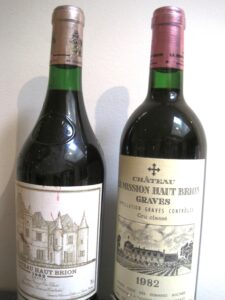 La Mission Haut Brion and Haut Brion are located in the Pessac Leognan appellation.  They share similar names, the same owner and wine making teams.  It takes longer to walk down the driveway of La Mission Haut Brion from the famous gated entrance to the chateau , than it does to traverse  from one property to the other.  Yet the wines are different in style. Haut Brion is a more elegant, refined wine. La Mission Haut Brion can have more power and structure.  In some vintages, Haut Brion is clearly the better wine. In other years, it would be hard to argue that La Mission Haut Brion did not make the superior wine.  Keeping everything in perspective, there are vintages when both estates produced equally profound wine. In those years, it's a matter of stylistic preference, not quality that separates the wines.  When asked how two properties located next to each other can produce different wines, Jean-Philippe Delmas smiled, replying "Terroir."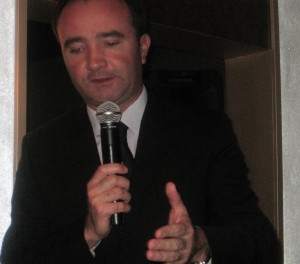 Chateau Haut Brion was deemed a First Growth in the 1855 Classification. It was the only red Bordeaux wine from outside the Medoc included in the classification.  Due to the consistent level of quality and character found in Chateau La Mission Haut Brion, if the wines of Bordeaux were ever reclassified, I have no doubt that La Mission Haut Brion would be elevated to First Growth status.
This historic event might have taken years to put together. But it took only 3 nights and 2 days to finish. In less than 60 hours, the group went through 2 lunches, 2 dinners, 175 bottles of Haut Brion and La Mission Haut Brion and 3,600 glasses!  An entire team of sommeliers headed by Christian Navarro from Wallys ensured the difficult wine service was handled seamlessly.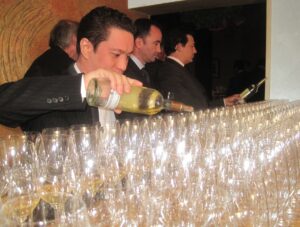 Due to scheduling, I was only able to attend the dinners. Sadly, I missed both lunches.  The dinners were held at Piero Sellvaggio's Valentino's in Santa Monica.
Session #1 covered Haut Brion – 1961-1999. My report on that amazing night of wine will be published in a day or so.  Session #2 looked at the young years, 2000-2005 for the red wines and 2003-2007 for the whites.
 The tasting notes in this article details the third session, La Mission Haut Brion 1961-1999.
The vintages included in this event allowed tasters to experince the chateaux in a myriad of vintages at both ends of the quality spectrum. Most producers can make great wine in the best years. But in part, it's quality of wine made in difficult vintages that help define a property.    
1982 Laville Haut Brion seemed old, tired and past its prime. Light in aromatics with muted flavors. This wine has dropping its fruit.  83 Pts
1989 Laville Haut Brion opened with a perfume of lemon wax, fresh cut grass, citrus oil and bees wax. Soft textures were made better with a vanilla, orange and lemon finish.  Fully mature, I would not hold this wine for further development. 92 Pts
La Chapelle de la Mission Haut Brion
Starting with 2006, the fruit  source for La Chapelle de La Mission Haut Brion changed. La Tour Haut Brion was phased  out of production. Those grapes are now included in La Chapelle de la Mission Haut Brion.
2000 La Chapelle de La Mission Haut Brion  with an earthy, smoky, cassis nose, soft textures and medium body and soft cherry finish is fully mature.  88 Pts
1998  La Chapelle de La Mission Haut Brion  opened with aromas of smoke and spicy cassis.  This simple wine ends with a cassis, cranberry finish.  85 Pts
1995 La Chapelle de La Mission Haut Brion  offers a leafy, smoke and kirsch perfume. Short and light, this needs to be drunk up. 85 Pts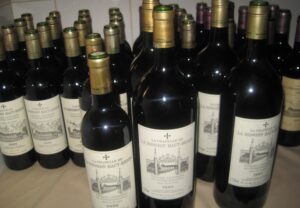 The Main Event – Chateau La Mission Haut Brion
1999 La Mission Haut Brion is ready to drink. With an earthy perfume fiulled with cassis, black cherry, smoke and tobacco scents that lead into soft, mature, elegant textures. This wine is a bargain for a mature La Mission Haut Brion. 91 Pts
1998 La Mission Haut Brion pops with a complex perfume of cigar box, cedar, leather, smoke, tobacco leaf and cherry.  Full bodied and filled with ripe dark fruit, this still tannic wine requires a few more years before its ready for prime time drinking.  95 Pts
1996 La Mission Haut Brion is a firm, structured, tannic, masculine style of wine.  Interestingly, that what I was expecting to find in the 95. This is a clear case of role reversal. With tobacco, cassis and stone aromas, this powerful wine needs another 5 years to sort itself out.  91 Pts
1995 La Mission Haut Brion – One of the best results vertical tastings provide is the occasional surprise. Surprises work both ways. Some wines are much worse than anticipated. Other wines are much better than you remember them.  1995 La Mission Haut Brion was a positive surprsie.  I could not believe how much I liked this wine! 95 Bordeaux has not developed well. Many wines have taken on a hard, severe style. But not the 95 LMHB!  This smoky, spice filled wine reeks of tobacco, blackberry, olives, truffle, forest floor, pepper and fresh herbs. Concentrated with lush, ripe fruit, soft tannins and supple textures, this wine is only now just starting to come out of its shell. While not cheap, this is worth the money. When people start tasting and talking ab out this wine, prices can only go higher.   If the wine keeps improving, (and it might)the wine may score higher than its current 95 Pts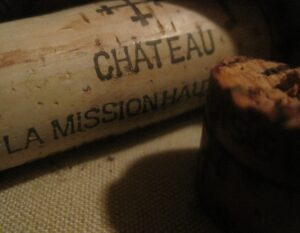 1994 La Mission Haut Brion is fully mature. Tobacco, earth, cassis and green olive tapenade perfume, meshed with rustic tannins and a finish that was staring to dry out. 89 Pts
1993 La Mission Haut Brion took effort to find the wines light perfume.  This medium bodied Pessac Leognan is dropping its fruit fast and needs to be drunk up sooner than later. 87 Pts
1990 La Mission Haut Brion is an exciting wine.  The moment your nose meets the perfume, you know something special is going on.  Potent aromatics of tobacco, earth, cedar, hot stones, coconut, blackberry, cassis, tar and spice are easy to find. In the mouth, the wine feels lush, elegant and yet powerful. Balanced and in harmony, this beautiful Bordeaux wine has a long, bright future to look forward to. 97 Pts
1989 La Mission Haut Brion opens with a powerful nose, filled with scents of fresh coffee bean, blackberry, cassis, spice, strawberry, smoke, minerality and earth. Massive, deep and stuffed with layers of ripe, rich, fruit with intense purity.  The long finish is balanced and close to seamless. The wine could use a few mores of bottle age to soften the tannins.  98 Pts
1988 La Mission Haut Brion took coaxing to bring out the cedar, earth, tobacco, cassis and olive aromatics.  The soft textured wine shows a hint of green in the finish.  This wine is fully mature. 90 Pts
1986 La Mission Haut Brion is filled with smoke, tobacco, cassis and cherry. This austere, chunky styled wine ends with a cassis and cherry finish.  Drink up. 90 Pts
1985 La Mission Haut Brion – Corked
1983 La Mission Haut Brion offers leafy, cherry pipe tobacco, smoke and earthy aromatics.  The wine displayed hints of green flavors with tart fruit in the soft textured finish. It's time to drink up. 87 Pts
1982 La Mission Haut Brion explodes from the glass with an complex array of aromas including tobacco leaf, spice, leather, tar, cassis, truffle and fresh earth. This dense, powerful, masculine wine is graceful, elegant and complex. The finish fills the mouth with a purity of fruit that is seldom seen in a wine. Still young, this wine will age for decades. 100 Pts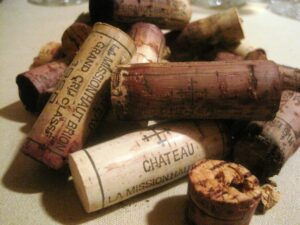 1981 La Mission Haut Brion offers tobacco, truffle, earth and smoky cassis scents, Soft, supple and fully mature, the wine finishes with light black cherry and cassis flavors. This will not improve. Drink up. 90 Pts
1979 La Mission Haut Brion sports cherry pipe tobacco scents with hints of forest floor and mushroom. Light in style, this elegant, soft wine ends with cherry flavors and a hint of tartness. This wine needs to be drunk up.  88 Pts
1978 La Mission Haut Brion is stuffed with smoky cherries, tobacco, minerality, truffle, tar, blackberry and earthy scents. But the wine is not as good as it was 2 years ago, and at that time, it was not as good as it was a few years before that.  Ther is still ample pleasure to be found in this fully mature wine, but it's not a wine to hold for further evolution as its slowly drying out. 92 Pts
1975 La Mission Haut Brion opens with a hint of volatile acidity along with smoke, forest floor, earth, dark cherry, cassis and cedar wood aromas.  Huge is an apt descriptor. The levels of tannin that remain are troubling.  There is no doubting the quality of the wine, but the levels of tannin and their rustic personality detract from what would otherwise be a sensational bottle of wine.  96 Pts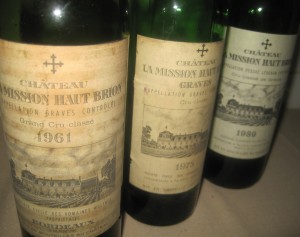 1961 La Mission Haut Brion is filled with smoke, cigar box, minerality, leather, tar, ash, blackberry and floral aromas. This mouth filling, rich, suave, polished wine is concentrated with black cherry and spicy, smoke filled blackberries. The wine coats your mouth with intensity and rich, round sensations. This bottle was not at the extraordinary level as the 1961 Haut Brion served the night before. But it's not that far from it either.  97 Pts
If you have any questions or comments about this article or any of the wine reviews in it, please feel free to post.