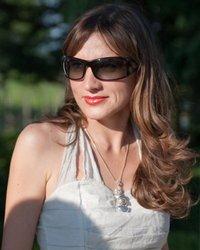 Bolgheri
Bolgheri wine from Italy is a prime example of how Bordeaux wine varietals can flourish outside their native Bordeaux. Just think Sassicaia, Ornellaia or Masseto. They are different, yet legitimate and ultimately outstanding expressions of Bordeaux grapes on the Tuscan coast. Bolgheri is also a fascinating place to follow. As a great red wine region, it is young and needs to be approached with a mental note of 'work in progress'. Apart from Tenuta San Guido which planted its first vineyards in the 1940s, the oldest wineries of modern-wave Bolgheri are now hitting 30 years. The age of wisdom is yet to come.
Le Macchiole
My recent visit to the area in early October was prompted by an invitation from Le Macchiole to taste their latest releases. Every autumn, proprietor Cinzia Merli Campolmi organises a tasting event to show off her top wines, which are about to leave the winery cellars.
In early 1980s Le Macchiole, together with a handful of other wineries, pioneered the production of high quality red wines in Bolgheri. Today its best known labels – Paleo, Messorio and Scrio – are among Bolgheri classics (insofar as the age of the region allows any wines to be termed 'classic' that is). The peculiarity of Le Macchiole is that the estate's flagship wines are monovarietal, going against local preferences for blends. Paleo opts for Cabernet Franc, Messorio for Merlot, and Scrio is made with 100% Syrah (well, this is another exception to the Bolgheri rule of Bordeaux grapes). Bolgheri Rosso, produced at Le Macchiole with Merlot, Cabernet Sauvignon, Sangiovese and Syrah, is merely an entry-level wine.
Paleo, Messorio and Scrio are usually released on the market in October, which is 4-5 months later than other emblematic Bolgheri wines. Same vintages of Sassicaia and Ornellaia are available for purchase starting from May-June.
The current vintage on offer is 2007. Presented by Massimo Merli (Cinzia's brother, in charge of vineyards) as a year of great balance, all Le Macchiole wines stood up to this description. "This is the style that I prefer", added Cinzia. "The wines are not excessively rich. They are elegant, yet you can feel a firm structure".
Scrio 2007 was the most eloquent wine of the trio that day. As explained by in-house winemaker Luca Rettondini, vinification of Syrah underwent an important change in 2007. "We switched from fermentation in wood to steel to get a more expressive character of fruit and flowers in the wine. It also allowed a better preservation of the freshness in the Syrah – we can clearly distinguish Mediterranean notes of laurel and rosemary", he said. The purity of scents and flavours in the Scrio was remarkable. Messorio, the estate's much lauded Merlot, appeared to me in a sulky mood on that day, though mineral backbone and good definition of acidity should assure the wine's long and graceful evolution.
Paleo Rosso (as opposed to Paleo Bianco, the estate's white wine, a blend of Sauvignon Blanc and Chardonnay) was presented with two other 2007 wines, as well as in a separate flight with older vintages. Luca D'Attoma, a long-standing consultant who has worked with Le Macchiole since 1991, joined us for the vertical tasting. Paleo was first produced in 1989, and its early vintages were based on Cabernet Sauvignon, following the conventional formula.  "Together with Luca, we wanted to give more identity to the wine", recalled Cinzia. Five percent of Cabernet Franc was cautiously introduced in Paleo 1995, with the grape's share increasing to 15% by 1999. "The image of Cabernet Franc in Bolgheri wasn't strong then", she said. The fortunate fate of the grape was sealed in a hot 2000 when Cabernet Franc "saved the wine thanks to its freshness and fruit, which weren't cooked", told Luca D'Attoma. The presence of Cabernet Franc increased to 30% in that vintage. The experience also encouraged Le Macchiole to give Paleo a radical makeover. Starting from 2001, it is invariably made with 100% Cabernet Franc. We tasted Paleo 1995, 1999, 2001 and 2004. Modern-style 2004 with sweet black fruit, chocolate, minerals, powerful structure and concentration as well as hallmark Bolgheri balsamic notes may have been the most impressive wine of the flight, but I also enjoyed the lively, tobacco-scented 1995 vintage which shows no signs of tiredness and drinks very well. Paleo 2007, the current release, is restrained and of medium proportions, spicy and herbal, and needs more time for better integration of tannins.
Ornellaia
While the last batch of Le Macchiole grapes was put into fermentation tanks on 3 October, the harvest at Tenuta dell' Ornellaia was in full swing when I arrived a day later. Two female teams were sorting Cabernet and Merlot, the latter was picked at one of the Masseto parcels. The 7 hectare Masseto vineyard is in fact harvested in several passes, the whole process can take up to three weeks.
Since my last visit in summer 2006, the reception area and adjacent grounds have visibly changed. Last year, with the release of Ornellaia 2006, the estate announced a new art project called Vendemmia d'Artista (http://www.vendemmiadartista.it/). An established artist is now chosen every year to create objects for the winery and labels for the limited release, large format bottles of Ornellaia. Four extravagant fountains and numerous drawings hanging on the walls, as well as a garden installation, are contributions from an Italian and an Egyptian-born American artist who worked respectively for the 2006 and 2007 vintages. Some bottles of Ornellaia 2007 with art labels were auctioned off in New York in April this year – the money was donated to The Whitney Museum of American Art. The artist for 2008 vintage is apparently going to be German, and the next one will come from Asia.
I learnt all this from general manager Leonardo Raspini, whom I came to see on a different matter. I was researching the history of Bolgheri for my wine column in Russian Forbes and needed good insider knowledge. Leonardo is not native to Bolgheri, but he has frequented the area since the mid-nineties and joined Tenuta dell' Ornellaia in 2001 – he's nearly a veteran by Bolgheri standards. After an intense briefing on varied members of the Gherardesca clan, local and external investors (these are three main types of winery ownership in Bolgheri, according to Raspini) and the benefits of DOCG versus DOC (none, says Leonardo), it was time to taste some wine.
Le Serre Nuove 2008 (45% Merlot, 35% Cabernet Sauvignon, 10% Cabernet Franc and Petit Verdot), second wine currently available on the market, shows the monolithic character of the 2008 vintage. Leonardo compares it with 1999. The wine is built for a long life thanks to the density and concentration both on the nose and the palate. I wouldn't touch it just yet, but would instead go for the previous vintage.
The 2007, dubbed in artistic speak as L'Armonia (The Harmony), shows beautiful elegance in both Le Serre Nuove and Ornellaia. Unlike in Le Serre, the backbone of Ornellaia is provided by Cabernet Sauvignon (60%). Merlot (20-25%), paradoxically for warm Bolgheri, gives freshness. Cabernet Franc (15%) works very well, it is possible that its share in the blend will be further increased. A modicum of Petit Verdot (2-4%), first introduced in 2003, gives particularly good results in hot vintages. Leonardo Raspini insists that intrinsic quality, not precise percentages of the grapes, make Ornellaia in the end – actually, true for any great wine. Focus and refinement, with sweet black fruit, cedary notes and dusty minerals, and a firm tannic structure are key descriptors for Ornellaia 2007.
The biggest surprise was a new wine that Ornellaia will shortly present to the world. It is white sweet, made with late-harvested Petit Manseng and totally unorthodox for Bolgheri. Leonardo Raspini recounts that the ex Ornellaia winemaker, Thomas Duroux, planted a small vineyard in 2003. The wine was first made in 2006 and tested on grape pickers at the traditional end-of-harvest party (apparently, they also drink Ornellaia and Masseto on alternating years), but then the wine tasted more like Vin Santo. The second vintage, 2007, which I tried and which will soon be released for sale under the name Ornus, is a joy to drink. Grapes were picked in late October / early November, fermentation and aging took place in French oak barriques. Get your cheese platter ready for this excellently balanced and refreshing number that exudes aromas of apricots, pears, peaches and light woody vanilla.
Sassicaia
Really, it should be Tenuta San Guido, but even Nicolo Incisa della Rocchetta admits that most of his visitors call the estate Sassicaia.
The visit and the tasting took place in a new cellar, la barriccaia, dedicated to barrel aging of Sassicaia. It was built by Agnese Mazzei whose family owns the Fonterutoli estate in Chianti Classico (they also entrusted her to build their new stunning winery). Dozens of precious barrels with young Sassicaia rest in two wings behind floor-to-ceiling glass windows. The barrels are mounted on multi-storey metal frames with small wheels on the sides – you often see those in Bordeaux – thus every barrel rests in its own cell. If you expect an estate to impress you, this is the place to be impressed.
Nicolo Incisa told us that his father Mario always used 225-litre barriques. Initially they were made with Slavonian oak as French coopers wouldn't sell their barrels outside of France until the infamous Cognac crisis. There were all sorts of problems with Slavonian barrels. Italian coopers sawed rather than split planks which caused barrels to leak. Thankfully, this is now history. But Nicolo Incisa continued Mario's practice of using little new wood. In fact, only 20% of new barrels are used for any given vintage of Sassicaia, the rest are up to 10 years old.
Guidalberto 2008 and Sassicaia 2007 are the Tenuta San Guido current vintages. The composition of blend for Guidalberto may slightly vary from year to year – it is 60% Cabernet Sauvignon and 40% Merlot for this vintage, while Sassicaia remains unchanged with 85% Cabernet Sauvignon and 15% Cabernet Franc. Nicolo Incisa explained that Merlot has never been part of Sassicaia, but it was specially planted in mid-1990s when Guidalberto, the second wine, was created.
Tasting Guidalberto 2008 confirmed the impression of powerful vintage that I experienced at Ornellaia with Le Serre Nuove. This is an open forthright wine that offers bright cherry and blackberry fruit, minerals, light tannic grip and plenty of spice. Unlike Le Serre Nuove, with its built-to-last character that needs time, Guidalberto is made in a more accessible style and can be enjoyed now.
Three vintages of Sassicaia – 2007, 2008 and a barrel sample of 2009 – were next on the table. If I were to choose one wine of the trip, it would be Sassicaia 2007, an elegant, classical interpretation of Bolgheri, with sheer fabric of red fruit, fine complexity and great balance. 2008 was a warmer vintage, resulting in higher concentration and fundamental structure, but with surprisingly less expressive fruit at the moment (the wine will be available from May 2011). 2009 was the last vintage of Giacomo Tachis. He has now retired from winemaking activities, though Nicolo Incisa still occasionally sends him samples to check. Graziana Grassini who is involved in tastings and laboratory checks is now the only external help that Tenuta San Guido gets, but it is no longer dependent on big consultants.
Tenuta San Guido also has outside interests in Sardinia and Argentina, thus we got two additional bottles to taste. Agricola Punica in Sardinia is a joint venture between enologist Sebastiano Rosa (Nicolo Incisa's stepson and right hand at San Guido) and Santadi, where Tachis also used to consult. Barrua 2007 is a red Carignano-based wine with a small addition of Cabernet Sauvignon and Merlot. Carignano vines thrive in the south of the island near Sulcis, and Agricola Punica is fortunate to have old vines, between 35 and 40 years old. The wine offered perfumed flowers and fruit and excellent freshness, though the tannins were too extracted to my taste. The second project, Chacra in Patagonia, was founded by Nicolo Incisa's nephew Piero. It has very old ungrafted Pinot Noir vines as a trump card. Pinot Noir Trenta y Dos 2007 comes from a rare plot planted in 1932. This wine is outside the expected paradigm of Pinot Noir flavours, with its meaty, deep and intriguing character. Frankly, Trenta y Dos can take you aback if you are not prepared for it. Before settling in Bolgheri, Mario Incisa Rocchetta lived in Piedmont and made his first wine experiments with Pinot Noir. After 80 years the family history is repeating itself – now, isn't that a weird thought.