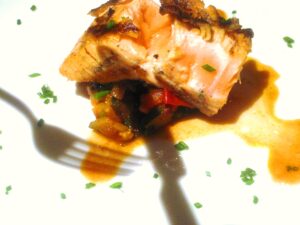 Salmon Rhone Wine makes a great wine and food pairing. And it's easy to make as well! Pan Roasted Salmon is a great way to prepare the fish. It allows you to retain the moisture, skin and color. Use a non stick pan with olive oil or butter.
For the vegetable, use what's fresh. Dice, add onions, garlic, spice or other flavorings you like. The most important detail is, start with a hot pan and olive oil. Slowly stir the vegetables until they begin to caramelize. Reduce the heat at that time and stir every now and then. When finished, add any fresh herbs, plate and serve.
Salmon and Cote Roite is a perfect pairing. You could also use Chateauneuf du Pape or other Rhone wines. Burgundy, Pinot Noir or white wines work equally well.