A return to Bordeaux and a nice surprise
Wednesday July 2
After a few fun, hot days in Chateauneuf, I made it back to Bordeaux to blind taste the already legendary 2005 vintage. Today was an easy schedule. Coffee, a simple lunch and a light dinner in the Medoc. Of course that is if your idea of simple is lunch at Pichon Lalande and dinner at Branaire Ducru.
At Pichon Lalande, locatedin Pauillac, I had the opportunity to taste a few recent vintages. Like many Chateau, they were not currently showing the 06 vintage as it had been bottled fairly recently.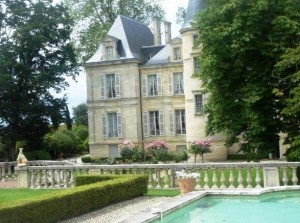 05 Pichon Lalande is already ruby in color. The spicy nose is also light. The finish features bright fruit and lacks the structure found in top vintages.
03 Pichon Lalande is showing a bit of light color around the edges. Spice, cinnamon, black fruit, coffee and oak make up the aromatics. Lots of exotic, black fruit on the palate with plummy accents. The wine clearly shows its trademark richness and soft, elegant style. Give this Bordeaux wine 5 more years and let it strut its stuff. 94 Pts
02 Pichon Lalande remains the best deal for Lalande in the marketplace today. The wine remains an undiscovered treasure. Good color, jammy black fruit, chocolate and spice in the perfume. Already showing well, the wine has a beautiful palate feel. It is an elegant style of wine with a lot of sweet black fruit and texture in the mouth. Give it 2 or 3 more years. 92 Pts
The menu read we would be having 86 Pichon Lalande with lunch. So, when the wine was poured, I was expecting a tannic, masculine styled wine. Much to my surprise, the wine was plush, plummy and elegant. I exclaimed "this was the best bottle of 86 Pichon Lalande I had ever had." Thomas Do-Chi-Nam broke into a smile as he had switched the vintage on me. It was a nice and completely unexpected surprise!
82 Pichon Lalande remains at peak perfection. This round, soft, supple, opulent and plush wine is filled with sexy, ripe, spicy fruit. The powerful, complex nose gets you started, but the texture in the mouth is where the real pleasure is uncovered. Interestingly, often when I taste wines from Bordeaux, they show much younger. But, this bottle seemed to be at the same level of maturity as the 82 Pichon from my cellar. No real hurry to drink it. But, the wine seems to have remained at this stellar level of maturity for the past several years. 97 Pts
75 Pichon Lalande was another complete surprise. Served blind, I guessed 88. I was off, but the wine wasn't. The tannin has melted away and the wine showed the textbook, elegant stylings the Chateau is known for. This is a wine worth seeking out in auctions. 91 Pts
Branaire Ducru is another Bordeaux that has exploded in quality over the past few years.  Few wines show continued progress like Branaire has in a few short years. Patrick Maroteaux, the previous president of the UGC, now retired from that position has spared no expense producing the best wines possible. Tasting through the a vertical, it is easy to chart the estates steady progress.
05 Branaire Ducru is made from perfectly ripe fruit. Add to that a kiss of sweet oak and mocha and you're off to the races. Deep color and a full bodied, juicy mouth of Cabernet. Elegant tannins, concentration and depth of flavor keeps everything in balance. This is without a doubt the best Branaire ever! 95 Pts
03 Branaire Ducru sports a very deep ruby. It is lighter in color and concentration than the sublime 05. Dark black fruit flavors mark the perfumes core. Very plush, round mouthfeel complicated with ripe blackberry and red fruit accents. 94 Pts
02 Branaire Ducru ruby with some lightening at the edges. Scents of jammy black and spice with chocolate tints come forth with only a bit of swirling. The style has more firmness than 03 or 05. It's a Branaire to enjoy today and over the next 10-15 years. 90 Pts
00 Branaire Ducru steps up with aromatics filled with chocolate covered black fruit and spice. Similar in weight to the 03, this finesse filled St. Julien needs a few more years until its ready for prime time drinking. 92 Pts
90 Branaire Ducru is fully mature. Compared to current offerings, this is slightly more austere and lacks the freshness and round qualities discovered in years like 00, 03 or 05. 89 Pts
66 Branaire Ducru wore a rusty, coffee colored robe. The perfume, with its leather and earth notes paired perfectly well with the silken patina of age found in the mouth. Tasting much younger that its 42 years of age would lead you to believe, the wine was a pleasure to end the evening with. 90 Pts
Patrick Maroteaux has possibly the finest collection of aged Cuban cigars in Bordeaux. I enjoy a good cigar once in a while. Like a fine wine, it's a commitment to enjoy life with your friends until the cigar is finished. Expressing no lack of ignorance, but matching that with curiosity on my part, Patrick selected a Bolivar in a gold foil wrapper he purchased from Switzerland. Accompanied by a mature Climens, this was the perfect way to close out the night.