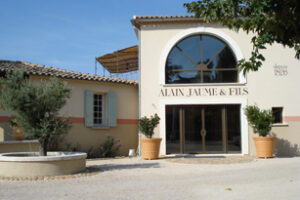 Domaine Grand Veneur, Chateauneuf du Pape, Rhone wine producer profile with wine tasting notes, wine ratings, a history of the property, information on wine making and terroir, along with wine tasting reviews and images. If you want to read about other important wineries and wine makers from the Rhone valley: Links to all Rhone Valley Wine Producer Profiles
The official history of Domaine Grand Veneur dates back to 1826, when the Jaume family first planted vines in Chateauneuf du Pape. Jumping ahead from the early days of Matheiu Jaume to the modern era for Domaine Grand Veneur, five generations later, in 1979, Alain and Odile Jaume took over the traditionally managed Domaine Grand Veneur. In those days, they owned 4.5 hectares of vines. The Jaume family made additional purchases in the appellation and today, they own close to 34 hectares. Of those 34 hectares, 16 are located in the Chateauneuf du Pape region.
Aside from their vines in Chateauneuf du Pape, Domaine Grand Veneur has plantings in Lirac and in the Côtes du Rhône appellations. Le Clos de Sixte, comprising of nine hectares in Lirac, was bought in 2003. Sébastien and Christophe Jaume are now gradually taking over the management of Domaine Grand Veneur.
All the fruit is completely destemmed before fermentation.
The domaine produces 3 red Chateauneuf du Pape and 2 white Chateauneuf du Pape wines.
Grand Veneur Chateauneuf is produced from 50% Grenache, 30% Syrah and 20% Mourvedre.
Grand Veneur Les Origines is produced from 50% Grenache, 30% Mourvedre and 20% Syrah.
Grand Veneur Vieilles Vignes which is produced from 50% Grenache, 30-40% Mourvedre and 10-20% Syrah. The fruit is from the estates oldest vines that can be over 100 years of age. The wine is aged in oak barrels, some of which is 100% new oak. This modern styled Chateauneuf du Pape had its debut in 2006. The first vintage was mostly old vine Grenache. That changed in subsequent years.
Grand Veneur also produces a wide range of Cotes du Rhone and Lirac. Alain Jaume releases a host of negociant wines from purchased grapes grown in Cotes du Rhone.
Grand Veneur is one of my favorite Chateauneuf du Pape producers. Even though prices have risen over the past few years, the quality is so high, this still offers a lot of value and character for the money.
Wine Tasting Notes
Displaying 4 vintages | 9693 Views Sorted by vintage
2007 Domaine Grand Veneur Châteauneuf-du-Pape Les Origines

From a blend of 50% Grenache, 30% Mourvedre, and 20% Syrah, this plush, fat, modern styled Chateauneuf du Pape sports a deep color. Licorice, jammy black raspberry, smoke, pepper and black cherry aromas are all over the place. Concentrated, supple and already approachable, like many wines from the vintage, it's drinking well.

94

points - Tasted

Dec 18, 2011

4015 Views

2003 Domaine Grand Veneur Châteauneuf-du-Pape Les Origines

Liqueur of blackberry, black cherry jam, pepper, smoke and spice box aromas lead to a rich, plush, open style of Chateauneuf du Pape that is at the perfect place to drink today.

93

points - Tasted

Mar 3, 2012

1629 Views

2001 Domaine Grand Veneur Châteauneuf-du-Pape Les Origines

This is not quite as vibrant as I remember it, as it approaches its 12th birthday. In the nose, charcoal, smoky black cherry, earth and herbs. On the palate, the wine has weight and concentration, but the levels of fruit seems to dropped off over the past few years. There is a lot of voluptuous kirsch and pepper to be found here, but I'd drink it over the next year or two, as it's clearly fading from when it was released. I have one bottle from the case remaining and its getting popped in the next few months.

91

points - Tasted

Sep 26, 2012

1738 Views

2000 Domaine Grand Veneur Châteauneuf-du-Pape Les Origines

On the nose, jammy blackberries, raspberries, herbs, pepper, coffee and anise. On the palate, full bodied, mouth drying tannins that fade after 30 minutes in the glass and a touch of heat from an alcoholic content that must be at least 15%. The label reads 14.5-16.5. A long finish with notes of ripe cherries, raspberries and a hint of strawberry. This is a big styled wine full of character but it demands at least a few years of cellaring before it delivers its full potential.

91

points - Tasted

Aug 1, 2003

2311 Views