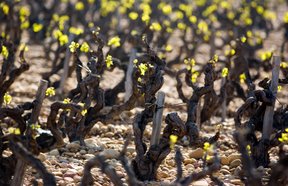 Clos des Papes, Chateauneuf du Pape, Rhone wine producer profile with wine tasting notes, wine ratings, a history of the property, information on wine making and terroir, along with wine tasting reviews and images. If you want to read about other important wineries and wine makers from the Rhone valley: Links to all Rhone Valley Wine Producer Profiles
Clos des Papes (Paul Avril) has a long history in the region thanks to the first Paul Avril. Avril was born in 1873 and passed away after 91 great years in the appellation. In fact, Avril was one of the key people responsible for the official birth of the Chateauneuf du Pape appellation. Avril began producing and selling Clos des Papes all the way back in 1896. However, the Avril family has a much longer history in Chateauneuf du Pape that can be traced back to the 18th century. During the second half of the 1700′s historical records show references to members of the Avril family having acted as treasurers and municipal consuls.
The second Paul Avril joined Clos des Papes in 1963. He passed away in 2009. The current director is Paul Vincent Avril, who was born in 1965. He started to work at Clos des Papes in 1988. Paul trained at several other wineries before joining the family business at Clos des Papes. He even had a stint at Mouton Rothschild in Bordeaux. It could be said that Paul Avril is a modern traditionalist. On the one hand, he destems the grapes, seeks low yields and does not filter. On the other hand, he eschews new oak and would not consider producing a high end cuvee. His staunch philosophy is that would only serve to harm their main brand, which is Clos des Papes, a wine that has been produced for more than a century.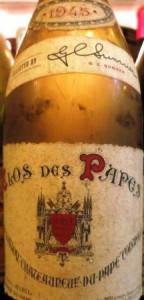 With 35 acres of vines spread over 24 separate parcels in the Chateauneuf du Pape, they have a wide array of terroirs ranging from the rocky soils of La Crau to areas of sand, limestone and gravel. Perhaps some of the complexities found in Clos des Papes are in the wine due to different soils their vines are planted in. Most of these vines are devoted to red wines. Only 10% are reserved for production of the white wine. The white wine made its debut in 1955.
At Clos des Papes, they practice biodynamic farming. In 2010, the property earned the right to be certified "agriculture biologique." They seek low yields. As an example, in 2009, they had effective yields of only 19 hectoliters per hectare. Clos des Papes is produced from about 65% Grenache, 20% Mourvedre, 10% Syrah and 5% from other varietals.
Clos des Papes remains one of the top wines in the region. Prices have risen, but so has the quality. The wine has the ability to age and evolve for 2 decades or more. 2007 remains the finest wine they have produced to date. However, a recently tasted bottle of 1945 Clos des Papes showed just how well this wine ages!
Wine Tasting Notes
Displaying 12 vintages | 89038 Views Sorted by vintage
2010 Clos des Papes Châteauneuf-du-Pape

Move on over 2007 and make room for the 2010. Until now, I was sure the best vintage of Clos des Papes was the sublime 2007. As good as that wine is, the 2010 is even better! This is intense, pure, rich, mouth coating and long, yet everything is in balance and harmony with its decadent layers of perfectly ripe, lush, opulent layers of fruit. There is so much depth and focus to this wine, it's close to off the charts! At close to 16% alcohol, there is no sensation of heat as it's buried under the avalanche of fruit.

98

points - Tasted

May 27, 2013

5255 Views

2007 Clos des Papes Châteauneuf-du-Pape

This wine has been a beauty since I first tasted it in tank! What more could you ask for in a Chateauneuf du Pape? A complex nose packed with kirsch liqueur, garrigue, jam, spice and earth, sexy, lush, sensuous textures and a long, fresh, sweet, dark, black raspberry and cherry filled finish.

97

points - Tasted

Nov 18, 2012

8580 Views

With a rich, deep color, the perfume exhibits pepper, black raspberry jam, grenadine, garrigue, licorice and raspberry liqueur. The opulent, silky textured fruit coats your mouth and palate, ending in a long, peppery, sweet, pure, red cherry liqueur finish. This is one of the most sensuous Chateauneuf du Pape wines I've ever tasted. WOW!

98

points - Tasted

Dec 14, 2011

13319 Views

2005 Clos des Papes Châteauneuf-du-Pape

Bright, fresh, peppery, black raspberry, kirsch, garrigue and fennel scents open to a rich, sweet, spicy plum and black cherry jam filled wine this is still young. But if you like your Chateauneuf du Pape on the young side like I do, it's showing nicely.

94

points - Tasted

Dec 9, 2012

5668 Views

2004 Clos des Papes Châteauneuf-du-Pape

A beautiful nose with peppery red cherries and black cherries, earth, black raspberry jam and fresh herbs open to a soft textured, kirsch filled wine that is already drinking well.

93

points - Tasted

Nov 25, 2012

3775 Views

2003 Clos des Papes Châteauneuf-du-Pape

Ripe scents of black cherry liqueur, raisins, pepper, black raspberry, spice and kirsch lead to a full bodied, packed youthful Chateauneuf du Pape. This is a very ripe, concentrated, powerful style of Clos des Papes that some tasters like more than others.

95

points - Tasted

May 24, 2012

6535 Views

Smokey black cherry, garrigue, lavender, all spice, kirsch liqueur, fresh cut herbs and intense black raspberry scents create the compelling perfume. Dense, corpulent, concentrated and packed with layers of sweet, ripe, juicy fruit, this wine grabs your attention without an apology.The wine fills your mouth and coats your palate with layers of fruit and flavor. This seems young and should only get better over the next decade or two... This is not a wine of finesse. But it is a delicious wine of Chateauneuf du Pape.

96

points - Tasted

Feb 27, 2012

7862 Views

When this wine was first delivered to the states, it stirred an intense controversy over the Internet. Awarded a high score by Robert Parker, some tasters called the wine a mess. I've enjoyed stunning bottles of this wine at times. On other occasions, the wine seemed like it suffered heat damage at some point. One specific friend has opened it numerous times and everyone of his bottles have been flawed. All my bottles have been sublime. At dinner last night, a guest brought a bottle and clearly, the wine endured damage along the way. The wine was light in color, flavor and density. There was an enjoyable level of kirsch, garrigue and herbs, but that is not what the wine delivers at its best. It was not a bad tasting experience, but this bottle was at best average.

89

points - Tasted

Dec 30, 2011

6663 Views

This sports one of the darkest colors I've seen in a young Chateauneuf. Intensely concentrated with massive layers of ripe, dark and peppery, ripe red fruit. Full bodied, alcoholic and richly concentrated, I'm not sure why this wine invites all the controversy.

95

points - Tasted

Oct 15, 2007

2805 Views

2001 Clos des Papes Châteauneuf-du-Pape Blanc

Good rich character, ripe, full bodied in an exotic style. Already showing well. Might not be long lived.

89

points - Tasted

Jun 6, 2004

1167 Views

2001 Clos des Papes Châteauneuf-du-Pape

A rich perfume of fresh black pepper, kirsch, 5 spice, fennel and black raspberry jam open to a wine filled with soft, velvet like tannins. The wine ends with a juicy mouthful of ripe Grenache, spice and kirsch. This is drinking great today.

95

points - Tasted

Jan 24, 2011

5240 Views

2000 Clos des Papes Châteauneuf-du-Pape

All good things must eventually come to an end, which is this wine is going. At weeks before its 14th birthday, the wine does not have the same freshness, level of fruit or vivacity it displayed in its youth. It was easy to find the kirsch, licorice and garrigue character, along with its trademark supple textures, but the wine is clearly fading. I'm going to finish my few remaining bottles over the next year or two.

92

points - Tasted

Dec 4, 2013

2344 Views

Lush textures and a perfume packed with kirsch, Provencal herbs, earth, strawberry jam and pepper. Elegant, charming, sensuous, fresh, pure and drinking perfectly today.

94

points - Tasted

Jun 4, 2012

4845 Views

Jammy blackberries, raspberries, cherry liqueur, Provencal herbs and black pepper are easy to find. The texture melds power with Chateauneuf styled elegance. Very concentrated wine. The long, pleasurable, multi-faceted finish is a treat.

95

points - Tasted

Dec 17, 2008

1853 Views

1995 Clos des Papes Châteauneuf-du-Pape

Kirsch, pepper, fresh herbs, strawberries and ripe cherries open to a soft, ripe, elegant expression of Grenache. At 16, this seems to be a fully mature Chateauneuf du Pape that is right on top of its game.

93

points - Tasted

Aug 11, 2011

3154 Views

Black cherry, kirsch, earth, truffle and fresh market herbs. Robust, concentrated black cherry and herb flavors end with a dense melange of dark cherry, jam and plum flavors. This fully mature Chateauneuf du Pape might have been a little more interesting a year or two ago. There is no reason to age this any longer.

93

points - Tasted

May 15, 2011

3374 Views

1990 Clos des Papes Châteauneuf-du-Pape

This fully mature Chateauneuf du Pape offered a lot of excitement on the nose. Fresh black cherry, garrigue, kirsch, herbs, camphor and anise made up the perfume. Full bodied with soft textures, concentration and finesse. If the spicy, kirsch filled finish was a bit longer, it would have earned a higher score. This is not going to improve. I'm going to enjoy my two remaining bottles over the next year or two.

95

points - Tasted

Jun 10, 2010

3509 Views

Calling it a mini version of Rayas is an accurate description. The nose exploded from the glass with spicy cherry tones, herbs, jammy black fruits and pepper. As good as the nose was, the palate might even have been better! Dense, thick, full bodied fruits filled your mouth with layers of elegant red and black fruits. The finish lasted at least :35.

95

points - Tasted

Feb 12, 2005

827 Views

1979 Clos des Papes Châteauneuf-du-Pape

Tasted blind, I was sure this was several years younger than its true age. The attention grabbing aromatics with their earthy, pepper, kirsch, garrigue and spice don't let go. The silky, ripe, array of ripe fruits on the palate are even better. There is no reason to hold back from popping a cork if you are lucky enough to own this wine.

93

points - Tasted

May 21, 2013

1014 Views

1945 Clos des Papes Châteauneuf-du-Pape

Cloudy, red in color, ample scents of kirsch liqueur, truffle, grilled steak, cherry wood, cherry pipe tobacco, spice and black cherry caught your attention and kept it. Soft, sweet, pure and intense, with time in the glass, the elegant, spice, red berry filled wine began to fade. On the other hand, a wine like this is a time machine. World War Two had just ended. The Nazis were defeated in and much of Europe was in shambles, needing to be rebuilt. Knowing that was taking place while this wine was alive, once again, wine became the only working time machine!

94

points - Tasted

Mar 29, 2012

1249 Views