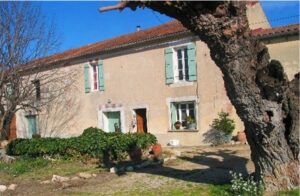 Domaine Charvin, Chateauneuf du Pape, Rhone wine producer profile with wine tasting notes, wine ratings, a history of the property, information on wine making and terroir, along with wine tasting reviews and images. If you want to read about other important wineries and wine makers from the Rhone valley: Links to all Rhone Valley Wine Producer Profiles
Domaine Charvin was created in 1851 by Guillaume Charvin in 1851. For one hundred years, the harvest of Domaine Charvin was sold in bulk to negociants. To commemorate owning the vineyards for a full century, for the first time, the Charvin family bottled their wine in 1951. The practice of selling their wine to negociants continued for some time after that. The modern age of Domaine Charvin begins in 1990 when the young, energetic Laurent Charvin begins to manage the estate. Laurent was the sixth generation of his family to work at the property.
When Laurent took over managing the domaine, they had about 4 hectares of vines. Today, they have twice that amount. The Chateauneuf du Pape vineyards of Domaine Charvin include close to 20 acres in Chateauneuf du Pape, plus 12 hectares in Cotes du Rhone. The Chateauneuf du Pape vines reside in rocky soils over limestone and clay. On average, their vines are close to 50 years of age.
The top wine from Charvin, their Chateauneuf du Pape ranges from 80-90% old vine Grenache with Syrah, some Mourvedre and a bit of Vaccarese. Domaine Charvin remains a staunch traditionalist producer. While many producers make special, high end cuvees, that does not work for Charvin. He believes that would take away from his main wine. Not only are his views traditional, so is his wine making. They do not destem. The fruit is crushed and fermented in concrete fermentation vats. There are daily pump overs during the maceration and fermentation period which could last about three weeks, give or take. The wine is aged in cement vats.
Domaine Charvin is a beautiful expression of Chateauneuf du Pape with a focus on purity, ripe red fruits and freshness. While many producers have steadily risen in price, Charvin has been slower than some of his peers to raise prices.
Wine Tasting Notes
Displaying 6 vintages | 26053 Views Sorted by vintage
2007 Domaine Charvin Châteauneuf-du-Pape

This powerful perfume jumps with fresh kirsch liqueur, jam, pepper, spice, black raspberry and earthy aromas. Soft, opulent and multi layers, this suave Chateauneuf du Pape finishes with a long, pure sensation of ripe sweet, black cherries, strawberry and fresh pepper.

95

points - Tasted

Feb 21, 2011

7092 Views

2006 Domaine Charvin Châteauneuf-du-Pape

A beautiful nose of Fromboise, kirsch, pepper, spice and earth open to an elegantly textured, soft, sweet, wine that finishes with supple, black and red, spicy cherries. Drink it now, or age it for up to a decade, it's a very stylish Chateauneuf du Pape.

93

points - Tasted

Nov 24, 2012

2168 Views

2003 Domaine Charvin Châteauneuf-du-Pape

Definitely fully ready for prime time, with its pepper, jammy kirsch, black raspberry and garrigue filled personality. I liked the wine, but it could use a little more freshness in the spicy, red berry, dominated finish.

91

points - Tasted

Mar 13, 2013

1108 Views

2001 Domaine Charvin Châteauneuf-du-Pape

Fresh cracked black pepper, sweet black raspberries, cherries, strawberries and earth produce a strong perfume. Silky in texture, the wine finishes with elegant sensations of an array of ripe, red berries and herbs. There is a lot of purity in the fruit.

93

points - Tasted

Aug 24, 2011

3552 Views

2000 Domaine Charvin Châteauneuf-du-Pape

Krisch, garrigue, pepper and strawberry jam make up the perfume. Rich and elegantly textured, this spicy, sweet, juicy wine finishes with soft black raspberry jam and dark cherry. This suave wine is fully mature.

94

points - Tasted

Apr 25, 2011

3420 Views

This beautifully styled Chateauneuf du Pape was filled with jammy strawberry, garrigue, licorice, black cherry and fresh cherry aromas. Soft and silky in the mouth, this medium bodied, mature wine ends with flavors of fresh, spicy, jammy cherries. This wine should be drunk up over the next few years as it lacks the same level of power is showed a few years ago.

92

points - Tasted

May 30, 2010

3890 Views

2000 Charvin is filled with fresh ground pepper, jammy black raspberry, kirsch, plum and Provencal herb scents. Long, fresh, intense and mouth filling, this mature Chateauneuf du Pape ends with ripe, spicy, jammy, black cherry flavors.

94

points - Tasted

Nov 25, 2009

1986 Views

1998 Domaine Charvin Châteauneuf-du-Pape

1998 Charvin personifies the elegant side of Chateauneuf du Pape. With its cherry, strawberry and rhubarb fruit profile, complicated by spice and freshly ground pepper, this suave, richly textured wine is probably close to fully mature. The wine ends with a fresh, bright fruit and slice profile.

95

points - Tasted

Sep 13, 2010

2837 Views