1990 Château Montrose St. Estèphe Bordeaux France Wine Tasting Note
176812 Views
Bacchus was shining on us today because 1990 is either murdered by brett, or if it's clean, the bottle can be majestic. This bottle was majestic and more. The wealth of palate-staining, perfectly ripe, sweet, regal fruit is something to behold. The finish hits the 60-second mark, crosses it with ease, and keeps right on going. However, it is imperative to keep in mind the wine is Jekyll or Hyde and there is no way to know without popping a cork. Drink from 2023-2055.
2,682 Views
Tasted

Sep 27, 2023
A clean bottle! The issue with this wine is, will you open Jeckyl or Hyde? The worst bottles are filled with TCA. However, the best bottles and this was one of the best bottles are a thrill-a-sip experience. There is an incredible level of intensity that is packed with Asian spice, Cuban cigars, cedar chest, forest floor, currants, smoke, tobacco, and oceanic influences. Full-bodied, long, structured, and displaying the patina of age that has softened its once fierce tannins, replacing them with a regal textured, fruit and earth packed wine, the finish builds and expands for at least 60 seconds.
5,230 Views
Tasted

Dec 10, 2021
A nice clean bottle, with a developed personality of cedar, Asian spice, tobacco leaf, cigar wrapper, cherry cassis and herbs. Full-bodied, dense and powerful, the wine is long, complex and mouth-filling. This is probably quite close to the sweet spot for this gem, where is should remain for at least another 20-25 years with ease.
6,060 Views
Tasted

Feb 25, 2019
From a bottle never moved from the cellars of Chateau Montrose, this was mind blowing! Not off aromatics or brett here. Powerful, full bodied, deep, concentrated and intense, the fruit was pure, earthy and spicy. The texture was like velvet, stained with wet earth, leaving you with a finish that stuck around for close to 60 seconds. I've had this wine a lot, but I've never experienced a bottle this good before. It's in a good place to open now, but there is no rush, you could easily wait another 20 years or longer without fail.
9,868 Views
Tasted

Apr 15, 2017
With 1990 Montrose, similar to Jekyll and Hyde, you never know who is going to show up as some bottles are completely marred by brett. Fortunately, this was a fresh, clean bottle and it was singing. Still young, but past the primary stage, the wine is big, powerful, concentrated, yet regal in its bearing. The fruit is fresh, earthy and vibrant, and the finish sticks with you for close to 50 seconds. 2 hours of air helped, but 10 more years of age will help even more.
7,919 Views
Tasted

Feb 6, 2016
This occasionally perfect wine lacks consistency as some bottles are ruined by brett. Sadly, this bottle was quite bretty. It smelt like I was in a barn with Mr. Ed. I cold not finish the glass. Others raved about it. Clearly it was massive and intense, with incredible levels of concentration and richness, but the barnyard smell just took over the wine.
8,482 Views
Tasted

Nov 9, 2015
It's always a crap shoot with this wine. There are bottles with such overwhelming notes of horse and barnyard, they are not fun to drink. And then, there are the clean bottles that let you know you are in Bordeaux at the top level. This bottle was clean. The intensity of the aromatics, the incredible weight, density and concentration, coupled with ripe, regal, soft tannins and a seamless finish are well worth the price of admission. Still young, but showing its stuff, this is a thrill to taste today and if well stored, your grand children can probably enjoy a bottle in 2090!
9,693 Views
Tasted

Oct 31, 2014
We were lucky. This was a clean bottle that delivered an exotic melange of scents; gravel, incense, creme de cassis, blackberry, barnyard, cedar wood, tobacco, truffle and spice box aromas. Dense, rich and thick, with layers of ripe, dark, tannic fruit that seems to last for close to 50 seconds on your palate. There are no hard edges in this still very young wine. This truly coats your mouth. At close to 22 years of age, it's starting to open and show signs of maturity. This could easily improve for another 30-40 or 50 years! The wine was produced from a blend of 64% Cabernet Sauvignon, 32% Merlot and 4% Cabernet Franc.
14,731 Views
Tasted

Mar 11, 2013
The perfume rivets your nose to the glass. Powerful scents of Asian spice, tobacco, cassis, smoke, incense, barnyard, gravel, blackberries and cedar get you wound up. The palate is coated with thick layers of juicy, ripe cassis and spice that remain on your mouth for well over 40 seconds! Still young, at 21 years of age, it is finally starting to show its true St. Estephe character. Stunning stuff! Some bottles of this wine display a pronounced horse like quality that ranges from interesting to so strong, it's like Mr. Ed was over for dinner. Other bottles can be much cleaner, with only a touch of barnyard. Fortunately, this bottle was clean. This special wine is only going to improve over the next several decades.
13,959 Views
Tasted

Oct 24, 2012
Since the day this Bordeaux wine was released, I have always felt 1989 Montrose the better wine of the dynamic duo. 21 years after the 1990 Montrose was made, my view has suddenly changed. The wine remains a deep ruby color. An intoxicating perfume of smoked meat, tobacco, blackberry, barnyard, gritty earth, spice and cassis pops from the wine as it spills into your glass. This wine is powerful, dense and masculine, as well as refined. There are no hard edges to be found. Layers of flavor float all over your palate, teeth and gums. This stunning wine ends with a long, pure, clean cassis, blackberry and spice sensation that seems to last for close to 50 seconds. The mark of all great wines is the ability to improve with age and time in the glass. 1990 Montrose continued improving in the glass for several hours. The problem with this wine has been the massive wall of tannin and amount of brett many bottles have displayed. This example was a very clean wine and as you can see from the note, the tannins have integrated into the wine. While secondary aromas are clearly developed, this is only now starting to become civilized. As good as this bottle is today, it will be better with 10-20 or even 30 more years of bottle age.
16,048 Views
Tasted

Mar 22, 2011
The levels of fruit in this wine are off the charts! Jammy fruit, toffee, licorice and a slight horsey aroma made for a compelling and complex perfume. Massive layers of fruit fill every nook and cranny of your mouth. But, as gargantuan as it is, it remains perfectly balanced.
9,751 Views
Tasted

Jun 15, 2010
With its cedar, cassis, tobacco, black fruit and smoke filled nose, caught my attention. Full bodied, concentrated and filled with dense black fruit. The structure was there to age. The wines finish was long. Still young, this is a wine to see what happens to it in the future
8,874 Views
Tasted

Jun 30, 2009
Strong horse tinged aromatics are the first thing a taster will notice. Powerful, dense, thick levels of black fruit, minerals and spice fill your palate. This remains extremely young. Full bodied, dense and concentrated.
8,866 Views
Tasted

Feb 5, 2008
This comes in two styles and there is no way to know which you're going to get until you pop the cork. Either you find a stable full of horses, or you discover a glint of horsiness. Personally, I prefer the subtle, gentle hint reminiding me of standing in the winners circle at the Kentucky Derby. I got lucky as this bottle was the latter. I got lucky last night too, but that's a different story. Adding complexity to the horse aromas was wonderful layers of cassis, black fruit, herbs and truffles. Huge, massive and concentrated in the mouth. Every nook and cranny of your palate enjoys an ocean of dense, ripe, rich, deep, black fruit. The long finish was a pleasure, very fresh and clean with great follow through from start to finish. Still some tannin to resolve.
9,075 Views
Tasted

Jul 7, 2007
Was Mr. Ed in the house, or was this bottle only slightly horsy? Well, the horse was in the barn, but he was sleeping as this bottle was not too bretty. Huge, dense and very concentrated. Still relatively primary, this beefy, concentrated, thick, masculine wine demands at least 15-20 more years before it reaches full maturity
8,938 Views
Tasted

Jun 15, 2006
This was horsy. Lots of barnyard scents in this bottle. Upon pouring, a conversation ensued discussing if this smelled more like horseshit or cow pies and the difference between each. Erudite, no. But fun. After the strong barnyard aromas, beefy, dark, spicy fruit notes were apparent. This is a huge, hulking wine than remains tannic and shockingly youthful.
9,046 Views
Tasted

Mar 14, 2006
This displayed the bretty, horse aroma it's famous for. Very powerful, probably the most concentrated and backward wine of the night, the 90 Montrose was so dense, you could cut it with a knife. This needs at least another decade before becoming civilized.
9,105 Views
Tasted

Feb 17, 2005
The 90 Montrose is opaque, with an inky black, purple hue. A slight, horsey aroma blew off in a few moments revealing a powerful perfume of spices, jammy red & black fruit, licorice and cedar and black cherries. This is so dense and thick, you could eat it with a spoon! It's amazingly concentrated! Dense, full bodied with soft tannins that are buried in an ocean of fruit. The almost endless finish is absolutely seamless. This is a huge wine, but not overpowering. It's like an elephant that can dance.
9,611 Views
Tasted

Aug 5, 2004
On the nose, earth, spicy oak, cassis, truffles, coffee, cuban tobacco and clay. Dense, full bodied wine with very tannic finish. Mountains of black fruit fill every nook and cranny of the palate. 40 second finish. This is a bigger wine than the 89, but IMO, the 89 is almost as good, and 1/3 the money! Blind I guessed Gruaud Larose. Close, but no cigar. The 90 Montrose will outlive everyone at the table. The wine made dramatic improvements after two additional hours in the glass.
8,874 Views
Tasted

Apr 25, 2004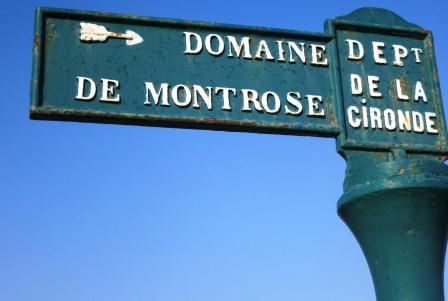 When to Drink Chateau Montrose, Anticipated Maturity, Decanting Time
Chateau Montrose is a wine that demands time in the cellar. Due to the large amount of tannins, concentration, and structure, the wine is always better with at least 10-20 years of bottle age. Of course, that can vary slightly, depending on the vintage.
Chateau Montrose offers its best drinking and should reach peak maturity between 15-50 or more years after the vintage. Young vintages should be decanted for at least 2-4 hours. This allows the wine to soften and open its perfume. Older vintages might need very little decanting, just enough to remove the sediment
Chateau Montrose Style and Character of the Wine
Chateau Montrose at its best is powerful, refined, masculine, elegant, and complex. The fruit has a richness that fills your mouth and coats your palate. But the wines are also firm and tannic.
The wine of Chateau Montrose can age and evolve for decades. In fact, purchasers should know, that in the best vintages, the wine requires decades to develop. Chateau Montrose is seldom a wine that is fun to taste in its youth. It's a very long, lived wine.
The 1921 Montrose tasted recently was still in top form! If you've ever wondered why Chateau Montrose is prized by Bordeaux lovers all over the world, 1989 Chateau Montrose is the wine to buy.
That being said, for a Montrose to age, the 2009 Chateau Montrose is off the charts, deserving its 100 Pt score and a place in your cellar, if you can afford it! Chateau Montrose has been one of the top producers in Bordeaux for decades. However, under the direction of Herve Berland, it looks like the best is yet to come.
Serving Chateau Montrose with Wine, Food, Pairing Tips
Chateau Montrose is best served at 15.5 degrees Celsius, 60 degrees Fahrenheit. The cool, almost cellar temperature gives the wine more freshness and lift.
Chateau Montrose is best served with all types of classic meat dishes, veal, pork, beef, lamb, duck, game, roast chicken, roasted, braised, and grilled dishes. Chateau Montrose is a perfect match with Asian dishes, hearty fish courses like tuna, mushrooms, and pasta as well as cheese.