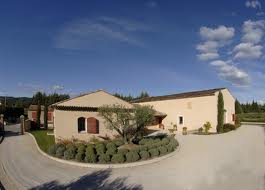 Learn about Tardieu Laurent Cote Rotie with wine tasting notes, wine and food pairing tips, best vintages, a history of the property and information on the vineyards and winemaking. If you want to read about other important wineries and wine makers from the Rhone valley: Links to all Rhone Valley Wine Producer Profiles
Tardieu Laurent Cote Rotie History, Overview
Tardieu Laurent takes its name from the two original, founding partners, Michel Tardieu and Dominique Laurent. Unlike many well-known negociant firms, Tardieu Laurent is not steeped in history.
It's a relatively young company. Prior to the entering the wine business, Dominique Laurent worked as a pastry chef. Tardieu became interested in the wine business at an early age. When they began their partnership, Michel Tardieu was already an experienced negociant.
Michel Tardieu and Dominique Laurent ended their partnership and today, the company is managed solely by Michel Tardieu. Michel Tardieu decided to retain the name of Tardieu Laurent.
Tardieu Laurent is one of the top Rhone wine negociant firms. They are one of the few domaines that strives to use biodynamic farming techniques.
They produce wines from Burgundy as well as from a myriad of Rhone appellations including; Condrieu, Cornas, Crozes Hermitage, St. Joseph, St. Peray, Languedoc, Chateauneuf du Pape, Hermitage and Cote Rotie. In Cote Rotie, their fruit is sourced from Moulin, Chavaroche, Valliere, Landonne and Rozier. Michel Tardieu is also working in the Bordeaux appellation with estates in St. Emilion.
Tardieu Laurent Cote Rotie Vineyards, Wines, Winemaking
Maison Tardieu Laurent makes 1 Cote Rotie wine. Although that was not always the case.
Tardieu Laurent is not shy about using new oak, or modern winemaking techniques. Many of their wines are very modern in style. As Tardieu Laurent makes wine from purchased fruit, they focus on obtaining the best sources possible.
They seek out growers with old vines that farm to obtain low yields. Tardieu Laurent does not participate in the vinification process of their Northern Rhone Valley wines. Instead, they send the barrels they want the wine raised in directly to the growers.
When the wines have finished fermentation, the barrels are transferred to the cellars of Tardieu Laurent.
Tardieu Laurent Cote Rotie comes from vines planted on the Cote Brune and is made using 100% Syrah. The Syrah vines are old, with an average age of 60 years.
The vines are planted in the Chavaroche, Lancement, Landonne, les Rochains and Rozier lieux-dits. The terroir in those vineyards is mostly hillsides with schists rocks in the soils. 30% of the grapes are destemmed, the remainder is vinified in whole bunches.
The wine is aged in a combination of 100% new, French oak barrels and 1 year old, French oak barrels for 12 months. Next, the wine is aged for an additional 12 months in foudres, before bottling.
When to Drink Tardieu Laurent, Anticipated Maturity, Decanting Time
Tardieu Laurent, when young, should be decanted at least 2-3 hours, give or take, allowing the wines to soften and open their perfume and for the oak to integrate. Older vintages might need very little decanting, just enough to remove the sediment.
Tardieu Laurent is often better with 7-9 years of cellaring and should be at its best between 8-20 years of age.
While today, Tardieu Laurent only makes 1 Cote Rotie wine, that was not always the case. The following Cote Rotie from Tardieu Laurent are no longer in production: Les Dames Brune, Les Grandes Bastides, Vieilles Vignes and a Vieilles Vignes Cuvee Speciale.
Serving Tardieu Laurent with Wine, Food, Pairing Tips
Tardieu Laurent is best served at 15.5 degrees Celsius, 60 degrees Fahrenheit. The cool, almost cellar temperature gives the wine more freshness and lift.
Tardieu Laurent is best served with all types of classic meat dishes, veal, pork, beef, lamb, duck, game, roast chicken, roasted, braised and grilled dishes, tomatoes, eggplant and sausage. Tardieu Laurent is also good with Asian dishes, hearty fish courses like tuna, mushrooms and pasta.
Condrieu, the white wine of Tardieu Laurent is best served with a myriad of different seafood dishes, shellfish, crab, lobster, sushi, sashimi, chicken, pork and veal, as well as Asian cuisine.
The few wines I've tasted from Cote Rotie and Hermitage produced by Tardieu Laurent seem to retain too much of an oaky quality, even after a decade of bottle age.
Tardieu-Laurent Wine Tasting Notes
16 Vintages 55,179 Views Sort by Vintage-Rating
2016
Tardieu-Laurent Vieilles Vignes (Châteauneuf-du-Pape)

Floral in nature, with a healthy slice of oak, deep, ripe, red berries, spice, pepper and stone to round things out. Concentrated, round and slightly fleshy, give this at least 5 years in the cellar before popping a cork.

2,824 Views

Tasted

Apr 6, 2020

2015
Tardieu-Laurent (Côte-Rôtie)

Oaky, but once past the espresso, you find a lush, ripe, fresh, sweet, smoky, floral wine that delivers its core of thyme, bright cherries and stone with ease. The wine is concentrated, long and round, with an initial oaky presence. Once that subsides, this will be a more interesting wine.

3,834 Views

Tasted

Dec 19, 2019

2013
Tardieu-Laurent Vieilles Vignes (Châteauneuf-du-Pape)

Thyme, smoke and red fruits, with a touch of oak create the nose. Medium bodied, with a soft, forward round style, this will drink well early. The wine was made from a blend of 90% Grenache and 10% Syrah.

2,813 Views

Tasted

Sep 7, 2015

2013
Tardieu-Laurent (Châteauneuf-du-Pape)

Oaky, medium bodied, soft and smooth, this modern styled wine will provide its black cherry, thyme, and round textures early.

1,991 Views

Tasted

Sep 7, 2015

2012
Tardieu-Laurent Vieilles Vignes (Châteauneuf-du-Pape)

Still showing a bit of oak on the nose, the wine is round, plushly textured and offers its kirsch, black and red cherries, smoke, and thyme character with ease.

2,793 Views

Tasted

Sep 8, 2017

2012
Tardieu-Laurent (Hermitage)

Still young as expected, Full bodied, concentrated, powerful, oaky and tannic, the fruit is there, but for now, the oak, licorice and smoke take center stage. Give this at least another 5-8 more years.

1,925 Views

Tasted

Mar 15, 2018

2010
Tardieu-Laurent Cuvée Spéciale (Châteauneuf-du-Pape)

From 100% Old Vine Grenache, the wine offers an oak, licorice, ripe, sweet, fat, jammy black raspberry, herb and black pepper filled profile with lush textures and a round mouthful of fruit in the finish. I'd probably like this wine more if the oak was more subdued.

4,410 Views

Tasted

Jan 13, 2014

2009
Tardieu-Laurent Vieilles Vignes (Châteauneuf-du-Pape)

Concentrated, lush, round, fat and oaky, with licorice, black cherry, jam, and espresso on the nose and palate, Distinctively modern, with a plush character, if the oak becomes less apparent, this will be a better wine.

2,257 Views

Tasted

Mar 4, 2018

2009
Tardieu-Laurent Vieilles Vignes (Hermitage)

Dark in color, round and almost fat in texture, the wine is concentrated, the fruit is ripe, but there is a strong oaky sensation at this stage, which really needs to dissipate before this becomes fun to drink.

1,294 Views

Tasted

Oct 4, 2018

2009
Tardieu-Laurent (Côte-Rôtie)

With an oaky starting point, the wine has layers of sweet, ripe, red fruits, smoke, espresso, thyme and licorice to offer. There is softness and round textures on the palate, but this is quite modern stylistically, and the oaky notes are still present from start to finish. It is a good wine, but I wish there was less of an oaky quality to the wine.

2,094 Views

Tasted

Oct 4, 2018

2006
Tardieu-Laurent (Hermitage)

I do not get the high scores for these wines. Pepper, stone, coffee, smoke and blackberry notes are fine. The wine offers good concentration of flavor, but I find the aromas and plum, cassis and cherry finish to have too much oak. This might change with time, but I am not cellaring any. Still young and tanninc, this needs another decade before it might become more fun to drink. The wine is well made, but it fails to excite me.

3,186 Views

Tasted

Feb 16, 2012

2001
Tardieu-Laurent Cuvée Spéciale (Châteauneuf-du-Pape)

The fruit seems to have dropped. The wine was on the tart, cherry side that made it not that interesting to taste. Drink up before it loses more fruit.

2,750 Views

Tasted

Aug 12, 2013

1999
Tardieu-Laurent (Hermitage)

Deep, dark full bodied, concentrated and fat. Oak, blackberry, stone, kirsch, pepper and spice box sensations are all over the place. This intense wine is still a baby. Give it at least another 5 more years. 93 Pts

3,269 Views

Tasted

Feb 11, 2011

1999
Tardieu-Laurent (Côte-Rôtie)

This is one of those wines I just don't get. I bought a case. I continue working my way through it. There is a lot of ripe cherry, earth and bacon fat as well as soft, plush textures. Where is the problem? At 13 years of age, there is too much vanilla oak in the nose and mouth. It feels dry and woody in the finish. 6 bottles down, 6 more to go.

3,456 Views

Tasted

Mar 15, 2012

When first opened, the wine offered strong earth and barnyard scents which faded after 30 minutes. This was followed by licorice, crushed stone, kirsch liqueur, smoke and floral aromas. Full bodied, rich, fat and concentrated with ripe black cherry and plum flavors, this plush textured wine has become more interesting with age. The wood has integrated into the wine which is a much more fun drinking experience than it was a few years ago. This is close to mature and should drink best by the time the wine celebrates it's 20th birthday.

3,294 Views

Tasted

Jul 20, 2011

With a perfume filled with pepper, kirsch, herbs, fennel, jam and oak scents. This powerful, concentrated wine is rich, mouth filling and intense. Yet, even with all this power, there is enough freshness to give the spicy, kirsch and black raspberry finish lift and balance. This is starting to drink well and should continue to improve from here.

3,572 Views

Tasted

Feb 11, 2010

1998
Tardieu-Laurent (Côte-Rôtie)

An oaky, modern expression of Cote Rotie. The wine has ample ripe fruit and freshness, but there is a dryness in the lushly textured finish from the oak that takes away from the overall experience. This is ready to drink.

3,306 Views

Tasted

Aug 16, 2015

Kirsch, earth, espresso bean, smoke, anise, plum, vanilla, olive tapenade, jam and stone create the perfume. Lush in texture, but there is a bit too much wood in the sweet, ripe, fruit filled finish.

2,754 Views

Tasted

Aug 12, 2012

1998
Tardieu-Laurent (Hermitage)

Blackberry, smoke, raisin, earth, charcoal and fresh herbs. Big, dense and concentrated, there is a lush, plum and blackberry quality to this juicy, modern styled Hermitage. I'd give it another 3-5 years to see how it develops.

3,357 Views

Tasted

Jun 3, 2012