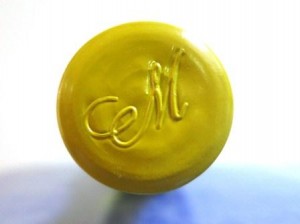 Everything about Marcassin Vineyards, Sonoma County California Chardonnay, Pinot Noir wine producer profile, wine tasting notes, wine and food pairing tips, best vintages, history of the property, information on their wine making techniques, terroir and soil. You can also read about the Grapes used for California wine and learn about the extensive History of Napa Valley, California Wines
Marcassin History, Overview
Marcassin, which takes its name from a type of young, wild boar, made its debut in 1991 with their Upper Barn Chardonnay. At the time, the owners, Helen Turley and John Wetlaufer were well-known consultants to numerous wineries in Napa and Sonoma. One of their clients was Martinelli Vineyards. Turley rented space from Martinelli for the production of Marcassin. In 2010, Marcassin shifted their headquarters to a large space in Windsor California.
The career of Helen Turley began with a stint at B.R. Cohn, a producer of California Cabernet Sauvignon. The couple gained fame for their consulting efforts with many of the best new, producers in the Napa valley during the initial boom of the California Cult Wine phenomena. Colgin Cellars, Bryant Family, La Jota, Pahlmeyer and Turley cellars, a Zinfandel producer owned by her brother were just some of her clients. Rumored to be difficult to work with, Turley relinquished most of her consulting activities to focus on Marcassin Vineyards.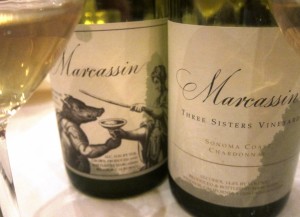 Marcassin immediately caught the attention of the world's most famous wine critic, Robert Parker. From that point on, there was no looking back. Owned by the husband and wife team, Helen Turley and John Wetlaufer, they earned their initial recognition by working as consultants and wine makers. Helen Turley began her career at Robert Mondavi.
Marcassin Vineyards, Wines, Winemaking
Marcassin started out with 10 acres of vines planted to equal amounts of Chardonnay and Pinot Noir planted near Fort Ross in the Sonoma Coastal areas. The initial plantings for the Pinot Noir took place in 1992. This was followed by another wave of 12 more acres for Pinot Noir vines in 2002. The terroir for the Pinot Noir is mostly volcanic stones and rocky soils.
Today Marcassin vineyards produces wine from their Sonoma vineyards that have continued to grow in size. They also make wine from fruit owned by the Martinelli families planted in the Blue Slide Ridge and Three Sisters vineyards. The vineyards are planted on elevations that range from 80 to 1400 feet. The Chardonnay comes from older Wente clones, along with material from Dijon, Mt. Eden and Hyde. The Pinot Noir clones came from Swan, Martin Ray, Calera and Pommard.
For their Marcassin Chardonnay, the grapes are harvested early in the morning, often before sunrise, to retain the maximum level of freshness. The fruit is moved by chilled trucks to fermentation. The Chardonnay is whole clustered fermented. For Marcassin Pinot Noir, the fruit is destemmed and placed in fermentation tanks that match the size of the harvest parcels. The fruit is cold pressed for several days prior to fermentation.
Marcassin ferments with natural yeasts and is kept on its lees for between 6-8 months. The Chardonnay and Pinot Noir is aged in 100% new Francois Freres oak barrels for an average of 12 months. The policy of Marcassin is to age the wines until they are ready for consumption. Marcassin wines are usually available about 5 years after the vintage. All their wines are bottled without fining, filtering or cold stabilization. This means Marcassin Chardonnay can have a cloudy appearance, But this is natural and nothing to worry about. The wines age well. I just wish they lasted long enough in my cellar to find out on my own.
2007 marks the last vintage for the Marcassin Blue Slide Vineyard Pinot Noir and 2008 is the final vintage for Marcassin Three Sisters Vineyard Chardonnay. All that fruit will be placed into wines from Martinelli. On the bright side, due to the increase in size of their Sonoma vineyards, there will be more wine from their top cuvee, Marcassin Vineyard Chardonnay. The entire range of Marcassin wines are sold via a mailing list. 2008 saw another decision made by Marcassin. In a heroic move, Marcassin declassified the entire vintage for Pinot Noir. According to Marcassin, the Pinot Noir wines were declassified due to smoke taint. The taint was caused by some of the fires that struck Sonoma county during the growing season over a 3 week period. 2009 was the next Pinot Noir vintage fans were able to purchase.
In 2013, Helen Turley and Marcassin hired their first assistant winemaker, Ryan O'Donnell. The following year, Marcassin began production of a new Pinot Noir, Bessie's Block. The production is quite small, averaging 225 cases per vintage.
Serving and Decanting Marcassin with Wine, Food, Pairing Tips
Marcassin wines are best served at 15.5 degrees Celsius, 60 degrees Fahrenheit. The cool, almost cellar temperature gives the wine more freshness and lift. Young vintages of their red wine can be decanted for 1 hour or slightly longer, depending on the character of the vintage. This allows the wine to soften and open its perfume. Older vintages might need very little decanting, just enough to remove the sediment.
Marcassin Pinot Noir is best served with all types of classic meat dishes, veal, pork, beef, lamb, duck, game, roast chicken, ribs, hamburgers, barbecue, roasted, braised, grilled dishes and stews. Marcassin Pinot is also good with Asian dishes, hearty fish courses like tuna, salmon, mushrooms and pasta.
Marcassin Chardonnay is best served with all types of seafood and shellfish, sushi, sashimi, chicken, veal, pork and cheese.
Marcassin Vineyards remains one of the few benchmark producers of California Chardonnay and Pinot Noir wine. It's well worth the effort to seek out a few bottles to see why these special wines have been coveted for so many years.
Marcassin Wine Tasting Notes
27 Vintages 174,384 Views Sort by Vintage-Rating
2012
Marcassin Chardonnay Marcassin Vineyard (Sonoma Coast)

There is a wealth of fruit here indeed. But the lemons, apples, pears and citrus peels are ripe, sweet, vibrant and lusciously textured. There is an oak influence, but that is quickly swept away by the layers of luxurious fruit that keeps on coming. This is still quite young. If I can hang on to a bottle or two, it will be fun to see how this shows at 20 years of age.

4,734 Views

Tasted

Nov 20, 2019

Intensity, concentration and richness all backed up by layers of lushly textured, perfectly ripe, apples, pears, citrus and nuances of honeysuckle and vanilla. This should be better with a few more years of aging.

4,211 Views

Tasted

Feb 17, 2018

2011
Marcassin Chardonnay Marcassin Vineyard (Sonoma Coast)

Rich, round, plush, and loaded with ripe green apples, pears, lemons and vanilla. The finish is long, energetic and loaded with fruits and touches of spice. The wine continues to taste and feel young.

3,256 Views

Tasted

Aug 31, 2021

I could not wait to pop a cork on this bad boy, once it arrived. Rich, but not showing the same level of intensity as the last few, previous vintages, the wine serves up a healthy dose of fresh, yellow citrus, honeysuckle, tropical fruits and vanilla. Silky, lush and showy, this is ready to go.

3,552 Views

Tasted

Nov 24, 2016

2010
Marcassin Chardonnay Marcassin Vineyard (Sonoma Coast)

Blending concentration, rich textures, intensity, freshness and layers of sweet, perfectly ripe, citrus fruits, lemon peel, apples and pears, the oak has mostly faded away. The fresh, citrus, honeysuckle, vanilla and mineral elements in the finish really hang in there.

3,489 Views

Tasted

Oct 15, 2015

The most mineral driven Marcassin Chardonnay I've tasted. The nose is complicated by honeysuckle, citrus peel, vanilla bean and orange spice. Full bodied, intense, rich and freshness and zip to the lively lemon, lime finish.

3,664 Views

Tasted

Dec 31, 2014

2010
Marcassin Chardonnay Three Sisters Vineyard (Sonoma Coast)

This has the best vintage from this vineyard I've ever tasted. There is more than ample freshness to give a vibrant quality to the fresh, sweet, lemons, pears, apples and vanilla that permeate the wine. The finish is long, fresh, clean, combining minerality with lush textures, a hint of oak ripe citrus fruits and a hint of peach.

2,495 Views

Tasted

Aug 22, 2015

2009
Marcassin Chardonnay Marcassin Vineyard (Sonoma Coast)

Vanilla not, mint, clove, pears, green apples and citrus ring out on the nose and palate in this hedonistically styled white. This is fully ready to go.

3,011 Views

Tasted

Oct 27, 2020

Vanilla, lemon chiffon pie, smoke, licorice, stone and green apple notes open the wine. On the palate, the wine is rich, sweet, and lush, with a pear and citrus peel finish. This is drinking great today.

3,367 Views

Tasted

May 25, 2018

What an elegant charmer. Full bodied, ripe and luscious, but the fresh, squeezed citrus felt light on its feet. The oak had integrated, and the wine tasted as good as it felt.

3,569 Views

Tasted

Aug 15, 2017

With loads of fat, round, lush, polished, sweet citrus fruits, lemon peel, vanilla and floral scents, the wine feels as good as it tastes, finishing with the right balance between freshness and ripe, sweet fruits.

3,129 Views

Tasted

Mar 2, 2016

Packed with vanilla, fresh citrus, orange and honeysuckle scents, the wine is rich, creamy and concentrated, with a long, lush, fresh finish.

3,475 Views

Tasted

May 12, 2015

Medium/full bodied, mineral driven, ripe, lively fruits, sweet, long and fresh and lift and character. This is drinking great today.

3,275 Views

Tasted

Feb 3, 2015

Terrific expression of great California Chardonnay. It's ripe, tinged with vanilla bean, citrus and spice, the concentrated wine offers lush textures and the finish shows off its ripe, apple, pear, citrus and vanilla bean character.

3,268 Views

Tasted

Aug 10, 2014

Lacking the concentration and intensity found in the 2008 and 2007, the fruit delivers what fans of California Chardonnay seek with its vanilla tinged, floral, citrus, pear, spice and round, soft, fresh lemon peel personality. Enjoy this now, or age it a few years.

3,557 Views

Tasted

Feb 5, 2014

2009
Marcassin Chardonnay Three Sisters Vineyard (Sonoma Coast)

Elegant, fresh, clean, pure citrus, floral and vanilla notes on the nose bring you to a refined, clean, crisp, lemon peel, green apple and pear wine that is fully ready to go.

2,796 Views

Tasted

Sep 16, 2016

Lemon peel, vanilla and crushed rock scents pair with lush textures and and a vanilla bean and citrus finish. The big difference between this and its bigger sister is the level of concentration and complexity.

3,351 Views

Tasted

Dec 17, 2015

Medium bodied, with a fresh citrus, buttered popcorn, vanilla and floral nose, the wine delivers sweet yellow fruits, lift and freshness from start to finish.

2,947 Views

Tasted

May 26, 2014

2008
Marcassin Chardonnay Marcassin Vineyard (Sonoma Coast)

Rich, lush, round, full and deep, the wine now leans to the honeysuckle, orange rind, apple, pear and vanilla side. The fruit-filled finish really lingers.

2,853 Views

Tasted

Oct 27, 2020

I still prefer the 2007, even with all the vanilla, citrus, stone and fresh grapefruit notes going on. The wine is rich, silky, long and balanced, but at least for today, the 2007 seems to offer more of an exotic quality. Regardless, both are about as good as California Chardonnay gets.

3,522 Views

Tasted

Aug 20, 2013

Packed and stacked with layers of ripe citrus, lemon rind, vanilla, stone and flowers, this was is intense, mouth filling and rich. Yet, everything is in balance and focused. The long finish continues for at least 40 seconds. Popped and poured, the wine softened and came together with 30 minutes of air. At this stage, I prefer the 2007, but with another year or 2 in the bottle, the results could be quite different.

4,087 Views

Tasted

May 5, 2013

2008
Marcassin Chardonnay Three Sisters Vineyard (Sonoma Coast)

Lacking the concentration or depth of flavor found in the 2008 Marcassin Vineyard Chardonnay, this is still a winner with its fresh citrus, vanilla,and buttery lemon dominated personality. Fleshy, rich and filled with sweet, fresh citrus fruits with a hint of vanilla on the back end, I often wonder how these wines will age. Sadly, I do not get enough bottles to find out. They are so good now, they do not last long in this house.

2,778 Views

Tasted

May 14, 2013

2007
Marcassin Chardonnay Marcassin Vineyard (Sonoma Coast)

Bought on release and stored in a cold cellar, the wine was served double blind to an experienced tasting group. The wine seemed like it was much older, due to its golden color. Some of the freshness seems to have dropped, as I have tasted the wine often since release. One could still find ripe citrus notes, but clearly, this is on a rapid pace of maturity and should not be aged for years from this point forward.

2,606 Views

Tasted

Jul 25, 2015

This is about as good as California Chardonnay gets. Rich, fat, incredibly concentrated with sweet, ripe, juicy citrus fruits, vanilla and rocks in the perfume, the wine has calmed down since it was initially released, ending with a long, fresh, blast of sweet citrus peel and oak in the ostentatious finish.

3,055 Views

Tasted

Mar 8, 2014

Thrilling to taste and effortless to drink, this is the best bottle of California Chardonnay I have ever tasted! The wine is not over oaked, overdone or hot. Everything is in balance and harmony. The velvet, drenched, luxurious texture, feels like every berry was polished one at a time. The perfume is amazingly complex. The wine is incredibly concentrated. Your palate is coated with sweet, ripe, delicious fruit. But there is no sensation of heaviness. The is fresh and refreshing, with the perfect amount of acidity. This is a unique wine for Marcassin, that lovers of Chardonnay (and that includes fans of White Burgundy) need to taste. I'm a long time fan of Marcassin. This is streets ahead of any other vintage of Marcassin yet produced. It's a very, special wine. I'm not sure how long Marcassin ages. Part of the reason is, the bottles in my cellar are always consumed far too quickly. If I can keep my hands off a bottle or two, I'd like to see how this shows at 15 years of age. This could end up being the reference point wine for Helen Turley and Marcassin. It's also the final wine the young assistant winemaker, Matt Courtney was involved with from harvest to bottling and marketing. Matt Coutney left Marcassin in December 2012.

6,026 Views

Tasted

Nov 24, 2013

If you're seeking an incredibly rich, dense, full bodied Chardonnay that offers fresh citrus, apple, minerality, vanilla and honeysuckle notes, coupled with waves of intense, silky, ripe, lush, pure fruits, look no further. This is packed and stacked with all the right stuff. One of these days I'm going to lay down a bottle or two and see how well these wines age. Sadly, or happily, they are so delicious, I just keep drinking them!

4,023 Views

Tasted

Oct 27, 2012

2007
Marcassin Chardonnay Three Sisters Vineyard (Sonoma Coast)

My last bottle of this beauty showed an appealing vanilla, citrus, floral and honeysuckle nose. The wine balanced fatness along with freshness, ending with sweet, ripe, citrus peel and white peach notes in the lush, fresh finish. This is drinking great now and should here for at least another 3-5 years.

1,977 Views

Tasted

Aug 16, 2015

If this was not compared against the completely off the charts Marcassin, Marcassin from the same vintage, this could have been mind blowing with its fresh lemon, lime, honey uckle, butterscotch and mineral notes. Full bodied and concentrated with layers of polished, ripe, soft, citrus, apples, pears, spice and vanilla, this is a great example of California Chardonnay at its best

2,733 Views

Tasted

Jan 25, 2013

2006
Marcassin Chardonnay Marcassin Vineyard (Sonoma Coast)

Lacking the depth and concentration, as well as the sweet layers of fruit found in the best vintages of Marcassin Chardonnay, this is still a treat. The soft textured layers of ripe citrus, apple, pear and tropical notes are further complicated with oak, stone and floral notes.

3,520 Views

Tasted

Jun 10, 2012

2006
Marcassin Pinot Noir Blue-Slide Ridge Vineyard (Sonoma Coast)

The fruit has clearly faded, there is more of a jammy, dusty, spicy character that is holding on, but will probably continue declining with age. This is not a wine I would hold, hoping for more development.

3,044 Views

Tasted

Feb 9, 2017

2005
Marcassin Chardonnay Marcassin Vineyard (Sonoma Coast)

I seldom get to taste Marcassin at more than 10 years of age, primarily because they never last that long in my cellar. WHile the wine retains some of its oaky, vanilla accents, the freshness is more apparent. Full bodied, ripe and luscious, the smoke, thyme, lemon grass, apple and pear notes with crushed rock accents, really shine through.

3,435 Views

Tasted

Nov 13, 2017

Vanilla, minerality, lemon rind, citrus, spice and floral aromas get your attention. Full bodied, thick and intense, this concentrated California Chardonnay keeps everything in balance and harmony with its plush, big, deep, rich, mouth filling, intense style.

3,715 Views

Tasted

Jan 27, 2013

Deep yellow in color, with notes of honeysuckle, stone, lemon, apple, flowers and smoke, this concentrated, buttery California Chardonnay is rich, intense, focused and balanced, ending with a long, citrus oil and minerality finish. I am not sure more aging will add additional complexity, but the 2005 Marcassin should remain at this level for at least another decade.

3,783 Views

Tasted

Oct 6, 2012

A powerful perfume filled with brown sugar, stone, roasted pears, apple, butter, coconut and toffee notes grabs your attention. Thick, rich, lush and sassy, this stunning California Chardonnay finishes with a blast of ripe, juicy tropical fruit and citrus. This is still young, fresh and vibrant.

3,695 Views

Tasted

Jun 16, 2011

2005
Marcassin Chardonnay Three Sisters Vineyard (Sonoma Coast)

Vanilla, tropical fruit, citrus rind, honey and floral scents pair well with the rich, soft textures. Lacking the level of intensity or minerality of the Marcassin Vineyard, the wine ends with a fresh, lemon, orange and spice sensation.

2,297 Views

Tasted

Jan 27, 2012

Straw colored with scents of vanilla, citrus, butter and pears that required some coaxing. This full bodied Chardonnay ended with sensations of lemon, mango and minerality.

1,948 Views

Tasted

Oct 4, 2011

2004
Marcassin Chardonnay Marcassin Vineyard (Sonoma Coast)

This last bottle from my order delivered the goods. The oak has long since disappeared, all that remains is was sweet, ripe, pears, apples and flowers. The offers ampe concentration, fresh, sweet fruits and soft, elegant, full textures.

3,223 Views

Tasted

Jan 28, 2018

Fully mature, or perhaps slightly past its best days, the honeyed fruit in this medium bodied wine was clearly starting to fade.

4,006 Views

Tasted

Nov 17, 2013

Pungent scents of pears, apples and citrus oil coupled with flowers and toasty oak. Intense, fat and concentrated, the wine finished with a ricly textured, lush, fresh sensation that is filled with ripe furit yellow fruits.

4,704 Views

Tasted

Jan 20, 2010

The best California Chardonnay to share with visitors from other countries. They never see the wine in Bordeaux. They are very aware this is our benchmark Chardonnay. Deeply colored, with powerful notes of aromatics of ripe tropical fruit, vanilla, pears and floral scents. This very concentrated, fresh wine fills your palate with lush, ripe, pure fruit and ends with a long, clean, balanced finish. Everyone from Bordeaux remarked how much they liked the wine and that it did not show any heat, even with its high ABV levels.

4,760 Views

Tasted

Nov 18, 2009

2003
Marcassin Chardonnay Marcassin Vineyard (Sonoma Coast)

With about a decade of age, this outstanding wine remains fresh, young, vibrant and alive, with layers of ripe citrus, vanilla, honeysuckle and stone. Rich in texture and full bodied, I wish I owned a few bottles in my cellar.

4,725 Views

Tasted

Nov 17, 2013

Thick, rich, plush opulent and spicy. Some oak. But, the layers of ripe, apple, citrus and pear fruit were exciting to taste

2,790 Views

Tasted

Feb 26, 2008

2002
Marcassin Chardonnay Marcassin Vineyard (Sonoma Coast)

At close to 14 years of age, which is ancient for most California Chardonnay wines, this tasted years younger than its actual age. With vibrant citrus flavors, minerality, lemon peel and hints of vanilla, along with refreshing acidity, polish and length, it's a perfect ringer in a flight of white Burgundy.

4,642 Views

Tasted

Nov 17, 2013

This slightly green tinted wine offers stunning levels of ripe fruit with a perfume featuring lemons, apples, species and flowers. Massive concentration with a rich, thick, balanced texture backed up by refreshing acidity

3,108 Views

Tasted

Mar 14, 2006

2001
Marcassin Chardonnay Marcassin Vineyard (Sonoma Coast)

Grapefruit, lemons and flowers made for a nice perfume. Concentrated, full bodied and with touches of minerality, the wine ends with a blast of sweet, ripe citrus flavoirs.

1,778 Views

Tasted

Apr 15, 2006

2001
Marcassin Pinot Noir Marcassin Vineyard (Sonoma Coast)

This full throttle style of Pinot will never be confused with Burgundy, but, perhaps that's why I liked it! This is not a wine of finesse, but one of powerful, ripe red fruits.

3,217 Views

Tasted

Nov 5, 2005

1999
Marcassin Chardonnay Marcassin Vineyard (Sonoma Coast)

Soaring lemon, pear, apple, mineral aromatics. Depth, concentration and complexity. Mouth filling thick, rich and long.

2,788 Views

Tasted

Nov 7, 2004

1999
Marcassin Pinot Noir Marcassin Vineyard (Sonoma Coast)

Mint, truffle, licorice, black raspberry, earth, spice and citrus notes open to a long, suave, mouth feel. The wine ends with licorice, black cherry and a note of fresh citrus. Tasted blind, this was an impressive Pinot Noir.

2,749 Views

Tasted

Mar 6, 2011

1999
Marcassin Chardonnay Gauer Upper Barn (Alexander Valley)

Initially very tight for the first 20-30 minutes. A trait shared with the 97 Indigene. With time, notes of honeyed fruit and caramel. Very ripe and full bodied, almost dense. The fruit filled, finish was amazingly clean and pure.

1,157 Views

Tasted

Jul 5, 2004

1999
Marcassin Pinot Noir Blue-Slide Ridge Vineyard (Sonoma Coast)

Black cherry, truffle earth, spice and coca aromatics led into a big, lush, powerful, high ABV Pinot Noir. This is not a wallflower of a wine.

3,039 Views

Tasted

Mar 6, 2011

1998
Marcassin Chardonnay Lorenzo Vineyard (Sonoma Coast)

Holding on to life, and its remaining fruity tightly, the butterscotch, flowers, orange citrus peel, pear and lemon notes are strong. The fruit is still sweet, and I like the freshness, that being said, this is already 20 years of age, so it is time to drink it, if you have any.

1,690 Views

Tasted

Sep 21, 2018

1994
Marcassin Chardonnay Gauer Upper Barn (Alexander Valley)

The Marcassin blew everyone at the table away! I do not drink much white wine, but I would drink this anytime, anyplace, anywhere. It had it all! The wine had a rich, oily, unctuous texture and a palate filled with ripe summer fruit with flavors and sensations that lasted on your palate.

2,717 Views

Tasted

Jul 15, 2003

1993
Marcassin Chardonnay Lorenzo Vineyard (Sonoma Coast)

With a gold, yellow hue, the wine offers a lime, honeysuckle, ash, rock and citrus character Fading, you now find sharper acidities and some bitterness in the finish. It is time to drink this before it drops more fruit.

1,699 Views

Tasted

Sep 21, 2018

1992
Marcassin Chardonnay Lorenzo Vineyard (Sonoma Coast)

Served blind, I was sure this was a high-quality, aged, white Burgundy. This debut vintage for Marcassin is loaded with ripe, sweet, lush, pears, apples, apricot, citrus peel, honeysuckle, butterscotch and marmalade. There is freshness and layers of fruit in every sniff and sip. At close to 30 years of age, this was a beauty to taste, and quite impressive, to say the lease.

1,349 Views

Tasted

Sep 21, 2018