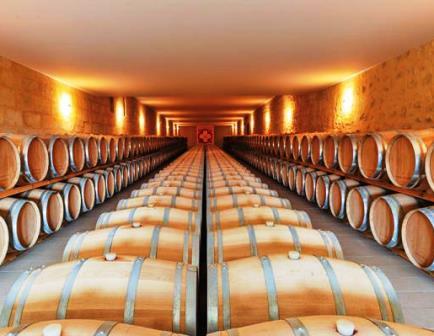 Learn everything about Chateau Lassegue St. Emilion with wine tasting notes, wine and food pairings, best vintages, a history of the property, information on the vineyards, and winemaking. If you want to read about other important, Bordeaux Chateaux: Links to all Bordeaux Wine Producer Profiles
Chateau Lassegue History, Overview
While Chateau Lassegue has a long history in St. Emilion, with a chateau that was constructed in the mid to late 1600s, the modern era for the property starts quite recently.
This can be dated to when the vineyards were purchased by the famed, California vintner, Jess Jackson in 2003 from the Freylon family. After Jess Jackson passed away in 2011, his wife, Barbara Banke took over managing the estate full time, along with Pierre Seillan. However, Nicolas Seillan, the son of Pierre, and Christina Seillan, the daughter-in-law of Pierre have been taking a more active role in managing the estate.
Chateau Lassegue Vineyards, Terroir, Grapes, Winemaking
The large, 24-hectare, Right Bank vineyard of Chateau Lassegue is planted to 60% Merlot, 25% Cabernet Franc and 15% Cabernet Sauvignon. The terroir is deep clay, chalk, and limestone soils. The vines are old, with an average age of more than 40 years.
Chateau Lassegue is vinified in stainless steel tanks. The wines are aged in an average of 50% to 70% new, French oak barrels for 15 months, prior to bottling. The oak barrels used at Chateau Lassegue are unique because the cooperage is owned by the Jackson family.
In 1997, Jess Jackson formed a partnership with the Boswell family. In the beginning, this was to simply produce the oak staves needed to make barrels.
Slowly, over the years they expanded their relationship, and eventually, they began producing their own oak barrels in America and in France. In Bordeaux, they own Tonnellerie Quintessence. Tonnellerie Quintessence is a forest-specific, designated barrel producer. Each barrel is labeled with GPS coordinates letting the winemaker known where the tree used for that specific barrel was pulled from in the forest.
The best vintages of Chateau Lassegue are: 2022, 2021, 2020, 2019, 2018, 2017, 2016, 2015, 2014, 2012, 2010, 2009 and 2005.
There is a second wine, Les Cadrans de Lassegue. There is also a third wine produced from vines planted in the sandier soils of their vineyards, Chateau Vignot. The average annual production at Chateau Lassegue is close to 10,000 cases of wine per vintage.
When to Drink Chateau Lassegue, Anticipated Maturity, Decanting Time
Chateau Lassegue needs some time before it can be enjoyed. Young vintages can be decanted for an average of 1 hour or more. This allows the wine to soften and open its perfume.
Older vintages might need very little decanting, just enough to remove the sediment. Chateau Lassegue is usually better with at least 4-6 years of bottle age. Of course, that can vary slightly, depending on the vintage character. Chateau Lassegue offers its best drinking and should reach peak maturity between 4-15 years of age after the vintage.
Serving Chateau Lassegue with Wine and Food Pairings
Chateau Lassegue is best served at 15.5 degrees Celsius, 60 degrees Fahrenheit. The cool, almost cellar temperature gives the wine more freshness and lift.
Chateau Lassegue is best paired with all types of classic meat dishes, veal, pork, beef, lamb, duck, game, roast chicken, roasted, braised, and grilled dishes. Chateau Lassegue is also good when matched with Asian dishes, rich fish courses like tuna, mushrooms, and pasta.
Château Lassègue Wine Tasting Notes
6 Vintages 17,919 Views Sort by Vintage-Rating
2022
Château Lassègue (St. Émilion Grand Cru)
Flowers, cherries, herbs, licorice, mint, cocoa, and tobacco form the core of this medium-bodied, soft, forward, supple, elegant and vibrant wine, ending with sweet, red berries, spice, and spearmint. The wine will drink well, just about on release. Drink from 2026-2040. 91-93 Pts.
1,939 Views
Tasted

May 8, 2023
2018
Château Lassègue (St. Émilion Grand Cru)
Medium-bodied, round, lush, and oaky, with a strong espresso and vanilla note in the nose and palate that should fade with time, giving you more of all those, sweet, ripe, black cherries, plums, and earthy notes, along with licorice and cocoa accents. Drink from 2023-2035.
2,665 Views
Tasted

Dec 23, 2022
2015
Château Lassègue (St. Émilion Grand Cru)
A bit oaky, but once past the espresso nose you find flowers, cocoa, tobacco, and dark cherries on the nose and on the round, fleshy, fruity palate. Drink from 2022-2032.
2,585 Views
Tasted

Sep 15, 2022
2010
Château Lassègue (St. Émilion Grand Cru)
One of the few American owned estates in Bordeaux, the late Jess Jackson purchased the property in 2003. The wine is big, tannic, full bodied and concentrated, with a lot of structure, freshness and depth, The fruit is ripe, with its center of black cherries, licorice and espresso bean, but lacks softness in the texture. Give this at least 5 years to come together.
2,982 Views
Tasted

Jul 2, 2015
2009
Château Lassègue (St. Émilion Grand Cru)
Tannic, full bodied and powerful, but lacking the plush, sensuous characteristics of the vintage, perhaps time will help soften the tannins while better integrating the oak. This is one of the few American owned estates in Bordeaux. It was purchased by Jess Jackson in 2003.
3,059 Views
Tasted

Jul 2, 2015
2005
Château Lassègue (St. Émilion Grand Cru)
Plenty of crisp, ripe juicy, dark fruits, firm tannin and freshness, coupled with a red and black plum, coffee bean, smoke and licorice character to top things off. Well made, interesting to taste, as this Merlot dominated blend comes from the Jess Jackson family of wines. The wine was made from a blend of 60% Merlot, 35% Cabernet Franc and 5% Cabernet Sauvignon.
4,689 Views
Tasted

Nov 15, 2016