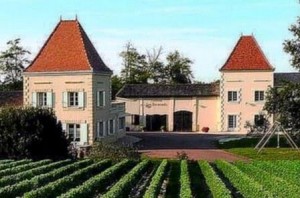 Learn everything about Chateau Les Bertrands Cotes de Blaye with wine tasting notes, wine and food pairings, a history of the property, information on the vineyards and winemaking. If you want to read about all the other important Bordeaux chateaux: Links to all Bordeaux Wine Producer Profiles
Chateau Les Bertrands has remained in the hands of the same family for close to three centuries, the Dubois family! Today, Chateau Les Bertrands is managed by direct descendants of the founders. Laurent, Isabelle Sophie Dubois oversee the estate.
Chateau Les Bertrands Vineyards, Terroir, Grapes, Winemaking
While the Dubois family owns close to 100 hectares of vines, Chateau Les Bertrands comes from a 20 hectare vineyard that is planted to 70% Merlot and 30% Cabernet Sauvignon. The terroir is a mix of gravel, sand and clay soils.
The vine density is sparse at 4,000 vines per hectare. The vineyards are machine harvested. The vines are old, with an average age of 35 years. Chateau Les Bertrands owns 10 hectares of vines to produce white Bordeaux wine as well, from grapes which are planted to 85% Sauvignon Blanc and 15% Muscadelle.
To produce the wine of Chateau Les Bertrands, the wine is vinified in temperature controlled, stainless vats. For the red wines, the oak regimen for each of their wines varies. The Vieille Vignes is aged entirely in tank for 15 months and is produced from 70% Merlot and 30% Cabernet Sauvignon.
The Prestige is aged in 33% new, French oak barrels for 12 months and is a blend of 50% Merlot and 50% Cabernet Sauvignon. The top cuvee, Chateau Les Bertrands Nectar, which comes from a 3 hectare parcel of the estates best vines and grapes is made from 95% old vine Merlot and 5% Cabernet Sauvignon and is aged in 100% new, French oak barrels for 17 months.
Chateau Les Bertrands produces two Bordeaux Blanc wines; Chateau Les Bertrands Tradition which is a blend and Chateau Les Bertrands Prestige, which is made from 100% Sauvignon Blanc. With all the wines combined, the production is large, at close to 33,000 cases per vintage.
When to Drink Chateau Les Bertrands, Anticipated Maturity, Decanting Time
Chateau Les Bertrands is better with at least 2-3 years of aging in good vintages. Young vintages can be decanted for up to 1 hour, if desired. Older vintages might need very little decanting, just enough to remove the sediment. Chateau Les Bertrands offers its best drinking and should reach peak maturity between 3-10 years of age after the vintage.
Serving Chateau Les Bertrands with Wine, Food, Pairing Tips
Chateau Les Bertrands is best served at 15.5 degrees Celsius, 60 degrees Fahrenheit. The cool, almost cellar temperature gives the wine more freshness and lift.
Chateau Les Bertrands is best paired with all types of classic meat dishes, veal, pork, beef, lamb, duck, game, roast chicken, roasted, braised and grilled dishes. Chateau Les Bertrands is also good when matched with Asian dishes, rich fish courses like tuna, mushrooms and pasta.
Chateau Les Bertrands Nectar is well worth seeking out. The famed German collector and taster, Achim Becker, who owns the website, The Wine Terminator, Achim Becker, poured me a bottle of this wine in a blind tasting, which is how I found out about it.
Outside of Europe, the wine is quite hard to find, as most of the production is sold in France and to neighboring countries. Germany is the largest export market for the wine.
Château Les Bertrands Wine Tasting Notes
2 Vintages 6,969 Views Sort by Vintage-Rating
2020
Château Les Bertrands Nectar des Bertrands (Blaye Côtes de Bordeaux)

Cigar box, leafy herbs, truffle, crushed rock and red fruits show in the nose and on the earthy, savory, minty, red berry palate. It has been ages since I've seen this wine. It is a solid, well-priced, wine from the Cotes de Blaye. It will be ready-to-go on release. Drink from 2023-2030.

704 Views

Tasted

Mar 21, 2023

2009
Château Les Bertrands Nectar des Bertrands (Blaye Côtes de Bordeaux)

Served blind, this value priced Bordeaux wine was a find. Deep in color, the wine was filled with licorice, chocolate and fresh, jammy black raspberries. Medium/full bodied, with round tannins and a seductive, sweet, boysenberry, vanilla, plush finish. The wine is already open and ready for drinking. This a Bordeaux value wine to drink young. It is not for aging. If you're looking for small tasty wines, this is a winner.

6,265 Views

Tasted

Mar 26, 2012