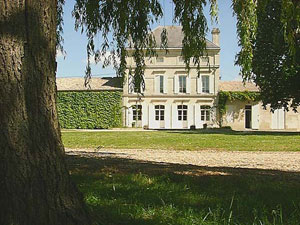 Learn everything about Chateau Plince Pomerol with wine tasting notes and wine with food pairing tips. Learn the best vintages, a history of the property, information on the vineyards and winemaking. If you want to read about other important, Bordeaux Chateaux: Links to all Bordeaux Wine Producer Profiles
Chateau Plince History, Overview
Chateau Plince has one of the few, truly grand chateau in Pomerol. This is noticeable because generally speaking Pomerol is the simplest of all the important Bordeaux appellations. Thus most of the chateaux are humble in nature.
But not here. In fact, it is safe to say that Chateau Plince sports perhaps the finest, impressive-looking chateau in the appellation! The grand chateau was originally constructed in the 19th century.
Chateau Plince is owned by the Moreau family who purchased the Right Bank estate from the well-known, Rouchut family. The Moreau family have owned other vineyards in Pomerol, including Clos LEglise, which they sold in 1977.
Chateau Plince Vineyard, Terroir, Grapes, Winemaking
The 8.6-hectare vineyard of Chateau Plince is planted to 72% Merlot, 23% Cabernet Franc and 5% Cabernet Sauvignon. The terroir is mostly sand with some iron in the soil. On average the vines are close to 23 years of age. The vineyard is planted to a vine density that remains close to 6,000 vines per hectare. The property is located close to Chateau Nenin and not too far from the RN89 highway. The Right Bank vineyard is 8.66 hectares.
In an effort to produce better wine today, Chateau Plince now practices green harvesting and crop thinning to reduce yields as part of its vineyard management program. However, Chateau Plince remains one of the few vineyards with potential that is still harvested by machine.
To produce the wine of Chateau Plince, vinification takes place in eight, traditional, temperature-controlled, cement vats that range in size from 62 hectoliters up to 132 hectoliters. Malolactic fermentation takes place in barrels. The wine of Chateau Plince is aged in an average of 50% new, French oak barrels for between 12 and 18 months, depending on the quality, character, and style of the vintage.
Chateau Plince produces close to 4,000 cases of Pomerol wine per vintage. There is a second wine, Pavillon Plince. While Chateau Plince is owned and managed by the Moreau family, the sales and marketing of their wine are handled by Ets. Moueix.
The best vintages of Chateau Plince are: 2022, 2021, 2020, 2019, 2018, 2017, 2016, 2015, 2014, 2012, 2010, 2009, 2005 and 2000.
When to Drink Chateau Plince, Anticipated Maturity, Decanting Time
Chateau Plince can be enjoyed on the young side with an hour or two of decanting. This allows the wine to soften and open its perfume.
Older vintages might need very little decanting, just enough to remove the sediment. However, I find the wine is usually better with 4-6 years of bottle age. Of course, that can vary slightly, depending on the vintage character. In the best years, Chateau Plince is usually at its best between 5 and 14 years of age after the vintage.
Serving Chateau Plince with Wine, Food, Pairing Tips
Chateau Plince is best served at 15.5 degrees Celsius, 60 degrees Fahrenheit. The cool, almost cellar temperature gives the wine more freshness and lift. Chateau Plince is best paired with all types of classic meat dishes, veal, pork, beef, lamb, duck, game, roast chicken, roasted, braised, and grilled dishes.
Chateau Plince is also good when matched with Asian dishes, hearty fish courses like tuna, mushrooms, and pasta.
Chateau Plince is a lighter, early-drinking style of Pomerol wine.
Château Plince Wine Tasting Notes
15 Vintages 54,462 Views Sort by Vintage-Rating
2022
Château Plince (Pomerol)

Flowers cherries, plums, and licorice show in the nose and on the palate in this medium-bodied, forward, soft, open wine. The wine blends 85% Merlot with 15% Cabernet Franc. Drink from 2025-2034. 89-91 Pts.

1,690 Views

Tasted

May 8, 2023

2021
Château Plince (Pomerol)

Wet earth, herbs, red berries, and a touch of citrus shine in the nose. On the palate, the wine is soft, medium-bodied, bright, savory, and crisp with an earthy, cocoa edge to the fruits in the finish. Drink from 2023-2033. 90-92

1,553 Views

Tasted

May 20, 2022

2020
Château Plince (Pomerol)

Licorice, flowers, wet earth and ripe red fruits show a vibrancy and freshness. The soft, silky tannins give the ripe berries texture, length and definition. The savory finish combines sweet red berries with touches of olives and herbs. 90-92 Pts

1,890 Views

Tasted

May 20, 2021

2018
Château Plince (Pomerol)

Discrete notes of flowers, red pit fruits and earth create the nose. On the palate, the wine is medium-bodied, with a gentle touch of oak that rides along with the sweet, ripe, red cherries in the finish. This is much better in bottle than it showed in barrel.

2,205 Views

Tasted

Mar 9, 2021

Medium bodied and round with a solid blast of bright, juicy plum, earth, thyme and cocoa. There is length but not a lot of finesse. Still, it is quite charming. 88-90 Pts

2,912 Views

Tasted

Apr 19, 2019

2017
Château Plince (Pomerol)

The whisper of chocolate preceding the plums works well here. Medium bodied, forward and soft, you can enjoy this elegant Pomerol with just a few years of age.

2,607 Views

Tasted

Apr 26, 2018

2016
Château Plince (Pomerol)

Medium bodied, silky, soft and polished, this is a respectable wine with lots of ripe plums, earth and freshness.

4,122 Views

Tasted

Apr 29, 2017

2015
Château Plince (Pomerol)

Soft in texture with a light whisper of fresh plum and cherry, this wine is elegant in style and will be best in its youth. 87 - 89 Pts

2,856 Views

Tasted

Apr 27, 2016

2014
Château Plince (Pomerol)

With an odd nose of salty, red berries, dusty tannins and bright, red fruits, this is best in its youth. 84-86 Pts

3,688 Views

Tasted

Apr 24, 2015

2013
Château Plince (Pomerol)

Discreet notes of earth and red plums come alive with coaxing in this light, forward wine showcasing red plum and cherry. 86-88 Pts

3,358 Views

Tasted

Apr 26, 2014

2012
Château Plince (Pomerol)

Medium-bodied with a dusty texture to the tannins, this wine finishes with light red berries and cocoa powder. 85-87 Pts

5,980 Views

Tasted

Apr 26, 2013

2011
Château Plince (Pomerol)

Light ruby in color, medium bodied with a soft, spicy cherry-dominated personality. 87-89 Pts

4,896 Views

Tasted

Apr 21, 2012

2010
Château Plince (Pomerol)

Medium bodied, soft and light textured, the offers spicy red plums and feminine textures. 86-88 Pts

3,791 Views

Tasted

Apr 21, 2011

2009
Château Plince (Pomerol)

Medium bodied and sightly rustic, with black cherry, plum and espresso bean notes throughout.

5,166 Views

Tasted

May 19, 2014

2008
Château Plince (Pomerol)

08 Château Plince is light ruby in color and light in body. A nice, simple, entry level Pomerol. 85-88 Pts

4,324 Views

Tasted

Jul 30, 2009

2005
Château Plince (Pomerol)

Medium bodied, soft textured, open and ready for business, with a wealth of sweet, juicy plum, freshness, and black licorice.

3,424 Views

Tasted

Oct 26, 2016