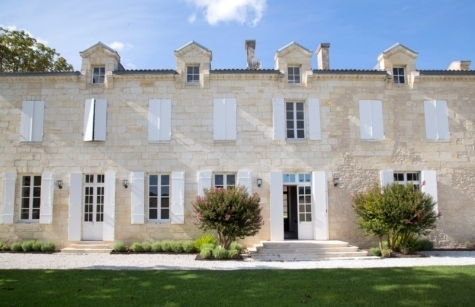 Learn everything about Chateau Arnauld Haut Medoc, with wine tasting notes, and wine-with-food pairing tips. Learn the best vintages, the history of the property, and information on the vineyards and winemaking. If you want to read about other important, Bordeaux Chateaux: Links to all Bordeaux Wine Producer Profiles
Chateau Arnauld History, Overview
While Chateau Arnauld has a long history in Bordeaux as the vineyard was initially created close to the end of the 17th century. In fact, the property takes its name from the founder of the vineyard, Pierre Jacques Arnauld, who initially called the property Cru Arnauld. However, the modern era for the property begins when the estate was purchased in 2007 by its current owners, the Assurances Generales de France from the Roggy family, who owned the vineyard since 1956.
Over the past few years, Chateau Arnauld has enjoyed a complete renovation. The main reception room was completed in 2019 and the barrel cellar was finished being renovated in 2020. Hubert de Bouard is the consultant.
Chateau Arnauld Vineyards, Terroir, Grapes, Winemaking
The 17.5-hectare Left Bank vineyard of Chateau Arnauld is planted to 70% Cabernet Sauvignon, 20% Merlot, and 10% Petit Verdot. Though it is interesting to note that the blend varies widely, with some vintages containing more than 50% Merlot in the final blend.
The terroir is gravel and clay soils. The vineyard is divided into two main sections, with 12.5 hectares planted in Lamarque and the remaining 5 hectares placed in the commune of Arcins. The vines are old with an average age of 40 years. The vineyard is planted to a vine density of 10,000 vines per hectare.
The wine is vinified in stainless steel tanks. Malolactic fermentation takes place in tank. The wine is then aged in a combination of mostly new, French oak barrels for 18 months before bottling. There is a second wine, Comte d'Arnauld. There is also a third wine, Collection Arnauld, which is a small-production, high-end bottling from the property that is aged in 100% new, French oak barrels for up to 24 months. In total, Chateau Arnauld produces close to 7,500 cases of wine per vintage.
The best vintages of Chateau Arnauld are: 2022, 2021, 2020, 2019, 2017, 2016, and 2015.
When to Drink Chateau Arnauld, Anticipated Maturity, Decanting Time
Chateau Arnauld needs some time before it can be enjoyed. Young vintages can be decanted for between 1-2 hours. This allows the wine to soften and open its perfume. Older vintages might need very little decanting, just enough to remove the sediment.
Chateau Arnauld is usually better with at least 2-4 years of bottle age. Of course, that can vary slightly, depending on the vintage character. Chateau Arnauld offers its best drinking and should reach peak maturity between 3-15 years of age after the vintage.
Serving and Decanting Chateau Arnauld with Wine, Food, Pairing Tips
Chateau Arnauld is best served at 15.5 degrees Celsius, 60 degrees Fahrenheit. The cool, almost cellar temperature gives the wine more freshness and lift. The wine of Chateau Arnauld is best served with all types of classic meat dishes, veal, pork, beef, lamb, duck, game, roast chicken, roasted, braised, and grilled dishes.
Chateau Arnauld is a perfect match with Asian dishes, hearty fish courses like tuna, mushrooms, and pasta as well as cheese.
Château Arnauld Wine Tasting Notes
6 Vintages 11,995 Views Sort by Vintage-Rating
2021
Château Arnauld (Haut-Médoc)
Bright, vivid red fruits, leafy herbs, underbrush and crisp red berries create a solid, classic, Left Bank Bordeaux that will be perfect to enjoy in its first decade of life. Drink from 2023-2032. 87-89
1,035 Views
Tasted

May 20, 2022
2020
Château Arnauld (Haut-Médoc)
Earthy, dark red fruits and cigar wrapper give the wine a nice, savory character. Medium-bodied, soft, and just about ready-to-go, the wine leaves you with crisp red fruits and dusty tannins. Drink from 2023-2035.
321 Views
Tasted

Mar 21, 2023
Ripe dark red fruits and tobacco leaf form the core of this medium-bodied, forward, accessible, chewy, bright, savory, easy drinking wine. 88-90 Pts
940 Views
Tasted

May 20, 2021
2019
Château Arnauld (Haut-Médoc)
Tobacco leaf, savory herbs and red currants with a dash of chocolate provide the nose, while you find more of those, sweet, juicy red fruits on the palate. Round, soft, fresh and fruity, the finish leaves you loads of easy to like red fruits with a touch of dust in the endnote. Drink from 2023-2033.
771 Views
Tasted

Mar 29, 2022
The bright, red currant and tobacco aromas stand out before you reach the medium-bodied, sharp, fruity, sweet and tart, zesty red berry finish. 88-90 Pts
1,884 Views
Tasted

Jun 8, 2020
2018
Château Arnauld (Haut-Médoc)
Vibrant, fresh, round, supple, almost creamy in texture with loads of sweet, ripe, blackberries and currants in every sniff, swirl, and sip. This should age for at least a decade with ease. Drink from 2023-2033.
2,333 Views
Tasted

Dec 26, 2022
2016
Château Arnauld (Haut-Médoc)
Round-textured, supple, medium-bodied, red berry and leafy herb-oriented wine that is already quite nice to drink, and a steal for the price. Drink from 2023-2029.
2,201 Views
Tasted

Dec 26, 2022
2015
Château Arnauld (Haut-Médoc)
This is one of those super values from the Left Bank of Bordeaux that did everything right! Medium-bodied, fresh, and loaded with sweet, ripe, soft-textured blackberries, currants, tobacco, dried flowers, and hints of underbrush. This is drinking in its sweet spot. Drink from 2023-2031.
2,510 Views
Tasted

Dec 27, 2022