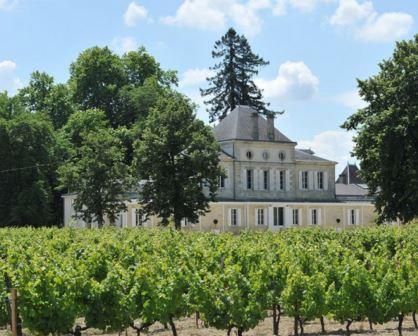 Learn everything about Chateau Haut Nouchet, Pessac Leognan, Bordeaux with wine tasting notes and wine and food pairing tips. Learn the best vintages, a history of the property, and information on winemaking and vineyards. If you want to read about other important, Bordeaux Chateaux: Links to all Bordeaux Wine Producer Profiles
Chateau Haut Nouchet History, Overview
Chateau Haut Nouchet has a history dating back to the early 1830s when the vineyard was initially established. Close to the end of the 19th century, the property was inherited by the Vayssiere family. Due to financial difficulties, the property was eventually sold to a real estate development company.
Due to neglect, the vineyard fell into disrepair by the 1960s. In 1973, it was purchased in its distressed condition by the well-known and established vigneron, Lucien Lurton. The property desperately needed a complete renovation. The vineyards needed replanting. The cellars and chateau needed renovations and rebuilding as well
The modern era for Chateau Haut Nouchet begins in 2008 when the vineyard was sold to the Briest family. Today the property is a family-owned and managed vineyard as it is run by Domitille Briest, Gauthier Briest, and Thibaut Briest. One of their first decisions was to bring in the team of Stephane Derenoncourt as their consultant.
Chateau Haut Nouchet Vineyard, Terroir, Grapes, Winemaking
The 34 hectoliter vineyard of Chateau Haut Nouchet has 27 hectares devoted to red wine grapes and 7 hectares planted to white wine grape varieties. For the red wines, the vineyard is planted to 60% Cabernet Sauvignon and 40% Merlot. For the white wines, it is planted to 70% Sauvignon Blanc and 30% Semillon for the white wine grapes. gravel and sand soils.
On average, the production is just under 10,000 cases of wine per vintage. There is a second wine for each of their wines, Haut-Nouchet for their red wine, and Florilege Haut-Nouchet for their white Bordeaux wine.
The Best Vintages of Chateau Haut Nouchet are: 2022, 2021, 2020, 2019, 2018, 2017, 2016, 2015, 2012, 2010, 2009 and 2005. Although it is important to note that vintages can vary as to their quality between the white wine and the red wines as in some years, the reds are markedly better and in other vintages the whites are superior.
When to Drink Chateau Haut Nouchet, Anticipated Maturity, Decanting Time
Chateau Haut Nouchet can be enjoyed on the young side with decanting. Young vintages can be decanted for an average of 1 hour. This allows the wine to soften and open its perfume. Older vintages might need very little decanting, just enough to remove the sediment.
Chateau Haut Nouchet is usually better with at least 3-4 years of bottle age. Of course, that can vary slightly, depending on the vintage character. Chateau Haut Nouchet offers its best drinking and should reach peak maturity between 6-12 years after the vintage.
Serving Chateau Haut Nouchet with Wine, Food, Pairing Tips
Chateau Haut Nouchet is best served at 15.5 degrees Celsius, 60 degrees Fahrenheit. The cool, almost cellar temperature gives the wine more freshness and lift. The red wine of Chateau Haut Nouchet is best served with all types of classic meat dishes, veal, pork, beef, lamb, duck, game, roast chicken, roasted, braised, and grilled dishes.
Chateau Haut Nouchet is a perfect match with Asian dishes, hearty fish courses like tuna, mushrooms, and pasta as well as cheese. The white wine of Chateau Haut Nouchet is a perfect wine to serve with shellfish, sashimi, sushi, and all types of seafood, chicken, veal, and cheeses.
Château Haut-Nouchet Wine Tasting Notes
11 Vintages 19,016 Views Sort by Vintage-Rating
2022
Château Haut-Nouchet (Pessac-Léognan)

Medium-bodied, fresh finesse styled, red berry filled wine with touches of spice, espresso, cherries and cocoa that show in the nose and on the palate. The vineyards are well-placed, quite close to Chateau Smith Haut Lafitte. This will provide pleasure just about on release. Drink from 2025-2037. 89-91 Pts.

633 Views

Tasted

May 8, 2023

2020
Château Haut-Nouchet (Pessac-Léognan)

Even better in the bottle than in the barrel, the wine opens with smoke, spice-box, dried flowers and red pit fruit scents. Soft, medium-bodied and polished, with a core of sweet, ripe, silky fruits and freshness, the mix of red and darker red fruits in the finish is quite nice. This is fully ready to go. This little known estate is situated close to Smith Haut Lafitte. Drink from 2023-2035.

461 Views

Tasted

Mar 21, 2023

Red fruits, spice and thyme create the core here. Medium-bodied, sweet, fresh and earthy, there is a nice smoky touch to the soft, ripe, red fruits and tobacco in the finish. This little known estate is situated close to Smith Haut Lafitte. 89-91 Pts

1,163 Views

Tasted

May 20, 2021

2020
Château Haut-Nouchet Blanc (Pessac-Léognan)

Almonds, grapefruit and lemon zest fill the perfume. On the palate, the wine is fresh, round and creamy, with a lemon rind edge to the finish. Drink from 2023-2028.

443 Views

Tasted

Mar 21, 2023

Lighter styled, fresh, zesty, yellow citrus fruits and white peach are found on the nose and in the sweet and creamy textured, vibrant finish. 90 Pts

1,108 Views

Tasted

May 20, 2021

2019
Château Haut-Nouchet (Pessac-Léognan)

Situated close to Smith Haut Lafitte, this little-known vineyard produced a medium-bodied, round, earth, cherry, herb and green olive-filled wine for early drinking pleasure. 87-89 Pts

1,775 Views

Tasted

Jun 8, 2020

2018
Château Haut-Nouchet (Pessac-Léognan)

A light touch of smoke, espresso, burning leaves and red fruits form the nose. Soft, medium-bodied, forward and finishing with sweet red fruits, this should be just about ready to enjoy on release. The vineyards are well-placed, quite close to Chateau Smith Haut Lafitte

592 Views

Tasted

Mar 9, 2021

With vineyards very close to Chateau Smith Haut Lafitte, Haut Nouchet has created a medium-bodied wine with a licorice, smoke, tobacco leaf and fruit-filled profile. This should be just about ready to enjoy on release. 88-90 Pts

1,150 Views

Tasted

Apr 19, 2019

2017
Château Haut-Nouchet (Pessac-Léognan)

Ready to go, this spicy, cherry and earthy wine, with its touches of espresso and tobacco leaf is soft, medium-bodied, fresh, and finishes with sweet, dark, red cherries and herbs.

1,522 Views

Tasted

Aug 22, 2021

2016
Château Haut-Nouchet Blanc (Pessac-Léognan)

Bright, lifted, grapefruit, flower, lemon peel and honeysuckle filled wine that is already drinking about as good as it is going to get. Enjoy it over the next few years.

1,743 Views

Tasted

Jul 9, 2020

2016
Château Haut-Nouchet (Pessac-Léognan)

Situated close to Smith Haut Lafitte, the wine is forward, medium bodied, elegant and fresh, with ripe, red berries that will be perfect to drink on release.

1,004 Views

Tasted

Sep 21, 2019

2015
Château Haut-Nouchet (Pessac-Léognan)

Medium-bodied, open styled, forward wine focusing on its sweet, red fruits, tobacco, spice and coffee bean nose and palate. This is already quite charming to drink.

1,758 Views

Tasted

Jul 9, 2020

2012
Château Haut-Nouchet (Pessac-Léognan)

Situated close to Smith Haut Lafitte on gravely, clay soils, this wine was made from a blend of 59% Cabernet Sauvignon, 39% Merlot and 2% Petit Verdot, and is filled with smoky, spicy red berries and a short finish. 85-87 Pts

3,069 Views

Tasted

Apr 25, 2013

2009
Château Haut-Nouchet (Pessac-Léognan)

This well-priced Pessac Leognan wine from the Stephane Derenoncourt team offers scents of jammy black raspberry, smoke and earth. Medium bodied and soft in texture, this 100% organic Bordeaux wine ends with some hints of green in the cassis filled finish. Haut Nouchet is located not far from Smith Haut Lafitte on gravely, clay soils and is produced from a blend of 60% Cabernet Sauvignon and 40% Merlot.

2,595 Views

Tasted

Jul 20, 2011