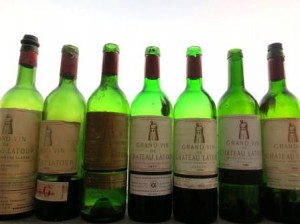 An argument could easily be made that Chateau Latour is the finest wine made in Bordeaux today. Of course that same argument has been made for centuries. Having tasted numerous vintages of Chateau Latour over the years, it's difficult to find fault with that sentiment.  Regardless of your view on which is the best wine of Pauillac, or all of Bordeaux, clearly Chateau Latour owns a place at the top of the pyramid.
Chateau Latour has endured years of mediocrity, along with decades of producing spell binding wine.  Having been privileged to have tasted numerous mature vintage of Chateau Latour over the years, as well as the current vintages being made under the direction of Frédéric Engerer, a case can easily be made that today Chateau Latour is making the best wines in their long, fabled, history. If that statement seems strong, taste the 2009 Chateau Latour and work your way back to 1995 and let me know if you do not agree.
Fréderic Engerer is not afraid to change things.  His changes and decisions are like a chess game. His choices are made with deliberate thoughts as to how they matter today, and more importantly, for their effect on the future. For example, look at his announcement earlier that year, that on a going forward basis, Chateau Latour will no longer be sold as a future, en primeur.
Engerer is one of the most focused, detail oriented people in Bordeaux.  When you spend time with him, he does not merely look at you, he seems to look into you, with his attention focused right on you.  If you have a question to ask, you are going to get a direct response. But you should know, Frédéric Engerer is more than likely to ask you more questions in return, as he's always anxious to know more. He is extremely direct, competitive, yet elegant and refined man.  He's complicated.  He's also truly passionate about wine. In fact he owns a winery in the Rhone Valley, Domaine de Fontbonau.  All those characteristics are similar to what we find in the wine of Chateau Latour.
Chateau Latour demands patience from consumers, as it often requires several decades before its true character is revealed.  Any wine can be tasted young, but the best wines, especially the First Growths do not display their best attributes without a lot of time in the cellar.  In today's fast paced world, where some consumers want everything now, perhaps wines demanding decades until they mature are a bit anachronistic. For the wine lover with the funds to buy wines of the caliber of Chateau Latour at auction after its properly aged, or the requisite patience and disposable income to buy and forget about the wines for decades, as the tasting notes below illustrate, when Chateau Latour is a wine without equal, offering the perfect marriage between power, refinement, complexity and elegance, coupled with an air of what is best described as regal.
Most of the wines in this article were tasted with a few friends on a beautiful, warm, Sunday afternoon, overlooking the Pacific Ocean. The few remaining bottles were tasted at various dinners over the past several months.
1962 Chateau Latour – It's been years since I've tasted this wine.  On its 50th birthday, I had no idea what to expect.  While my hopes were high, there was no way I could have imagined how good this wine was going to be!  The thrills started with the complex aromatics; smoke, Asian spice, cassis, walnuts, blackberry, lead pencil, cedar chest, tobacco, strawberry and forest floor were ample to keep a taster interested.  But the show continued all the through to the finish, with rich, supple, regal textures and a long, sweet, soft, generous black and red fruit filled finish that continued improving in the glass.  95 Pts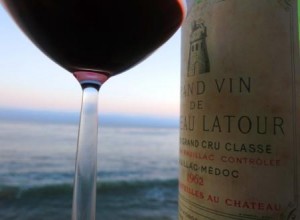 1964 Chateau Latour – Tobacco, cassis, blackberry, spice box, herbs, wet earth, cigar box and fresh cherry aromas create the perfume.  The wine is medium bodied, straddling the middle ground between finesse and austerity with a hint of green notes, the wine ends with a spicy, cassis and cranberry finish.  Better on the nose than the palate, the wine began to fade in the glass after 15 – 20 minutes. 1964 Latour is on the downhill slope and requires drinking over the next few years.   90 Pts
1966 Chateau Latour – Still young as it approaches its 50th birthday, the perfume is loaded with truffles, Cuban cigar, cassis, cedar chest, walnuts, spice, damp forest floor and tobacco.  Concentrated with fruit and still tannin, the wine fills your mouth with a long, powerful, spicy, cassis filled finish.  94 Pts
1970 Chateau Latour – Once again that chestnut of wisdom rang true, "After 20 years, there are no great wines, just great bottles."  I've enjoyed better bottles of 1970 Latour and I've tasted worse examples, this was in the middle.  Still dark in color with bricking around the edges, the nose was packed with cedar, gravel, tar, blackberry, earth, cassis and tobacco scents.  While the wine was powerful and concentrated, there was a touch of bitterness in the tannic finish. Was it the wine, or the bottle? There's only one way to know for sure and that's to pop another bottle.  93 Pts
1975 Chateau Latour – Much better on the nose than the palate with its tobacco, smoke, earth and cassis profile. There was an element of cold steel along with its hard, austere, brawny profile.  Masculine in character, and still tannic, the wine lacks the charm and polished elegance that is often found in Latour.  While it's popular to claim vintages like this need time, at close to 40 years of age, it is, what it is.  Granted, I've tasted better bottles, but it's a vintage of Chateau Latour I'd look to buy today.  On the bright side, with this much tannin remaining, there is no hurry to drink it. 90 Pts
1976 Chateau Latour – You're greeted by a muted nose that takes a lot coaxing to find much in the way of its aromatics.  Light in color, medium bodied and getting tired, the wine ended with a spice, earth and red fruit dominated finish.  85 Pts
1978 Chateau Latour – This is an old school style of Bordeaux which is more interesting on the nose than the palate with its tobacco, cedar, lead pencil, cassis, cranberry, olive and wet earthy nose.  It's a little dry in the mouth, the tannins have a rustic quality. The wine feels firm on the palate in the slightly tart finish.  90 Pts
1982 Chateau Latour – If a wine deserved more than 100 Pts, this bottle was a contender for that honor. One of the clear indicators for a sublime wine is, it starts off great and continues improving and keeps on getting better than you could have imagined. This bottle of 1982 Latour was all that and more! Tobacco, earth, truffle, wet gravel, cassis, blackberry, cedar and spice box was elevated to new level. The intense, perfectly balanced, potent, mouth filling waves of fresh, ripe, pure flavors expanded on your palate for over 60 seconds! Silk and power, with everything in perfect balance and harmony. The wine continued to improve in the glass for hours. This is what great Bordeaux is all about! This was one of those bottles that you remember forever. 100 Pts
1985 Chateau Latour – Cassis, baked red fruits, tobacco and earthy scents opened to a medium bodied wine that ends in a light, red and black fruit finish.  The wine started off with a tart side and with time in the glass began to improve.  Still, it's a disappointment for Chateau Latour and the vintage. 89 Pts
1989 Chateau Latour – Fully mature, with tawny edges to the color, this is a medium bodied, finesse styled vintage of Latour.  There is a silky, elegance to the wine, but it lacks the level of concentration needed to add to the cassis, truffle, cranberry, earth, tobacco, cigar box and spicy, blackberry character. There is no hurry to drink the wine, but I'm not sure there is any reason to wait for further development. 92 Pts
1990 Chateau Latour – An interesting vintage of Chateau Latour, the wine clearly has its peaks and valleys along its evolutionary curve.  Fortunately, at this tasting, it was having one of its good days with a perfume marked by a spice filled nose, coupled with wet earth, smoke, tobacco, caramel, tar, cassis, blackberry, hot bricks and cedar wood.  Big, powerful full bodied and still youthful, the wine demands another decade for the ample tannins to further integrate into the rich, black and red fruit filled finish. 96 Pts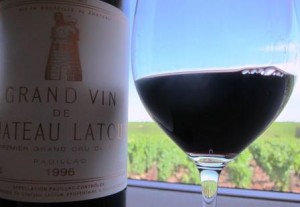 1996 Chateau Latour – The first great vintage produced after Frédéric Engerer joined the estate, the nose explodes with wet forest floor aromas, smoke, tobacco, cassis, spice box, cedar chest, cigar wrapper and licorice aromas. Full bodied, rich, intense, concentrated, refined and powerful, with 2 hours of decanting, the wine continued to expand and add layers of complexity in the glass throughout the night. This graceful wine can be enjoyed now, but its best qualities will take at least a decade or more to come around.  98 Pts
2001 Chateau Latour – Medium/full bodied, with a refined, elegant nature, for Latour, it's on a rapid course of evolution.  The wine is fresh, clean and pure, with layers of rich, spicy black cherry, tobacco, smoke, gravel and truffle.  The soft, round tannins and regal, crisp finish are a pleasure to taste and feel. 95 Pts
2002 Chateau Latour – The wine of the vintage opens with a smoky tobacco laden nose complicated by gravel, cassis, spicy black cherry, forest floor, Asian spice and hints of espresso bean in the nose.  On the palate, the wine is full bodied, with ample levels of spicy cassis, round tannins and a long, fresh, expansive, spicy, black and red fruit, filled finish. 95 Pts