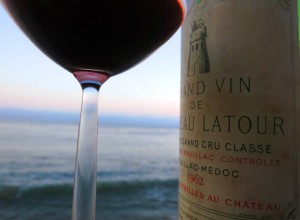 1962 Bordeaux Wine Vintage Summary with harvest information, vintage characteristics, buying tips and links. If you are seeking more in-depth information on anything and everything related to the Bordeaux wine region please see the: All About Bordeaux Wine Guide
1962 Bordeaux wine could be compared with 2001 Bordeaux. This is because 1962 Bordeaux wine are, or should I say were charming wines of quality that drank well early. Yet, because 1961 Bordeaux deservedly garnered the spotlight, consumers paid little attention to 1962 Bordeaux wine. The same thing took place with 2001, it too did not grab much attention because it had the misfortune to follow 2000.
Today, 1962 Bordeaux wine is mostly forgotten. 1962 Bordeaux wine is the product of a warm, dry, sunny May which promoted good flowering. This was followed by a warm summer and a hot September. Only minor rain fell during the 1962 Bordeaux growing season. In fact, the main characteristic that defined 1962 Bordeaux, is the lack of water. The harvest which took place at the end of September through some of October. By October 1, the 1962 Bordeaux harvest was in full bloom as all the chateaux were busy picking by that date. While 1961 Bordeaux was the product of a small vintage with low yields, 1962 Bordeaux wine came from a large crop.
According to reports, 1962 Bordeaux wine is a strong vintage for Sauternes. This is due to the perfect combination needed to produce noble rot; warm weather and light rain at the perfect time.
Sadly, I have very little current experience tasting 1962 Bordeaux wine.  1962 Chateau Latour tasted recently was an outstanding wine. However, most of the other 1962 Bordeaux wines tasted, mainly in 2012 were well past their prime. Comments heard from experienced tasters who have enjoyed several wines from the 1962 vintage have all agreed that Chateau Latour is the wine of the vintage. Having tasted that wine, I concur. If you're following along with some of the historical tidbits placed in our vintage buying guide reports, 1962 saw the Beatles in the studio to record for Parlaphone records for the first time. October 1962 marked their official debut on the English charts with "Love Me Do." For a list of the best wines from the vintage offering the most value: 1962 Best Bordeaux wine for the money today
To read about other Bordeaux vintages from 1945 to today: Bordeaux Year to Year Detailed Vintage Reports & Guide 1945 to Today