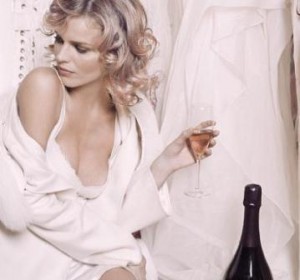 WINE & THE SINGLE GIRL – Giving Thanks for Champagne
Whether you are a dinner guest or hosting your own dinner this Thanksgiving, wine is likely to be part of the celebration. The choices in wine pairing for Thanksgiving are as abundant as the feast itself. For the whites, you want something with apricot or citrus notes, minerality, and well-balanced acidity, like a Sauvignon Blanc or a Riesling. The reds require something with fairly tame tannins that will support, but not overwhelm, the foods, like Pinot or Zinfandel. Another great red choice is Beaujolais Nouveau. This light, fruit, seasonal Gamay based wine goes great with turkey and is released on the third Thursday of November—just in time to highlight your Thanksgiving feast!
"Can't it be easier than all this?" asks the Single Girl who appreciates wine, but is overwhelmed enough with preparing an elaborate meal that will likely put her and her guest in a food coma? Is it possible to find one wine that can carry you through the rich variety of holiday foods—from appetizers and salads to white meat, dark meat, yams, sweet potatoes, herb-stuffed filling, cranberry sauce, gravy, and finally pecan and pumpkin pie? Yes, it is possible! You can go to great lengths planning a wine pairing as elaborate as the meal itself, trying to compliment the nutmeg and cinnamon spices of desserts, and the savory, earthy tones of gravy and the meat, or you can take the easy, yet classy, way out and simply serve Champagne.
The elegance and versatility of sparking wines and Champagne wines can take you seamlessly throughout the entire holiday meal. The bright acidity, fruit and yeasty undertones of Champagnes makes them very food-friendly, particularly Brut Rosé and Blanc de Noir which can take you from the appetizers through vinaigrette dressing of a salad course and on to the turkey and pies. The pinot noir grapes in these wines provide structure and a long finish, light tannin for texture, red and stone fruit character, complexity and acid balance. The bubbles from natural carbonation from the yeast, in concert with the wine's acidity, help cleanse the palate for the next course and of course add to the festive feel of the evening.
Extra dry Champagne, such as Henriot Brut Souverain NV ($44.99) which has hints of tropical fruit mixing with notes of quince, lemon zest, smoky mineral, ginger and white pepper, or Larmandier-Bernier Blanc de Blanc Premier Cru which has great minerality, particularly on the finish, and an elegant smoke, chalk and pear tones ($54.95) are excellent choices for the richness of the food. Other enjoyable, affordable options are Gosset Brut Grand Reserve or Gosset Grand Rosé Brut, and Vilmart Brut Champagne Grand Cellier d'Or NV and the Vilmart Brut Rosé. The price of rosé can run the gamut. Among the top tier is Krug Rosé, consistently scoring 94-95 points, for a mere $279 (also available in half bottles), followed by a more moderately priced NV Billecart-Salmon Brut Rosé for $89.00. A blend of Pinot Noir and Chardonnay, with the emphasis on Chardonnay, both of these rosé wines have a pale sliver-salmon color, are quite dry and pair well with a variety of dishes. Two quality selections at a lower price point are Moet & Chandon Rosé Imperial at $49 or Chandon Rosé Brut for $22.
To impart a little color and lot more structure, consider a sparkling Shiraz from Down Under. Traditionally, sparking Shiraz is served in lieu of Champagne during the Christmas season in Australia and New Zealand, which happens to be mid-summer. Southern Hemisphere winemakers were looking for a red that would pair nicely with the rustic holiday meals that could also be served cold. Sparkling Shiraz, made in the classic Methode Champenoise style with second fermentation in the bottle, was the solution. The spice, dark fruit and berries bring out the best in cranberry sauces as long as the wine has soft tannins and ripe, forward fruit and the sauce is balanced—moderately tart and not too sweet. Dark meat will also benefit from these wines. You can pay as little as $11.99 for a Paringa Sparking Shiraz at BevMo to well over $80 for E&E Sparkling Barossa Shiraz or Rockford Sparkling Black Shiraz. Australian productions are limited and often difficult to find in the US. Instead, try Geyser Peak Sparkling Shiraz from Sonoma County—a domestic version of the traditional Australian beverage for only $34 with the same deep garnet color, and berry, vanilla, pepper and spice elements. Domestically, Chandon makes a Sparking Red for $26.
The Italian version of sparkling red wine is called Lambrusco. Often as little as $10 to $15 dollars a bottle, Lambrusco from Emilia-Romagna is made of a blend of sub-varieties (Grasparossa, Marani, Montericco, Mestri, Salamino). The nose is floral with a hint of raspberry and plenty of earthy notes, and the tea tannins give these wines enough structure to pair well with bolder meats. I recommend the non-vintage Venturini Baldini Lambrusco for about $13.99
Whether hosting your own Thanksgiving dinner or bringing a gift of wine as a guest, the single girl can never go wrong with an offer of Champagne.