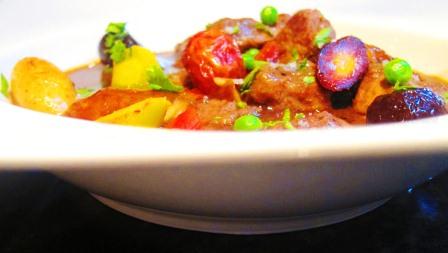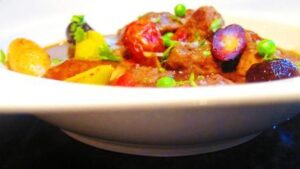 Lamb Stew and Bordeaux wine were made to go together.  The deep, rich, assertive, gamey flavors and fat found in a lamb stew work perfect with Bordeaux wine.  I'm one of those, "If it ain't broke, don't fix it" guys.   It's a combination that has worked for hundreds of years.  With that in mind, who am I to argue with that track record? When fall rolls around, it's time to dig into the wine cellar and look for an old bottle or two Bordeaux wine.
Stews are great!  They are easy to make. For many people, stews are the ultimate comfort food.  They are not expensive and they make wonderful leftovers.  There are no secrets here.  As you'll see, it only takes a few easy steps.
First, have some stock on hand.  If you do not have homemade stock, buy some stock.  I prefer veal stock. It's cleaner, richer and more complex than other stocks and offers a beautiful texture.  Next, bring your meat to room temperature.  Dredge it in flour. Season it with salt and fresh black pepper.  You have only made a moderate mess by this time and you're just about ready to start cooking.
In a piping hot pan, place some olive oil and sear all 4 sides of your meat. Do not crowd the pan when searing.  Once you've seared all the meat, deglaze the pan to get all the great flavor bits working.  I use red wine to deglaze.  With the leftover bits, you end up with a nice roux.  You can also deglaze with a mirepoix if you like.
Strain the pan sauce. You want your sauce as clean as possible. Add your root vegetables and potatoes and the meat and allow it to simmer. Add in the stock and you're done. That's all there is to it! I told you it was easy. The hard part is cleaning the stew pot.
The only thing left to do was pick the wine to pair the dish with.  Truthfully, any good red wine will work perfectly. But because Josette Meeks and I like Bordeaux, and her favorite wine lately is from Margaux, I knew what I had to do… and I did it. I grabbed the perfect Bordeaux wine, popped the cork and for the next few hours, put the wine and the stew where they belonged.
The wine on this occasion was the sublime 1989 Chateau Palmer. – Violets, licorice, spice, creme de cassis, tobacco, earth, boysenberry, truffle and fresh blackberries with hints of cocoa make up the complex perfume of this beautiful Margaux wine. Full bodied and concentrated with layers of sweet, ripe, spicy, dark berries, the wine feels like pure, polished silk and velvet as it caresses your palate. This special vintage of Chateau Palmer has improved and fleshed out over the past year or two and might give the stunning 1983 Palmer a run for the money. Close to mature, this should continue to evolve and offer pleasure for at least another 20-25 or 30 years if well stored. 97 Pts