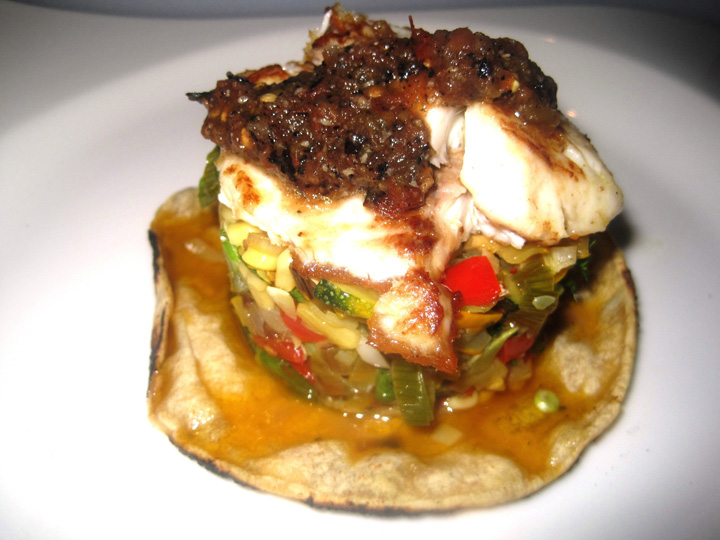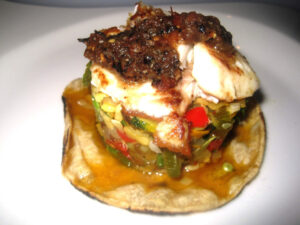 Tilapia is a great fish to work with in the kitchen of you're looking for a great California Chardonnay Wine Food Pairing.  It's inexpensive, light, easy to use and versatile. It's a great carrier of flavors. It can stand up to strong, spicy flavors, or work equally well with subtle sensations. Depending on the preparation and spices used, it pairs well with a myriad of different wines ranging from Riesling to White Burgundy or California Chardonnay, which is what we chose.
Making this dish could not be easier. Buy a nice selection of different, fresh squashes, onions, tomatoes and herbs. Dice your onions and sweat them. Dice the squash and add them to the onions in the same pan. Adding the seasoning of your choice, cook until soft.
Empty the pan and heat until hot. Using either olive oil or butter, drop in the Tilapia . Tilapia is thin and cooks quickly. It will not need much time.
To plate, there are numerous choices you can make. The next time Josette Meeks is over for dinner, I'm going to make this for her! Plus, she's always saying we do not drink enough white wine. For some reason, she thinks we should not live on red wine alone. This dish will be the perfect excuse to open something special together.
2005 Marcassin Chardonnay, Marcassin Vineyard – Deep yellow in color, with notes of honeysuckle, stone, lemon, apple, flowers and smoke, this concentrated, buttery California Chardonnay is rich, intense, focused and balanced, ending in a long, citrus oil and minerality finish. I am not sure more aging will add additional complexity. The 2005 Marcassin Chardonnay should remain at this level for at least another decade.  Interestingly, I tasted the same wine 6 months ago. The previous bottle showed a more tropical personality. This bottle was more restrained, offering more minerality.  97 Pts