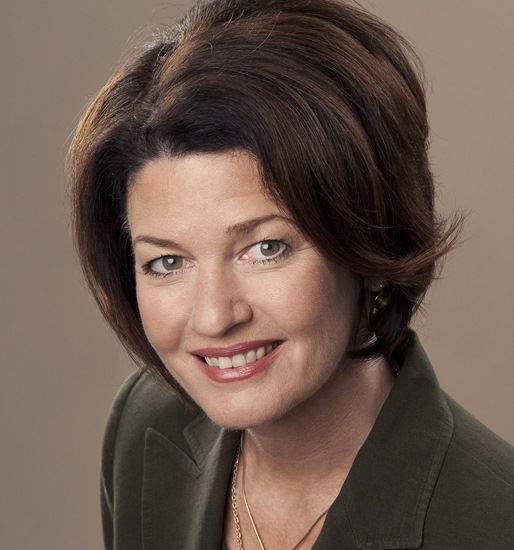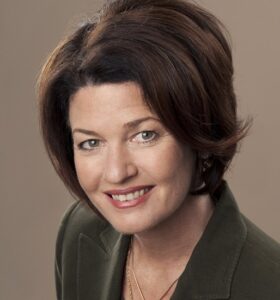 Grüner Veltliner Goes West
by Julia Sevenich
www.julia7ich.com
Gourmets in the USA call it "Grooner" and it is sipped in the chic, top restaurants from New York to San Francisco. Grüner Veltliner is now finding its way into American vineyards as well.
"Unique. Versatile. A culinary genius. The last of the great European grape varieties!" Ten years after its successful breakthrough in the USA, Grüner Veltliner remains the darling of the wine scene. The popularity of Austria's leading wine variety in the land of boundless possibilities continues.
The export of Grüner Veltliner in the USA began at an ideal time. The market was saturated with faceless wines at the end of the 1990s. One spoke of the ABC syndrome – Anything But Chardonnay. And one also cried, "Anything but oak!" At this time Austrian vintners were in the process of discovering the potential of the variety to express a unique terroir. The glycol scandal of the 80s had catalysed giant leap in wine quality. Low yields and improved vinification methods brought a broad spectrum of Grüner Veltliner styles in a quality that had never before been experienced. It was only a question of time until thirsty American head hunters discovered the talented natural beauty.
Permanent Place in the Hall of Fame
Terry Theise of Michael Skurnik Wines said, "Grüner Veltliner is not just chic at the moment, it deserves a permanent place in the Hall of Fame of important grape varieties and a leading role among the wines to pair with food." Its place of honour became guaranteed through praise from wine critics like Robert Parker and Stephen Tanzer as well as diverse wine magazines like Wine Spectator and Wine Enthusiast.
The USA is one of the few growing wine markets in the world. Continued per capita consumption growth is predicted that would put the USA ahead of France, Italy and Spain. New vineyards are being planted in nearly every State. Because nearly no historic, cultural, or legal restrictions exist, the choice of grape variety is colourfully diverse. The number of Grüner Veltliner vines thriving in American soil is growing.
Pioneers on the East Coast
Many Europeans think that the only American wine comes from California. Only insiders know that there are great wines from Washington and Oregon as well. One might be tempted to claim that only European wine geeks know about the wonderful wines of the East Coast.
While many regions have established an identity with a particular variety – take Finger Lakes and Riesling, for example – other areas are still searching for a vine with which they can position their region. The vintner couple Ed Boyce and Sarah O'Herron from Black Ankle Vineyards in Maryland planted one thousand Grüner Veltliner vines in 2002. Sarah had fallen in love with the variety as she tasted a wine from the Martin Nigl Estateg from the Krems Valley. They purchased their vines from a nursery in Massachusetts that has had Grüner Veltliner in its inventory since the 1970s. His Grüner Veltliner is lean, straight-forward and somewhat sauvignonesque with aromas of pear and fresh garden herbs. Ed is enthusiastic about the demand for the variety, but is not so thrilled about its performance in the extremely wet climate. Black rot makes his efforts with organic viticulture frustrating.
Flying Vineyard Consultant from the Weinviertel
A vintner association on the central East Coast sees Grüner Veltliner as a promising possibility for the region. John Weygandt of Stargazers Vineyards and president of the Pennsylvania Quality Assurance Group invited the Weinviertel vintner Herbert Zillinger to their vintner conference.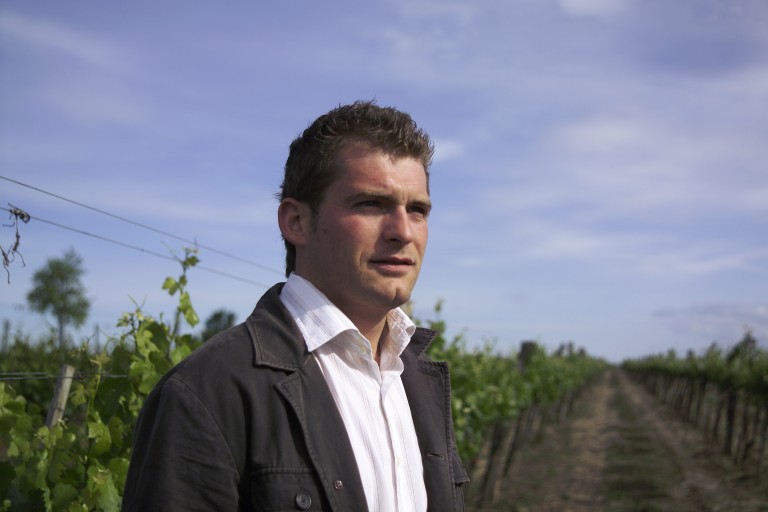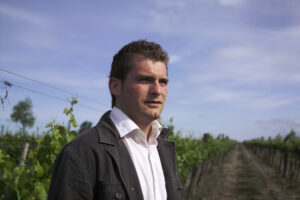 Zillinger spoke about the vinification of the variety and inspected several Grüner Veltliner vineyards. "For the most part, the yields on the East Coast are exceedingly high and they are harvesting much too early. The wines are also vinified far too reductively for my tastes. Despite this, the climatic and geological conditions, particularly in Pennsylvania, are similar to those in Austria. Tremendous potential certainly exists."
Galen Glen Vineyards in Pennsylvania is situated at a fairly high elevation of 320m. Grüner Veltliner feels at home here in a slate slope. The decision to plant Grüner Veltliner was actually not even based on the affinity to terroir. Winemaker Sarah Troxell admits, "I read in Food & Wine magazine about how well Grüner Veltliner pairs with my favourite vegetable, white asparagus. After my husband Galen and I drank a wine from the Hirsch Estate, Grüner became our favourite variety." The vines bring Galen and Sarah very healthy, aromatic fruit. After Herbert Zillinger's motivating visit, further quality improvements are being made and another 2.5 hectares of Grüner Veltliner is planned.
Washington
Bob Betz MW of Betz Family Winery produces predominant red wine of premium quality from fruit that he obtains from the Columbia Valley on the other side of the Cascade Mountains. But right beside his front door in Woodinville near Seattle are 150 Grüner Veltliner vines. "I adore Grüner. It is a combination of crystal clear structure and intensity; its balance can simply not be exceeded. I harvested my first GV in autumn 2009 and produce a few bottles just for myself and my friends. I will never be able to achieve the quality of Pichler but it would theoretically be possible in the Columbia Gorge."
The Columbia River cuts a deep gorge in the volcanic Cascade Mountains on the east end of the Columbia Gorge AVA. Cool ocean winds rush through this river canyon. The vegetation on the west end is green and lush, but as one travels east, it grows dramatically warmer and drier. There are currently only around 120 ha of vines in this AVA, but the quality of the fruit is extraordinary. The vineyards are breathtakingly beautiful on both the Washington and on the Oregon side of the river. "2011 will be my third harvest with Grüner Veltliner from the Underwood Mountain Vineyard," says Rich Cushman from Viento Winery in Hood River. "I press whole bunches and let the wine mature long on the fine lees. Grüner thrives wonderfully here and my clients just as enthusiastic as I am." The vineyard is situated 400m above the river with a majestic view of the snow and glacier covered Mount Hood. The climate is harsher than in the Wachau and the slopes are dominated by basalt rather than primary rock. Perhaps this is the explanation for the unique exotic fruit and mineral components of the Viento Grüner Veltliner.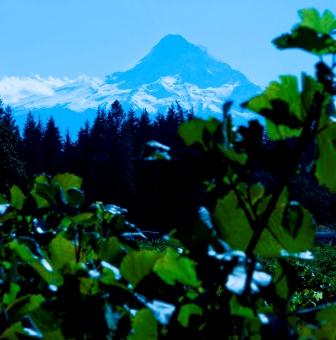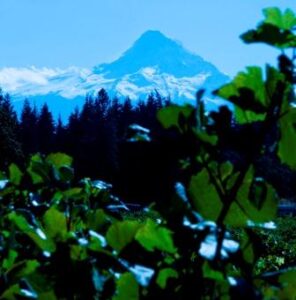 Oregon
"We were the first to plant and produce Grüner Veltliner in Oregon," says Stephen Reustle. Reustle and his wife Gloria moved from Pennsylvania to Umpqua Valley in south Oregon to establish Reustle Prayer Rock Vineyards in 2001.
After consultation with the experts Greg Jones and Dr. Richard Smart, they planted 14 hectares of vines where grapes had never before been planted. The vine material was sourced from University of California Davis and 1.5 ha of Grüner Veltliner was planted in a loam slope of 35° inclination. All of the vineyards have biblical names and were planted with the help of Reustle's friends and church community. Umpqua Valley is situated west of the Cascades, just south of the Willamette Valley. The region is protected from the wet influence of the Pacific making it a hot and dry area. But Prayer Rock is situated at 800m and a forest on the ridge of the mountain above the vineyard provides cool evening lee winds. Drip irrigation relieves stress. The result is a very typical Grüner Veltliner with refreshing acid, green apple fruit and a hint of pepper.
The Willamette Valley is situated on the other side of the Cascade Mountains and is world famed for its Pinot Noir and Pinot Gris. There we discovered three wineries producing Grüner Veltliner in three different AVAs. The Raptor Ridge Winery planted their GV in a strip of loess in the Chehalem Mountains AVA and had their first harvest in 2009. A unique soil composition of Basalt, marine limestone and loess called Willakenzie soil initially inspired him to plant Burgundian varieties. His newest baby is Grüner Veltliner which he planted over a consecutive three year period. Due to the fertile soil and the abundant rain of the region, he chose low-vigour roots for his vines and planted at 1m x 1.5m density. The first yield was small and only 40 cases were produced in 2008. These were immediately sold out and unfortunately, we could not taste it.
Daedalus Cellars was also convinced that the cool climate of the Willamette Valley would suit Grüner Veltliner. Pam Waldon and her husband Aaron Hess encountered the variety during their travels and work in Europe. The young couple was able to convince their growers in the Eola Hills near Salem to regraft ¾ of a hectare of Müller Thurgau to Grüner Veltliner. The first harvest was in 2007 and the wine was literally ripped out of their hands – people loved it. The young winemakers do not yet own their own vineyards. They would like to have not only the region's dominant varieties Pinot Noir, Chardonnay, and Pinot Gris, but also more Grüner Veltliner.
California
Rudi Strasser's father was Austrian and his mother was from Hungary. It was this Austro-Hungarian heritage that inspired the Cabernet vintner to plant a couple Grüner Veltliner vines in 2003. The first harvest was experimental. Rudi underestimated Grüner Veltliner's need for protein stabilisation with the second harvest and had to recall the few bottles that were initially sold. Despite this, the Californian's curiosity had been stirred and the pre-oders for his Grüner Veltliner far exceeded his production capacity. For this reason Rudi von Strasser decided to donate a quantity of this wine to the Napa Valley Charity Auction and sell the rest exclusively in local restaurants. In the meantime the vineyard area has been expanded to 1 hectare. Still, Rudi views himself as a Cabernet Sauvignon specialist, "And besides, the soil and warm climate here in the Diamond Mountain AVA is predestined for red wines. Grüner will remain a little niche specialty."
Richard Alfaro is new to the wine branch and quickly made a name for himself with Pinot Noir, Chardonnay, and Syrah at Alfaro Family Vineyards. His success is based on the unique terroir of the Santa Cruz Mountain AVA south of San Francisco. Richard and his wife Mary Kay purchased a 30 ha apple orchard and converted this to wine. Alfaro experience a "groovy epiphany" on a visit to Nikola Hoff. As a result, the newest plantings are Grüner Veltliner. "I know that it will be easy to sell, but I swear my reasons are not only commercial. The life of a vineyard is long and you have to plan for the next generation. Grüner is not just a passing fashion. It is quite simply one of the very best grape varieties and accompanying wines to food." As the eyes wander over the raw, mountainous terrain and one feels the cool breeze, one knows intuitively that Grüner Veltliner will feel at home here."
International Classic
There is still yet little track record for Grüner Veltliner production in the USA. As so often in young wine regions, vines are not initially always planted in their ideal soil and climate. There are presently only two main Grüner Veltliner clones available in the USA. The vine nurseries are supplied by the University of California Davis. In a couple of successful vineyards, for example the one at Galen Glen in Pennsylvania and in the Eola Hills near Salem, Oregon, it is not the Davis clones, but more likely "suitcase" clones of unclear origins that are cultivated. Experience still needs to be collected in the various vineyards and adjustment made. Experiments with vinification are also being made and methods perfected. Much of what Austrian vintners know and have practiced with the variety for generations still appears to be mysterious magic to colleagues in the USA. Austrian vintners should feel flattered by this admiration. Austrian Grüner Veltliner is seen as a role model on an international scale and can now be considered a true classic wine.