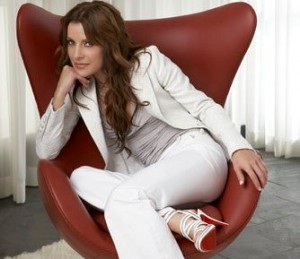 Wine & The Single Girl: Home Alone
The single girl does not have time to shop. She doesn't have time to cook. She doesn't have much time to entertain. Truthfully? She spends far too much time home alone in front of the TV ordering in food and surfing online dating sites. That's why wine and takeout food pairings are important. Of course, the best thing to do is get out of the house and actually meet people face to face instead of Facebook to Facebook, but getting dolled up after a long day of work can seem exhausting in itself. So much easier to just order in. With that in mind, I thought I would suggest a few wine suggestions that will make your home alone experience more palatable. 
THAI FOOD
The main ingredients in Thai food are coconut milk, chili, lemongrass, garlic, turmeric, and tamarind. In wine pairing, the key is to balance the sweet, salty, sour, bitter and pungent with similar qualities in the wine. Wines with tropical notes like pineapple, mango, peaches, apricots, lemongrass, and floral notes pair well with the exotic flavors of Thailand. The residual sugars in slightly sweet wines such as Rieslings or light Muscats tame the heat of the chili, while complementing the underlying sweetness of coconut milk, lemongrass and mint. The peppery notes of Austrian and German wines such as Grüner-Veltliner can be complimentary and the floral notes of an Italian Falanghina or Fiano go nicely with the mint and sweet warm spices. With any spicy food, high tannin wines should be avoided unless you want to amplify the heat of the dish. If you must have a red, try something light like a Pinot Noir, Beaujolais Nouveau, or Gamay. Young Chateauneuf du Pape is also a great pairing.  Dry roses are also an excellent choice for Thai food because of their crisp, full flavors and high acid levels which go nicely with sweeter dishes like Pad Thai. Dishes with high acid from the lime or tamarind require stable acid wines such as Sauvignon Blanc or Pinot Gris. In general, oaky wines like California Chardonnays should be avoided.
INDIAN FOOD
Indian food has a sweeter, warmer heat Thai food. Choose wines that are fruit forward, lower in acid and tannins and have a mild sweetness. Sweetness will calm the heat in a dish, while tannins will amplify it, so you can always choose your wine based on how you want to interpret the spices. The general rule of thumb is the more complex the meal; the less complex the wine should be. If a dish has earthy qualities and is heavy in coriander, it might pair well with a big Spanish Rioja or a nice juicy Grenache—although, it's preferable to avoid heavily tannic reds.  But some California Syrah's can work well.  A few whites that go well with some of the Indian appetizers such as Pakoras and Samosas are Pinot Gris and Sauvignon Blanc. For Tandoori, try a Spätlese Riesling, Côte du Rhône or Muscadet. Roses also work well will Indian, and are nice because they can be chilled like a white, which will refresh the palate and offset the spice. Once again, look for wines that are not aged in oak.
In general, stick with crisp high-acid whites like Pouilly-Fuissé or a Sauvignon Blanc. Rich heavy dishes like Peking duck, BBQ duck and BBQ pork pair well with light to medium-bodied wines such as Pinot Noir or Southern Italian reds such as Sangiovese or Aglianico. The tannins in these reds will also cut through the fattiness of the dish and pair well with many of the beef dishes. Why not try a fruity Zinfandel with Mongolian beef? In general, red wine and Asian cuisine is not the best match, because the tannins once again clash with the spices. If you insist on going with a red, avoid full-bodied, very dry, bold reds as they generally clash with Chinese spices. For salt & pepper prawns or any other heavily salted dish, the sweetness of a Riesling will offset the salt. Both Gewürztraminers and Rieslings are excellent choices for spicy dishes containing Szechwan pepper, chili pepper, wasabi, curry and hot mustard. Your objective:  to balance the spice and aromatics of the food.
ITALIAN
Here's where you can bring out those red wines you've been craving.  For classic Italian takeout—pizza, pasta, and garlicky Caesar salad—I would suggest Italian reds such as Chianti, Rosso di Montalcino and other Sangiovese based wines. If you happen to have access to a fancier Italian delivery service that can deliver some heavier foods such as Ossobucco, Stinco (veal shank), blood sausage, and Bistecca alla Fiorentina grilled on a woodfire oven, then by all means pull out those Amarones and Super Tuscans.  Otherwise leaves those for a night when you feel like cooking up some rack of lamb.  Depending on the level of acidity in the food, Bordeaux wine can often pair well with Italian food.
Honesty, pretty much any kind of wine will do when you're home alone sitting in front of the TV watching Desperate Housewives, Nikita, and Glee, scanning Match.com profiles and eating straight from the delivery containers. But skip the half- bottles, because if you're home alone and planning on catching up on all the shows you've recorded on Directv, you're gonna need at least a bottle!