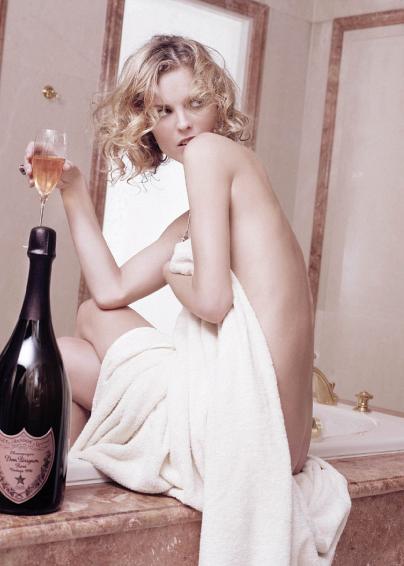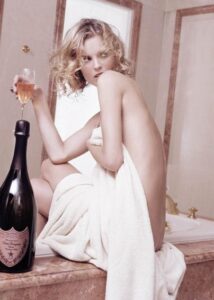 Written by Brad Baker  www.champagnewarrior.com
Valentine's Day conjures up images of romance and brings an impossible to escape flood of pink and red hued items to match the feelings of the day.  I was reminded of this the other morning when picking up donuts.  I was shocked to find half of the offerings had some type of pink or red highlights added to them.  It is impossible to avoid these colors or deny the fact that they suit the mood of the day and Champagne is no different.  When you consider that Champagne already has a tight relationship with the idea of romance, what better way to celebrate Valentine's Day than with a bottle of "pink or red colored" Rosé Champagne or sparkling wine.
While Rosé Champagne has been around for a long time, it is only over the last decade or two that it has really started to gain a strong head of steam.  Why?  Well, it was believed for a long time that many people would view a red or pink tinged Champagne as being too feminine and/or overly sweet; it was sometimes seen as the White Zinfandel of Champagne and fell into the gimmick category as co-incidentally it was seen as something that would only sell for Valentine's Day.  Lucky for us, the marketing folks who originally thought Rosé Champagne wouldn't sell well were wrong.  A few producers took a chance and it has more than sold well.  Over the last decade it has exploded as one of the fastest growing Champagne and sparkling wine segments. 
Part of the reason why it has sold so well is that it has been high in quality and because there are a variety of styles.  You can find Rosés that are extremely dry and others that are sweet.  Some wines are fruit driven while others are darker and almost tannic.  Red citrus fruits may dominate one cuvée while a bowl of berries may rule the roost in another.  Just within this one category of Champagne, you can cover an entire spectrum of flavors that can take you to the moon and back.
So why are there so many different styles of Rosé Champagne?  Well, as with any wine, it comes down to the vineyards, the choice of grape varieties, and winemaking.  In fact, one of the most interesting choices for a Rosé is winemaking.  While I do not believe any one method is better than any other, many winemakers swear by their choice as the "best"; or at least the "best" for them.  Even more fascinating is that each of the different winemaking methods can result in a complete array of flavor profiles; no one method leads to a certain flavor profile.
So what are these different winemaking methods?  Below is a brief explanation of the two general categories and a couple of basic choices in each.  You can definitely dive deeper than this and a number of winemakers put their own special spin on things, but you can get the basics from this list:
Rosé Champagne Winemaking Choices
Maceration:  This consists of pressing the grapes and letting the juices sit with their skins to gain the desired color.  For example you could press Pinot Noir and let it sit with its skins for a period of time to gain a hue of pink or red. There are two basic types of Maceration.
Saignée/Skin Contact

– The most commonly seen type of maceration, this consists of pressing red grapes and letting them sit with their skins to gain the desired color. Technically, I view Saignée as a type of  Skin Contact made wine so the two are not exactly the same, but both involve the basics of having the wine soak with its red skins.
Co-Maceration

– Very similar to a Saignée except that in this instance you co-macerate white and red grapes together.  For example, you could press Chardonnay and Pinot Noir together and let them sit on their skins.  This method is a way to eliminate the need to use the Assemblage method when making a white and red grape Rosé.
Assemblage: The choice to blend different wines together to create a final Rosé cuvée.  With this choice, not all of the grapes are pressed and allowed to soak on red grape skins.  Essentially (but not always) you are blending a white and red wine together to create a Rosé.
Red Wine Addition

– The most common method to make a Rosé.  Here you make a red wine and then blend it in to a base of white wine.
Wine Addition

– This is where wines are blended together, but it isn't quite as straightforward as adding a red wine to a white wine.  In this instance, the wine added could be anything.  It could be reserve wines added to a macerated blend or even white Pinot Noir added to a Saignée of Pinot Noir.
One question I often get is regarding the price of Rosé Champagnes and sparkling wines: Why do they cost more than their white equivalent?  It really does cost more to make these wines as they are often lower volume and involve extra work for maceration/blending/storage that is outside of the producer's normal methods.  Should it really cost 50-100% more per bottle?  I would say no in most cases, but that is what the market will bear so you are paying an extra fee for the price of admission.  My overall advice is that when it comes to pricing, I wouldn't pay much attention to any up-charge, but rather the type of wine you are looking for and the quality of what is in the bottle.  If these characteristics line-up with what you are looking for then make the purchase.
Below are eight of my favorite Rosé Champagnes and sparkling wines.  These wines cover the breadth of the categories discussed above as well as all price ranges.   Give one a try with that special someone on Valentine's Day and watch the sparks fly.
N.V. Parigot & Richard Crémant de Bourgogne Brut Rosé  
This Becky Wasserman selection has a striking pink/light red color; it could gain consideration for being the benchmark of the prototypical color one thinks of when they imagine a Rose Champagne or sparkling wine. On the nose, this shows gentle aromas of strawberry, cream, and hints of cherry laced citrus. The palate is a little more expressive than the nose and sports an excellent acidic backbone; one that isn't often found in non-Champagne French sparkling wines. Cherry lemonade, strawberries, and some light, doughy cream also appear as does a slight cherry skin bite on the finish. There is some sweetness in this wine, but the acidity balances it out nicely. For $20, this is a darn good buy.
(84-86) points
(100% Pinot Noir; Saignée; Cremant de Bourgogne AOC; Stainless steel fermentation; Malolactic fermentation; Disgorged late 2008; Brut dosage; $18-25 US)
N.V. Jean-Yves de Carlini Champagne Rosé 
A rich and fruity nose of strawberry and ripe raspberry is extremely attractive. Freshly rolled and slightly sweet biscuit dough, red berries, fresh red citrus, minerals, and spiced cream all integrate nicely on the palate, and build into a wonderful, red cream finish. Very well-made and attractively priced, regardless of the disgorgement, this is a very good example of Verzenay Rose. 
(86-89) points
(25% Chardonnay, 75% Pinot Noir; Red wine addition; $40-55 US)
N.V. Pierre Péters Champagne Brut Rosé for Albane
After the spectacular debut of this wine a year ago, Péters had obviously set the bar high. I'm happy to say that he has surpassed even his previous effort, as the latest release – based on the 2008 harvest – is even better. Ripe, red berries and a soft meaty note combine with a bright citrus core in his very smooth and ridiculously easy-to-drink wine. Open a bottle and before you know it, it'll be gone.
(88-90) points
(60% Chardonnay mostly from Le Mesnil-sur-Oger – reserve wines are from the Cote des Blancs and stored in a Solera dating back to 1988, 40% co-macerated Pinot Meunier from the Marne Valley and Le Mesnil-sur-Oger Chardonnay; 2008 base vintage; Mix of co-maceration and wine addition; Stainless steel; Disgorged June 2010; 7-8 g/L dosage; $55-90 US)
N.V. René Geoffroy Champagne Rosé de Saignée
A pure 2008 vintage wine; Always a fun, fruity wine, this latest version holds no surprises. Full of red berries – mostly concentrated strawberries and raspberries – this wine is just downright delicious. There is a touch of meatiness to the fruit that reveals this wine as the more masculine Rosé of the Geoffroy line next to the more effeminate Blanc de Rosé.
(88-90) points
(100% Pinot Noir; Pure 2008 vintage; Saignée; Disgorged April 2010; 20,000 bottles produced; $55-75 US) 
N.V. René Geoffroy Champagne Blanc de Rose Extra Brut
A pure 2008 vintage wine with a light, floral, utterly gorgeous nose that reminds me of strawberry fields. Wild strawberry and orange highlight a palate that is both light and concentrated. The minimal lees-aging allows the fruit itself to shine and while the wine will age well, it is hard not to drink this now. This wine is quite different from his traditional 100% Pinot Noir Saignée, but just as high in quality. Which wine I choose to drink depends on my mood, my food, and what base vintages are being offered.
(89-91) points
(40% Chardonnay, 60% Pinot Noir; Pure 2008 vintage; Co-maceration of grapes; Disgorged early 2010; 2,000 bottles produced; $65-90 US)  
2003 Jacquesson & Fils Champagne Dizy Terres Rouges Rosé
Dark red in color (it looks like a sparkling shiraz), this wine is just as dark and deep in aroma and flavor as its appearance suggests. Nonetheless, as intense as this wine comes across on the nose, the experience is neither overtly rich nor over-the-top. Instead, the wine becomes both gentle and sophisticated. You get some bigger, ripe raspberry fruit to be expected from the 2003 vintage, but there is also a stunning and unexpected minerality coursing its way through this wine.
I have been very hard on several Jacquesson wines lately, but this is a very nice effort. I love how this cuvee effortlessly changes from a nutty, red berry nose to a creamy, red dough palate, to a brisk, precise, and pointed mineral-led finish. The fact that it can hold all of this together in a vintage as difficult as 2003 is even more reason to applaud it. I have no idea if this has aging potential, but I expect it will gain a bit of a wild, nutty and honey liqueur flavor as time goes on. To be safe, I would drink over the next five years.
(88-90) points
(17% Pinot Noir planted in 1993, 83% Pinot Meunier planted in 1971; Single vineyard Terres Rouge in Dizy; Saignée; Fermented in oak foudres; disgorged 2nd Trimester 2008; Dosage 3.5 g/L; 5,004 bottles produced; $70-120 US)  
2002 Bollinger Champagne Grande Année Rosé
I find this to be a beautiful wine of supreme elegance and concentration. Subtle notes of biscuit and vanilla intertwine with ruby red grapefruit, concentrated raspberry, and soft strawberry cream. This wine begins with a rich, powerful thrill, but deftly transforms into an elegant, red berry-filled dream. It manages to knock you out with its body and then reel you in with its brains; it is the complete package. I didn't think Bollinger would top their 1999 Grande Annee Rose for quite a while, but it appears they have done it already. This is the best Grande Annee Rose released to date and a candidate for wine of the vintage. Go get some!
(93-95) points
(38% Chardonnay, 62% Pinot Noir with 7% red wine addition from La Côte Aux Enfants vineyard in Ay; Fermented in small oak barrels; Disgorged November 2009; $125-225 US)
1966 Moët & Chandon Champagne Cuvée Dom Pérignon Rosé Oenothèque
This late-disgorged Rose goes down as one of the best wines I have tasted in the last few years. Just as the white Dom Perignon can take decades to show its true potential, so can the Rose. Creamy caramel, toffee, golden raisins, and raspberries all flaunt exceptional power on the nose. An intense palate of red strawberry, dark chocolate, espresso, and a touch of cream continues this wonderful experience. The finish starts with red citrus before folding into clean linen and morphing into caramel coffee at the end. An incredible ride, this wine somehow manages to wrap an iron fist in a velvet glove, but without the cliche. Not much more to say except that I love this wine – it walks in the rarified path of the best Champagnes ever made.
(96-98) points
(Approximately 40% Chardonnay, 60% Pinot Noir of which 20% is red wine addition; Malolactic fermentation; Stainless steel; Disgorged early 2009; 3 g/L dosage; Very limited release – $2500+ US)