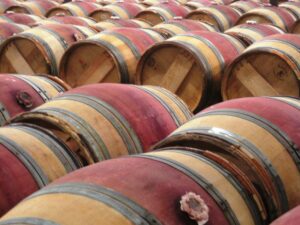 Bordeaux wine making and vineyard techniques has also gone through a myriad of changes and in my view, for the better!  "Yesterday" works better as a Beatles track. Bordeaux wine making works better today. The truth is, Bordeaux wine making and Bordeaux wines are better from top to bottom due to the changes that have taken place over just the past two decades. 
Barrel tasting any young vintage is hard work. It requires focus and concentration and the ability to move past the obvious charm of a polished sample and see what lies under the hood.  Is the wine balanced, structured, and harmonious?  Does it have ample volume, ripeness and concentration? What style are the tannins? Are they round, polished and silky? Or are they rustic, aggressive, or someplace in between?  Does the wine display ample freshness and purity of fruit?  Most barrel samples show well. That is their purpose. Barrel samples are produced to entice the trade to buy the wines. 
It was only a few decades ago when people disagreed with those views.  The common refrain was, wines that showed well young would never age or develop the complexities Bordeaux was famous for. Some tasters and wine makers continue holding that view. But they are in the minority.  There is nothing wrong holding minority views.  Nor is it an issue to prefer old school, traditionally made Bordeaux wine. Wine, like life is all about personal taste.
The best way to develop an individual sense of the style of wine you like is to taste as many different wines as possible.  As it was a bright and early in the Medoc, I was ready.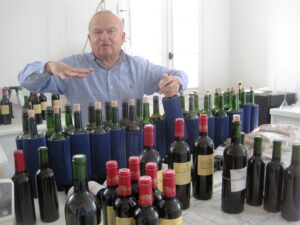 One chateaux embracing the modern age, starting with selection in the vineyard, low yields and seeking perfectly ripe fruit is Didier Cuvelier, the proprietor of Leoville Poyferre and Le Crock. Both chateaux have probably produced the finest wine in the history of their respective chateaux with the 2009 vintage.  At Poyferre, Didier made technical improvements in the vinification and blending cellars by replacing ten, 200 hectoliter vats with 20 smaller stainless steel vats ranging in size from 40 hectoliters to 160 hectoliter vats. This allows each block to receive the attention it need requires on an individual basis. 
Le Crock, located not far from Cos d'Estournel is one of the better value play wines in this expensive vintage.  Leoville Poyferre, along with Leoville Cases is the uncontested start of St. Julien.  2009 Poyferre is filled with sexy, polished, ripe dark fruit, round tannins, freshness and purity of flavors.  This is a serious wine that merits attention.
St. Pierre is a classified growth from St. Julien that slowly but steadily continues to increase their quality.  Their 2009, with its lush style, ripe sweet fruit and chocolate tinged finish is another candidate for producing the best wine in their history in 2009.
It's said dogs resemble their owners.  Hmmm, with Hercules, I'll have to give that thought.  Perhaps in Bordeaux, it might work better to say, wines resemble their owners. Branaire Ducru, which sits across the street from Beychevelle, not far from Ducru Beaucaillou produces perhaps the most elegant style of St. Julien.  The wine is never loud, brash, over ripe or over oaked. It's graceful, charming and discreet, like its owner, the affable couple, Patrick and Evelyn Maroteaux. 
Patrick is a fascinating man.  He got his start in the sugar business and came to Bordeaux in 1988.  To understand Patrick, look at some of his interesting accomplishments in such a short period time. Bordeaux if filled with tradition. Some owners are recent, but many properties have remained in the families hands for generations, or even hundreds of years.  The majority of elected offices in Bordeaux are often won by long term Bordelaise. Yet, in the short time Maroteaux has been the owner of Branaire Ducru, he has already held 2 terms as president of the Union of Grand Crus Bordeaux and he's currently the president of St. Julien growers association.  He is soft spoken, gentile and fun to spend time with.  In many ways, that description fits the style of Branaire Ducru.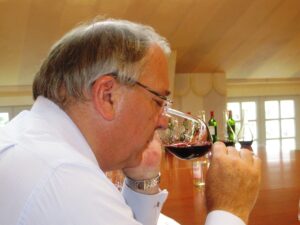 I am a big fan of his Bordeaux wines. But I think 2005 might be a little better vintage for Branaire than 2009.  However his 2009 deserves to be considered by people looking to buy high quality 2009 Bordeaux without paying an arm and a leg. The deeply colored wine is opulent, round and polished. The wine offers fresh boysenberry, spice and hints of licorice and mocha. 
Rome wasn't built in a day. But Patrick seemed to think I should taste the entire commune of St. Julien in a day. Following a small vertical of 09, 07, 06, 05, 04 & 03, we sat down to blind stating of the top St. Julien wines from 2009 & 2005 before dinner.  If that wasn't enough, during dinner we were treated to a lush, open style of 96 Branaire that is drinking perfectly today, which was followed by the 1959!