Being in a hurry makes things take longer. Or does it?
Regardless of how many times I've been to Europe, going to bed the night before is easy. Falling asleep is the hard part. Thank God for Ambien. By the time 7am said hello in a sleepy voice, I'd already managed to grab between four and five hours of shut eye.
Finding a new Email buried in a stack of Emails that arrived while Ambien and I were getting acquainted, with the subject marked, "Sorry, we need to reschedule our plans" was not how I wanted to start my day. That necessitated making new travel plans, a different flight, car service and a host of other things needed to get done before disembarking. 3 hours later, Mission Impossible was Mission Accomplished.
I love making plans. I even like making plans to make plans. However, no matter how hard I try, I always leave something for the last minute that should have been done earlier. On my to-do list for the day was buy a baby gift for a family in Bordeaux with a one and a half year old baby boy. Qualified sales associate are worth their weight in gold. I could not have accomplished this on my own. Armed with a slew of baby outfits, including some cool Super Hero stuff from Fred Segal, I made my way to Bloomingdales for a few things I needed for the trip.
I quickly grabbed what I needed, making a beeline to what looked like fast line at the register. Molasses moved faster than this clerk. I have never seen someone take so much time to do so little in my entire life. Watching him fold every square inch of the shirt he has just sold was excruciating. Dead people have more life in them. Paint dries faster. If he moved just a bit slower, I'd swear he was either dead or a mannequin. The only customer before me was equally slow. When paying, she used one dollar bills, counting each and every one as if it was the last dollar on Earth. Finally it was my turn. With my credit card in hand, I desperately wanted to pay and leave as quickly as possible. Benjamin, (the sales person) and I had already made friends. We'd spent enough time together, so why not exchange names?
Thinking I could pay and go, I handed Benjamin my card and he proceeded to ask me more questions than Congress asked when interrogating the Executive from British Petroleum, after the oil spill. He wanted to know I would like to open a Bloomingdales account and save 15%? He made it all the way to question number 10, when I mentioned I needed to leave as I was flying to France in a few hours. The next sound I heard was, "Where am I going in France? With the look I shot him, (that must have resembled a combination of Manson and someone about to go Columbine on him), he almost caught on. If had not innocently asked, "Are you in a hurry?" I would have wagered "Gomer Pyle" knew I was pressed for time. Finally, the bill was paid and I was off to pack and make my plane. Clearly, on days like this, it's better not to rush. Being in a hurry, only makes things take longer…
However, a full lay down, flat bad was not a bad way to travel!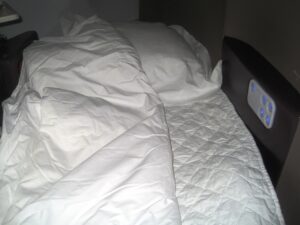 I finally made it to London! Dinner is at Ledbury with Tom Mann, Stephen Browett, Barry Phillips, Dan Bailey, Russell Faulkner, David Wainwright.
I'll be in Bordeaux tomorrow in time for lunch at Chateau Margaux. I'll be adding tasting notes and comments almost every day.