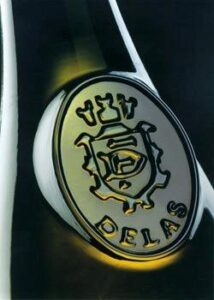 Delas Feres, Hermitage, Rhone wine producer profile with wine tasting notes, wine ratings, a history of the property, information on wine making and terroir, along with wine tasting reviews and images. If you want to read about other important wineries and wine makers from the Rhone valley: Links to all Rhone Valley Wine Producer Profiles
Delas Freres is one of the top producers of Rhone wine in a myriad of appellations. Delas Freres makes outstanding wine from Cote Rotie and Hermitage in the Northern Rhone. The company also produces one of the top value wines from the region with their Cote du Rhone. Delas Freres has one of the longest histories in the appellation. The company was formed in 1835 when Philippe Delas and Charles Audibert agreed to purchase Maisons Junique. The new company changed their name to Audibert and Delas.
Philippe Delas had two sons, Henri and Florentin. Florentin eventually married the daughter of his fathers partner, Charles Audibert. In 1924, the two brothers took over management of the company and altered the name to what is still in use today, Delas Freres.
When the next generation took over management of Delas Freres in 1960, the company had become one of the top producers of Rhone wines with holdings in Cote Rotie, Hermitage, Cornas and Condrieu in the north as well as in the south in Chateauneuf du Pape. In 1977 the company merged with the well known Champagne firm, Deutz. In 1993, Delas Freres was in turn taken over by another Champagne producer, Louis Roederer in 1993.
In Hermitage, Delas Feres makes an outstanding wine from Bessards. While this is one of the top wines in the appellation, the company thinks a better judge of the quality they produce is in the high volume wines. For their Hermitage wine, Bessards, they have been striving to produce a higher quality wine since they released their outstanding 1990 vintage. They stopped using 40 hl barrels and moved to 228 liter casks, of which 8-10% are new. In 1999, they renovated their fermentation cellars with new temperature controlled vats.
Today, the Syrah is completely destemmed, making for a fresher, more pure expression of their vineyards.
Delas Feres has annual sales of almost 1.7 million bottles per year. They produce Hermitage Blanc as well as wines from St. Joseph and Crozes Hermitage. Their fruit comes from a combination of vineyards they own as well as from other growers. In Hermitage, they own 6.h ha of prime vineyard land on Besssards, along with plots in L'Hermite and Les Grandes Vignes. Aside from Bessards, their top red wine, they also produce an affordable wine called, Marquis de la Tourette.
Delas Feres Bessards is a big, ripe, rich, rich, deep, bold powerful wine demanding 15-20 years of bottle age before maturity. Marquis de la Tourette is a lighter style of Hermitage that can be enjoyed in its relative youth.
Wine Tasting Notes
Displaying 9 vintages | 22748 Views Sorted by vintage
2005 Delas Frères Hermitage Les Bessards

Still opaque in color, this intense wine opens with mineral, smoke, blackberry, boysenberry, earth and spice. This powerful, full bodied wine is packed with layers of ripe fruit and tannins that require at least 10 -15 more years to come around. Not much of this stunning Hermitage wine is made as the production hovers at close to 500 cases per year. Fortunately, for fans of the wine, prices remain reasonable for a Northern Rhone of this quality.

96

points - Tasted

May 2, 2012

1631 Views

2003 Delas Frères Côte-Rôtie La Landonne

With a nose filled with sweet, ripe, black and blue fruits, oak, coffee, earth, licorice and spice, the wine is rich, round and supple in style. Yes, it's modern. But I really liked it. It continued to fill out and the oak became less prominent as the wine sat in the glass. This is a nice expression of La Landonne.

94

points - Tasted

Aug 8, 2012

1039 Views

1999 Delas Frères Côte-Rôtie La Landonne

Still deeply colored, with an attention grabbing perfume filled with pepper, red and black fruits, coffee, black cherry liqueur, bacon fat, spice and earth. Rich, concentrated and powerful, this Cote Rotie is still youthful and tannic. Give it another 2-4 years. I am not sure why the top wines from Delas do not command more attention. Perhaps with its the small production, (250 cases of Landonne), people do not get to taste the wines enough. Oh well... This is better for fans of the wine, as it keeps prices down.

96

points - Tasted

Nov 13, 2011

1568 Views

1999 Delas Frères Hermitage Les Bessards

Deep ruby in color, the color has not moved much since the day the wine was delivered. Licorice, garrigue, black raspberry, stone, coffee, blackberry and iron create the potent perfume. On the palate, the big, concentrated wine is intense, rich, fresh and filled with sweet, dark, rich, ripe, juicy, dark berries. After 2 hours in the glass, the texture developed voluptuous, silky sensations along with a sense of minerality. The wine improved in the glass throughout the night. This is just starting to drink well. And the best is yet to come.

95

points - Tasted

May 26, 2012

1938 Views

1998 Delas Frères Côte-Rôtie La Landonne

Licorice, smoke, minerality, boysenberry, flowers, lavendar and cherries pop from the bottle before the wine is poured! Voluptuous, concentrated and open, this fresh, ripe Cote Rotie is developing well. This can be enjoyed now, or over the next 12-20 years.

94

points - Tasted

Nov 3, 2011

1395 Views

Spice, pepper, Provencal herbs, strawberry, earth and kirsch aromas led the way to soft, polished textures, freshness and a peppery, black raspberry filled finish. This is showing great today. It's in the prime of its life. I'd drink it over the next 7-10 years.

94

points - Tasted

Feb 4, 2011

1353 Views

1998 Delas Landonne opens up with bacon fat, cassis, dusty chocolate powder, boysenberry, coffee and violets. The full bodied texture, freshness and sweet, black raspberry flavored, rich, mid palate gives way to a silky garrigue, boysenberry and light coffee flavored finish. This is drinking perfect today.

95

points - Tasted

Sep 14, 2010

1450 Views

This delivered a splendid perfume of ripe dark cherry and bacon fruit. Great concentration and a long, fruit filled, fresh finish with an array of black and red fruits.

94

points - Tasted

Jul 1, 2008

1338 Views

1998 Delas Frères Hermitage Les Bessards

Rich, concentrated, fleshy and refined, this voluptuously styled Hermitage wine offers mineral, sweet, ripe black raspberry, cherry liqueur, spice and earth. With a short 20 minute decant, this is already showing well.

93

points - Tasted

Aug 30, 2012

1494 Views

Still deep in color, with 3 hours of decanting and 2 more in the glass, this was still youthful. Licorice, blackberry, earth, iron, smoke, baked cherries, coffee, pepper and cinnamon scents, this big wine is packed with soft, pure, blackberry, blueberry, black raspberries and round textures. Give it another 2-5 years. I'm looking forward to popping my first bottle of 1999 Delas Bessards and a 1990 Bessards before the end of the year.

94

points - Tasted

Nov 13, 2011

2075 Views

1998 Delas Bessards was decanted about 2 hours before consumption. This dark colored wine has a powerful perfume that's filled with smoke, ripe plums, blackberries and spice. Still young, with fleshy textures, concentration and intensity of flavor, this round wine is approachable for a young Hermitage. The polished, black fruit filled finish lasts for close to 40 seconds! This can be enjoyed now, or over the next 12-20 years.

95

points - Tasted

Oct 5, 2010

2337 Views

Dark ruby with a nose resembling cherries, black fruits and spices blended with iron and minerals. Good concentration and depth of flavor. Well balanced. A lot of weight on the palate with a long finish packed with ripe, juicy fruits.

93

points - Tasted

Oct 12, 2008

1694 Views

1997 Delas Frères Hermitage Les Bessards

Initially tight when popped and poured, with coaxing, smoke, blackberry and peppery scents could be found. This full bodied wine ends with a red fruit finish coupled with hints of tart cherry, that detracted from the wine.

89

points - Tasted

May 26, 2010

1501 Views

1990 Delas Frères Hermitage Les Bessards

As wines age, every bottle is differernt. Some are better and of course, some are worse. We got lucky with this bottle of 1990 Delas Bessards, as it was much fresher and more interesting than the previous bottle from the same case. The debut vintage of Delas Bessards offers smoke, earth, minerality, black cherry, spice, truffle, tobacco and tar. Soft, elegant, ripe, spicy cherries and strawberry complete the finish. This is fully mature. There is probably not much to gainied by holding it any longer.

93

points - Tasted

Aug 13, 2012

1038 Views

1990 Delas Frères Côte-Rôtie La Landonne

A complex nose of licorice, bacon fat, spice, cherry, garrigue, smoke and ripe, black raspberry and barbeque filled the perfume. Medium/full bodied, soft and supple, this fully mature Hermitage wine finished with fresh, spicy dark berries.

92

points - Tasted

Dec 4, 2011

897 Views