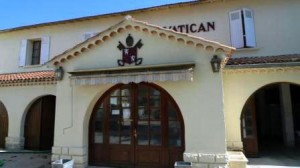 Cuvee du Vatican, Chateauneuf du Pape, Rhone wine producer profile with wine tasting notes, wine ratings, a history of the property, information on wine making and terroir, along with wine tasting reviews and images. If you want to read about other important wineries and wine makers from the Rhone valley: Links to all Rhone Valley Wine Producer Profiles
Cuvee du Vatican has been making wine in the Rhone for about as long as their vines have been growing. And that's over 100 years! However, the family has been in Chateauneuf du Pape for even longer. The Diffonty's have roots dating back to the 17th century. Prior to making Chateauneuf du Pape wine, the vineyards were devoted to planting various fruits and olives. Things changed for Cuvee du Vatican at the start of the 20th century. In 1902, Cuvee du Vatican produced, bottled and sold their first vintage. Prior to that date, their harvests were sold in bulk to negociants.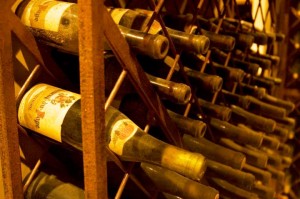 Cuvee du Vatican became more focused on their winery when they began bottling their wines at the domaine in 1952. Three years later, they opened tasting room. Felicien Diffonty, who had been managing Cuvee du Vatican since 1945 was succeeded by his son Jean Marc and his wife Karine in 1992.
The 22.4 hectare vineyards of Cuvee du Vatican, located in Chateauneuf du Pape are planted on a myriad of terroirs with a lot of sand, loam, limestone and stones of various sizes. They have old vines. Their oldest Grenache vines date back to 1905, those are planted in the La Crau sector.
The wine changed for the better in 2001 when they began to complete destem their grapes in 2001. The wine at Cuvee du Vatican is aged in a combination of foudres and old, small oak barrels. In 1998, Cuvee du Vatican began producing the popular, Reserve Sixtine wine from some of their oldest vines. It's usually a blend of mostly Grenache with Syrah and 15% Mourvedre. It's an outstanding Chateauneuf du Pape wine that sells for fair price for it's quality. Close to 2,000 cases are made per vintage. Cuvee du Vatican also produces two Chateaneuf du Pape Blanc wines as well.
Wine Tasting Notes
Displaying 5 vintages | 12798 Views Sorted by vintage
2010 Cuvée du Vatican Châteauneuf-du-Pape

Earthy, forest floor, kirsch, animal and smoked meat aromas get you interested in the wine. Soft, round and chewy, the wine ends with ripe, black cherries.

92

points - Tasted

Mar 21, 2012

1172 Views

2007 Cuvée du Vatican Châteauneuf-du-Pape Réserve Sixtine

Vatican Sixtine remains one of my Chateauneuf du Papes. Who can complain when a winery blends fair prices with good quality? This big, powerful, rich, ripe wine is filled with dark jammy berries, fresh cracked pepper, raspberries, earthy aromas, supple textures and a long finish.

94

points - Tasted

Jan 12, 2011

4419 Views

2006 Cuvée du Vatican Châteauneuf-du-Pape Réserve Sixtine

Deep in color, with licorice, blackberry, earth, spice and garrigue, the wine felt rich with its round, open style. I imagine it will only get better over the next few years. Modern in style and a lot of fun to taste.

92

points - Tasted

Oct 11, 2012

1441 Views

2003 Cuvée du Vatican Châteauneuf-du-Pape Réserve Sixtine

Produced from incredibly low yields ranging from 17 to 25 hectoliters per hectare, this rich, intense, powerful, plush style of Chateauneuf du Pape remains deeply colored. With a nose packed with fennel, jammy blackberry, blue fruit, pepper, herbs, spice, griotte and smoke, the wine slides from the glass, filling your palate with pleasure. It's big, rich and packed, yet everything is in balance. There is no sensation of heat from the 15.7% alcohol. Vatican Sixtine remains one of the best values in a world of increasing prices. I'd drink this over the next 5 years to preserve its freshness and fruit.

94

points - Tasted

Mar 3, 2012

2182 Views

2001 Cuvée du Vatican Châteauneuf-du-Pape Réserve Sixtine

Black pepper, plums, dark cherries, jammy black raspberries and kirsch aromas make way for a concentrated, rich, mouthful of ripe Grenache. This is drinking great today.

93

points - Tasted

Jan 12, 2011

3584 Views