1989 Château Montrose St. Estèphe Bordeaux France Wine Tasting Note
140908 Views
Often as good as, and sometimes even better than the famous 1990, this bottle was singing at the top of its lunch with layer after of sweet, ripe, juicy currants, flowers, citrus, and cedar. Long, intense, concentrated, full-bodied, and harmonious, this is one of the wines of the vintage. Drink from 2023-2055.
2,916 Views
Tasted

Sep 27, 2023
A thrilling wine that is happily catching up to the 90 in quality, and sadly, catching up in price as well. Full-bodied, deep, concentrated, long, intense, complex and powerful, the wine opens with an incredible nose of tobacco leaf, cedar, cigar box, ash, spice and currants. There is fabulous volume, weight and density on the palate and in the long, cigar, and red berry-packed finish. An hour of air would really add a lot to the wine. In a few more years, I'd bet and give odds this scores even higher!
5,307 Views
Tasted

Oct 18, 2021
Smoky, cigar box, tobacco, spice and cassis on the nose pop with little effort. On the palate, the wine is powerful, full-bodied, chewy and loaded with juicy, ripe, fresh red berries and cigar wrapper. Long and vibrant, the tannins have softened and the secondary nuances are more attractive than ever. At 30 years of age, this is at maturity and delivers everything fans of Montrose could have hoped for.
4,527 Views
Tasted

Feb 22, 2019
It's been 2 years since my last tasting note on this wine. The past 24 months has added more softness and approachability to this beauty. With 2 hours of air, the tobacco, olive, cedar chest, cigar wrapper, forest leaf and dark red fruits shine on the nose. When you get to the palate, the wine is still youthful, with freshness to the fruits. There is concentration, power, and refined elegance, leaving you with a peppery, cedar and, red fruit finish. At a few months before the wine hits 30, this is still going strong.
5,340 Views
Tasted

May 17, 2018
A super example of this wine in all its tobacco, cassis, spice, earth, cigar box and cedar wood charm. Full bodied, concentrated, masculine, yet refined, the finish kept going, with close to 60 seconds of fresh, spicy, ripe fruits that shifted from black to red. The bottle was decanted for about 2 hours before serving. This was much better than the last bottle I tasted about 6 months ago.
6,412 Views
Tasted

Feb 2, 2016
With age, every bottle develops its own personality. This bottle was not at the same level as previous, recent experiences. While good, with its nose of cigar box, cedar, pencil, tobacco, earth, blackberry and cassis, the wine did not display its usual, unreal levels of depth and mouth filling concentration. With 2 hours of air, the wine fleshed out, but not as far as it should. This is not to say the wine is not where it used to be, far from it. I'm simply letting you know where this one bottle was. I'm willing to bet, the next bottle will show much better.
6,522 Views
Tasted

Jul 19, 2015
This is the real deal here. The knock out nose of tobacco, cigar box, cedar chest, earth, blackberry and cassis is all there. Full bodied, intense, mouth filling, long and intense, the fruit really leaves a lasting impression on your palate. This is great now and will be even better in 5-10-15 or 20 years! This is one of those price wines that is truly worth the money.
5,978 Views
Tasted

May 12, 2015
What a wine! The tobacco, earth, spice, cassis, blackberry, cedar, earth and truffle nose is a winner. But that's just the warm up. The palate is where the real action takes place. The fruit does not quit and neither does the finish. This is stellar now, and if you wait, it's going to be even better.
7,042 Views
Tasted

Oct 31, 2014
WOW! Seldom are wines in the Oh My God category. 1989 Montrose is the real deal. Explosive levels of perfume filled with crushed gravel, stone, licorice, tobacco, cocoa, creamy blackberry, mint, caramel, smoke, truffle and incense are off the charts. There is only a minor whiff of barnyard aromas, which adds to the complexity. Powerful, full bodied and almost dense enough to eat with a spoon. This beautiful, pure wine coats your mouth, palate, teeth and gums with sweet, polished, jammy blackberries, There is an intense purity to this stunning wine. The long, finish remains etched in your palate and mind as it builds in flavor and intensity for almost 60 seconds. This sublime tasting experience is only going to get better for several decades. If you love Bordeaux, this wine belongs in your cellar.
12,562 Views
Tasted

Apr 8, 2013
1989 Chateau Montrose is so good, it's close to being off the charts! Not only is this a stunning wine, it's remarkably consistent as well. Licorice, espresso, cassis, jammy blackberry, earth, truffle, smoke, cigar box and stone aromas grab you. But it's the waves of fresh, intense, expansive fruit and spice that remain on your palate for close to 60 seconds that you know, this is what great Bordeaux is all about. This wine is often compared to the 1990 Montrose. This is almost as good, or even better if you like, and it sells for a fraction of the price. This can be enjoyed today or aged for 30 to 50 more years! The wine was produced from a unique blend of only two grape varieties, 70% Cabernet Sauvignon and 30% Merlot.
8,346 Views
Tasted

Oct 28, 2012
Can this wine get any better? Each time I taste 1989 Montrose, it seems to improve. It's full bodied, powerful, concentrated, rich, deep, complex and offers a big mouthful of ripe black fruit, spice, tobacco and earth. The tannins are ripe and the finish must last at least 60 seconds! Everything about this wine is in balance. Drink this now, or hold it for 20 or more years. With the exception of the 2003 Montrose, this is the vintage of Chateau Montrose to own.
9,352 Views
Tasted

Aug 7, 2012
Tobacco, truffle, cassis, wet earth and BBQ aromas reveal themselves without much effort. Full bodied, dense and filled with blackberry, cassis and earthy flavors, this mouth filling wine coats your palate with layers of rich, ripe, roasted, spicy black fruit. Still young and fresh, this beautiful example of Montrose that perfectly pairs power with elegance will evolve for decades.
11,097 Views
Tasted

Mar 22, 2011
1989 Montrose continues developing in a positive direction at a slow and steady pace, showing this is a wine for the ages. Filled with powerful scents of truffle, tobacco, cassis, earth, slate, cassis, chocolate, spearmint, underbrush and smoke, the Bordeaux wine is powerful, concentrated and dense. The wine ends with a hint of dusty tannins, a long cassis and blackberry filled finish. Many 89 Left Bank wines have developed a green streak in the finish. That is not the case with 89 Montrose. This is a contender for one of the top wines of the vintage from the Left Bank. 97 Pts
10,353 Views
Tasted

Nov 17, 2010
Deep ruby with hints of brick in the hue. Cassis, cedar, earth, mineral, truffle, and licorice scents are made even more complex by intriguing notes of Asian spice. This Bordeaux is dense and concentrated. The mid palate is where it truly shines. The rich, corpulent, multi-layered mouth feel ends with a blast of spicy, black cherry and black berry that lasts at least 40 seconds. After the wine had been decanted about an hour, I scored it 96 Pts. But after a few more hours of air, the wine developed additional nuances, and an elegance married to a power that was stunning. I ended up scoring it two points higher.
7,690 Views
Tasted

Jun 19, 2009
This is the real deal. F the 90! To me, this is a better wine. At the table I referred to it as "Black Death!" Why? Because it starts with an inky, black color and offers an incredibly complex Bordeaux perfume of black fruits and finishes with a compelling palate wash of intense, rich, ripe black fruit. Still young, it will improve for decades. This wine is First Growth in quality! And at half the price of the 90, (a wine I never understand) this is the wine to buy. The 90 is more concentrated and possibly when fully mature, clean bottles will best the 89. But if the money were the same, I'd swap my 90 for 89 all day long.
6,770 Views
Tasted

Feb 10, 2008
On the palate, a wonderful sensation of multiple layers of deep, rich, concentrated black fruit washed over your senses. Still tannic, this wine might take another decade before it becomes fully mature. For Montrose, this is almost supple.
5,986 Views
Tasted

Jul 7, 2007
This huge wine is packed and stacked with layers of deep, ripe, black fruit. On the nose, a hint of horse adds to the complex scents of oak, spices and black fruit. Very powerful, concentrated and full bodied, this wine will only get better with time.
5,875 Views
Tasted

Feb 27, 2006
Herbs, olives, cassis, blackberry and wood aromas coupled with amazing concentration make this wine hard not to notice. Huge, expansive mouth feel. Multiple layers of deep, rich, ripe dark fruit cascade over your palate. While this is a monster of a wine, it's a monster with manners. There is a lot of tannin to resolve.
6,033 Views
Tasted

Oct 5, 2005
Sporting an opaque, purple, ruby, robe the wine had a great perfume. Black fruit, oak, spice and cassis on the nose. Very tannic, dense wine. Multiple layers of rich, ripe black fruit coat your mouth. This is a huge wine, but balanced. More bottle age will improve this already exceptional wine.
5,934 Views
Tasted

Aug 5, 2004
This wine is First Growth quality! It is that good! The color is an opaque, purple with no lightening at the edge. The nose offers spectacular scents of walnuts, dark black fruits and cedar. On the palate the weight and depth are incredible. Full bodied does not begin to describe it. Immense concentration, but it's not heavy. It's light on it's feet but in a masculine style. This fills your mouth coating your palate with sweet ripe fruit and soft tannins. This is so unctuous you could almost eat it with a spoon. The wine is seamless. The finish lasts over :50 seconds.
6,866 Views
Tasted

Jan 26, 2004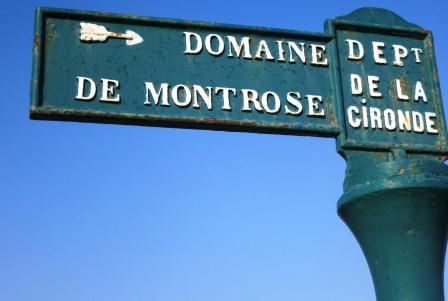 When to Drink Chateau Montrose, Anticipated Maturity, Decanting Time
Chateau Montrose is a wine that demands time in the cellar. Due to the large amount of tannins, concentration, and structure, the wine is always better with at least 10-20 years of bottle age. Of course, that can vary slightly, depending on the vintage.
Chateau Montrose offers its best drinking and should reach peak maturity between 15-50 or more years after the vintage. Young vintages should be decanted for at least 2-4 hours. This allows the wine to soften and open its perfume. Older vintages might need very little decanting, just enough to remove the sediment
Chateau Montrose Style and Character of the Wine
Chateau Montrose at its best is powerful, refined, masculine, elegant, and complex. The fruit has a richness that fills your mouth and coats your palate. But the wines are also firm and tannic.
The wine of Chateau Montrose can age and evolve for decades. In fact, purchasers should know, that in the best vintages, the wine requires decades to develop. Chateau Montrose is seldom a wine that is fun to taste in its youth. It's a very long, lived wine.
The 1921 Montrose tasted recently was still in top form! If you've ever wondered why Chateau Montrose is prized by Bordeaux lovers all over the world, 1989 Chateau Montrose is the wine to buy.
That being said, for a Montrose to age, the 2009 Chateau Montrose is off the charts, deserving its 100 Pt score and a place in your cellar, if you can afford it! Chateau Montrose has been one of the top producers in Bordeaux for decades. However, under the direction of Herve Berland, it looks like the best is yet to come.
Serving Chateau Montrose with Wine, Food, Pairing Tips
Chateau Montrose is best served at 15.5 degrees Celsius, 60 degrees Fahrenheit. The cool, almost cellar temperature gives the wine more freshness and lift.
Chateau Montrose is best served with all types of classic meat dishes, veal, pork, beef, lamb, duck, game, roast chicken, roasted, braised, and grilled dishes. Chateau Montrose is a perfect match with Asian dishes, hearty fish courses like tuna, mushrooms, and pasta as well as cheese.