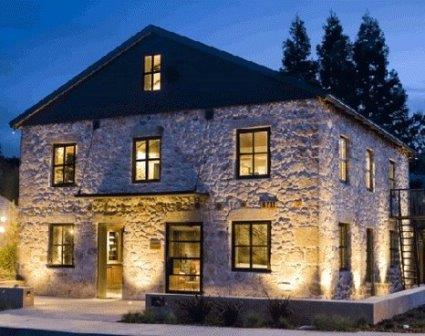 Everything about Lail Vineyards Napa Valley California Cabernet Sauvignon wine producer profile, wine tasting notes, wine and food pairing tips, best vintages, history of the property, information on their wine making techniques, terroir and soil. You can also read about the Grapes used for California wine and learn about the extensive History of Napa Valley, California Wines
Lail History, Overview
Founded by Robin Lail, Lail Vineyards and its namesake have one of the most important lineages in the history of the Napa Valley that goes back to the late 1800's! More recently in the family history, Robin Lail is the daughter of John Daniels Jr. If the name John Daniels Jr. sounds familiar to you, it should. John Daniels Jr. was responsible for ushering Inglenook Vineyards into the modern age. Through generations of inheritance, John Daniels Jr. is a descendant of Gustave Neibaum, the founder of Inglenook Vineyards. Even though John Daniels Jr.was clearly born into a life of wine, he married a devout Mormon. Because his wife did not believe in alcohol, instead of eventually passing on Inglenook to his children, he sold the famed estate in 1964.
In time, this eventually led to the founding of Merryvale with Bill Harlan and the creation of Dominus, with Christian Moueix in 1982. Dominus was created using the Napanook Vineyard, which Robin Lail inherited from her father, after he passed away in 1970. After selling her interests in Dominus and Merryvale, Robin Lail took a few to put together Lail Vineyards, which released their first wine in 1995. One of the first moves Robin Lail made was to bring in Philippe Melka as her consultant, a relationship that continues through to today. The first release for the fledgling winery was the 1995 J. Daniels Cuvee, produced from a blend of almost equal parts, Cabernet Sauvignon and Merlot.
Lail Vineyards, Vineyards, Grapes, Wine, Winemaking
Lail Vineyards was founded using the families last remaining parcel of vines from their inheritance, the 2.5 acre Totem Vineyard. The Totem Vineyard was part of the original tract of vines used to create Inglenook. They also own property on Howell Mountain, the 3 acre Mole Hill Vineyard, which rests at just above the fog line, at 1,600 feet. Up here, you find soils with rocks and loam, perfect for Cabernet Sauvignon. Lail Vineyards also uses grapes from various sources in Coombsville, Dutch Henry Canyon, Oakville and St. Helena.
The 1995 marked the initial offering from Lail Vineyards, the 1995 J. Daniels Cuvee, produced from a blend of almost equal parts, Cabernet Sauvignon and Merlot. Each subsequent vintage included a more substantial percentage of Cabernet Sauvignon. This process continued until 2001, when the wine began being produced using 100% Cabernet Sauvignon. The name eventually changed as well, moving from Lail Vineyards J Daniel Cuvee to Lail Vineyards Cabernet Sauvignon J Daniel Cuvee. J Daniel Cuvee is aged in an average of 75% new, French oak barrels for up to 20 months before bottling.
Lail Molehill Cabernet Sauvignon, from their Howell Mountain vineyards was first released in 2007. Lail Molehill Cabernet Sauvignon is aged for up to 24 months in 100% new, French oak barrels before bottling.
Coinciding with the move to 100% Cabernet Sauvignon for the flagship wine, Lail Vineyards introduced Lail Vineyards Cabernet Sauvignon Blueprint, which was seen as their second wine. Lail Blueprint is aged in about 50% new, French oak barrels for close to 18 months, prior to being bottled.
Lail Vineyards also produces Sauvignon Blanc from vines planted in the Oakville appellation. 2002 marked the debut vintage for their white wine, initially called Georgia. That was eventually changed to Blueprint. Blueprint Crocker Vineyard began being produced with the 20007 vintage.
Serving and Decanting Lail Wines with Wine, Food, Pairing Tips
Lail Vineyards is best served at 15.5 degrees Celsius, 60 degrees Fahrenheit. The cool, almost cellar temperature gives the wine more freshness and lift. Young vintages can be decanted for 1-3 hours, depending on the character of the vintage. This allows the wine to soften and open its perfume. Older vintages might need very little decanting, just enough to remove the sediment. Lail Vineyards is best served with all types of classic meat dishes, veal, pork, beef, lamb, duck, game, roast chicken, ribs, hamburgers, barbecue, roasted, braised, grilled dishes and stews. Lail Vineyards is also good with Asian dishes, hearty fish courses like tuna, salmon, mushrooms and pasta.
Sauvignon Blanc, the white wine of Lail Vineyards is best served with all types of seafood and shellfish, sushi, sashimi, tuna, salmon, chicken, veal, pork and cheese.
Lail Vineyards Wine Tasting Notes
7 Vintages 24,415 Views Sort by Vintage-Rating
2015
Lail Vineyards Cabernet Sauvignon J. Daniel Cuvée (Napa Valley)

Black and blue fruits, black cherry, smoke, licorice, vanilla bean and cigar wrapper opens the wine. On the palate, the wine is rich, round, fleshy and flashy, with waves of dark, chocolate covered black fruits. Even with all this power, there is a refinement to the character that really works for me. Concentrated, full bodied and showy, this can be enjoyed young, for its lively fruit, or aged for those that prefer secondary development.

3,875 Views

Tasted

Feb 22, 2019

2013
Lail Vineyards Cabernet Sauvignon J. Daniel Cuvée (Napa Valley)

Power and purity are in abundance here in this 100% Cabernet Sauvignon based wine. Dark in color, richly textured, with ripe, polished tannins, intensity of flavor and concentration, the wine serves up a solid wave of blackberry, dark chocolate, licorice, blue fruit, vanilla and wet earth. Stylish, character driven and ripe, but not overripe, everything seems to work here. Quite youthful as you would expect at the moment, once everything falls into place, this will be a fabulous expression of California Cabernet Sauvignon.

3,466 Views

Tasted

Feb 15, 2017

2012
Lail Vineyards Cabernet Sauvignon Blueprint (Napa Valley)

Medium/full bodied, with a black cherry core, floral notes, ripe, soft tannins and a long, licorice infused, dark red berry finish.

1,999 Views

Tasted

Nov 21, 2014

2011
Lail Vineyards J. Daniel Cuvée (Napa Valley)

Medium bodied, easy drinking in style, with an olive and black raspberry character. Drink this on the young side.

3,607 Views

Tasted

Nov 21, 2014

2010
Lail Vineyards J. Daniel Cuvée (Napa Valley)

From 100% Cabernet Sauvignon, this lush, sensuous, display of ripe dark fruits, licorice, espresso and smoke delivers a fresh, round, full bodied, polished finish. This should age quite well.

2,775 Views

Tasted

Nov 16, 2013

2009
Lail Vineyards J. Daniel Cuvée (Napa Valley)

Inky in color, with fresh black raspberry, floral, truffle, spice and black cherry. Rich, soft, ripe and silky, polished textures end with a long fresh, sweet finish.

3,692 Views

Tasted

Dec 25, 2012

2009
Lail Vineyards Cabernet Sauvignon Blueprint (Napa Valley)

Forward in style and filled with licorice, ripe jammy berries, earth and oak, the wine features round, soft, textures, and a ripe, fruit filled finish. This is another 2009 Caberent Sauvignon that offers good quality, style and sells for a fair price.

2,447 Views

Tasted

Oct 12, 2012

Licorice, herbs, blackberry and olive scents make up the perfume. The supple textured wine is slightly marred by a touch of green and tartness in the finish.

2,554 Views

Tasted

Nov 26, 2011