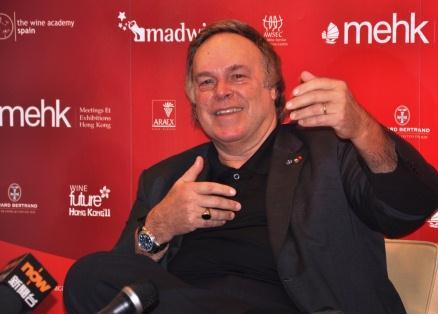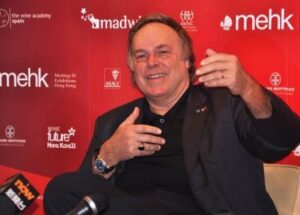 How much does Robert Parker matter in wine prices for Hong Kong? Especially for Bordeaux wine and the sales of Bordeaux wine futures!
Written by Wine Times HK – www.winetimeshk.blogspot.com
Hong Kong is a place where avarice is rife and where brand names and labels are just another part of the daily grind one has to put up with. If there is a place in the world with the highest density of Louis Vuitton shops then Hong Kong has to be it.
It is also the hub of fine wine in Asia and last year had the largest turnover of fine wine both in volume and revenue at auction in the world.
So does a country that likes it's fine wine care about what point scores influential critic Robert Parker gives to wines or do we just buy brand named fine wines so we can put them on the dinner table to showcase to our friends how much money we are capable of spending?
To find out more I put a survey on our company Facebook page and asked local Hong Kong wine lovers, sommeliers and people in the trade for their opinion.  Expecting to get a result heavily weighted towards "No, Parker points have no influence over wine purchases in Hong Kong", I was surprised by the result.
It was a dead heat. Of the 80 respondents, it was split evenly down the middle.
Speaking to Marco Vazquez, fine wine manager at Jebsen Fine Wines here, Mr. Vazquez told me. "Many buyers most definitely take Parker points into account when buying wine but some are motivated by other factors.
Some swear by RP and won't buy anything under a certain rating and others only use the rating as a guideline.  If a wine of HK$300 or HK$400 get's a score of 96 or 97 points it's an easy sell as some consumers seem to think it has to be, at the very least, good value for money.
The other trend is the consumer just buying on the "perceived" prestige factor alone with zero thought of what Mr. Parker thinks.  Certain second wines of famous Bordeaux wines have doubled and tripled in price over the years to more than HK$600 a bottle while never even reaching a score of 90 RP".
Some buyers are not interested in Parker points because they feel it has adversely affected the price of the wine, that is, making a wine more expensive, and not necessarily better, just because it has a higher points score.
Mr. Wong, a buyer and lover of fine wines said. "Speculation on wine and the Parker point system in Hong Kong means you are really just paying more for a wine because someone else says that it's good.
We have a different palate from those from the West and so Parker's assessment of the wine and final scoring may not mean it's a good wine for the Chinese palate".
Alasdair Nicol, wine writer for Time Out Hong Kong said. "Whilst his scoring system is a fair barometer of the quality of the wine, it does not tell us whether or not we ourselves will like the wine and, in fact, it is just his opinion on the wine".
But Parker himself is admired here in Hong Kong and in many people's minds, a deity when it comes to wine referencing. At his visit during WineFuture 2011 his tutored tasting of Bordeaux 2009 was completely full and so were his private dinners and events.
One event at the Peninsula hotel auctioned off seats for a private dinner with the man himself. The starting price for a seat….US$10,000. The dinner was a sellout.
However, Ross Chan, director of Invinity Limited thinks Parkers influence on wine purchasing is waning somewhat here. "The influence only happened during early years, especially when wine was really a luxury item. When you needed quick guidance, that's what they looked up back then.
Now Hong Kong consumers are more educated thanks to available wine classes and our government for providing guidance and making wine much more accessible for the general public. Mostly, the only people who would stand strong on Robert Parker are mostly beginners or blind purchasers".
Running on the wave of enthusiasm of Parker's scoring of 2009, Hong Kong has seen a muted response to actually brining the wines into the territory – probably due to a huge overstocking of the 'critically-acclaimed' 2008 vintage that people here are struggling to get sold these days. What is here, for example Pontet-Canet 2009, did the expected and rose by 8 per cent in price after the praise heaped on the 2009 vintage recently (it rose from HK$1490 to $1600 per bottle).
However, other 100 point wines have seen a recent drop in price in the last 6 months. Take Chateau Lafite 2003 for example – a brand held in very high regard in these parts of the world. Since November 2011 the price has fallen from HK$13,775 per bottle to HK$12,350 per bottle – a fall of around 11 per cent.
So opinions are still very much divided here. In a country that has been the financial centre of Asia for over a century, investment is key and high scoring wines will, in most people's eyes, appreciate faster than lower scoring wines making them an ideal purchase for investment. For the everyday drinker of wine, it's hard to say if Parker has much influence. For me, I don't care. I think that some low scoring vintages like 2007 are fantastic and have lower scores because they are not ideal for cellaring and ageing, which makes them great for drinking right now – which is exactly what I want from a wine.