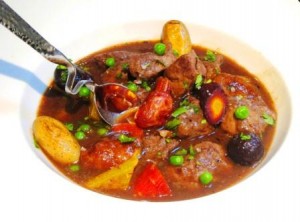 Bordeaux  and lamb have been considered a perfect pairing for centuries. There are just as many Bordeaux wines to chose from as there are ways to prepare lamb. When it comes to colder weather, few dishes are better than slow cooked lamb, especially braised or in stew. Slow cooking releases flavors and fats that coupled with wine, offer sumptuous, rich, savory, dining experiences. That is why Bordeaux and Lamb make the perfect pairing.
Stews are easy to make. But to get the best concentration of flavor, it takes time and fresh ingredients. Stews are versatile. They can be made from chicken, beef, veal, pork, fish etc. But for Bordeaux wine, lamb is a perfect choice.
The few tricks I use seem to work well. This type of food is easy to prepare and not expensive. The first steps are labor intensive. But that's fine with me. I enjoy taking the time to cook. The clean up, well, that's another issue. With that in mind, let's get started on Bordeaux and Lamb.
Tougher cuts work best. They break down with braising. The gelatin that's released adds to the richness of the sauce and complexity of flavor that is not found in other cooking methods. Grab a heavy pot and turn up the heat. Heat helps seal in the flavor, adds a slight, crusty texture and delivers material for deglazing. With lamb cut into about 1″ squares, dredge the pieces in flour, salt, pepper and place them in the hot pan with canola or olive oil and brown all 4 sides. Don't over crowd your pan. Overcrowding the pan makes it more difficult to sear.
Once seared, remove the pieces and place in a bowl. Dice an onion, drop the pieces in your pot and sweat the onion. With a spatula, scrape all the flavorful, small pieces from the bottom of the pan and mix them the onion.
It's time to add the wine. Remember, if you can't, or would not drink the wine, don't cook with it. Use wine you'd drink to cook with. Add the entire contents of the bottle into the pot, bringing the wine up to boil. reduce the wine by half. Add your stock and choice of seared meat, in this case lamb, and cook at a low simmer for 2-3-4 hours and add your choice of root vegetables, and or mushrooms and cook for another hour or so. Don't add salt or pepper to the stock or vegetables at this stage. Add seasoning as needed at the end. The stock is going to reduce and you could end up with too much salt. You can always add additional seasoning, you can never remove it.
If you want to end up with a rich, thick stock, cook with the top off.  If you desire a lighter broth, leave the top on, or place the lid on the pot so that only a small portion of the liquid is visibile.
Serve this all by itself, or if you did not add potatoes, spoon it over mashed potatoes. Few dishes are better, it's difficult to overcook and as you'll see, few dishes taste any better, especially when paired with Bordeaux wine than Bordeaux and Lamb .
Bordeaux wine comes in all shapes and sizes. For our pairing with braised lamb, we opened 2003 Pontet Canet, from Pauillac.
2003 Pontet Canet – Decanted for two hours and tasted over the next two hours, the perfume offered cassis, licorice, earth, truffle, smoke, black plums, earth, cedar wood and green peppers. Full bodied with voluptuous textures, the wine finishes with a rich, refined, cassis, chocolate and juicy black plum finish. While not mature, this beautiful Pauillac is delivering a lot of pleasure and will only get better over the next several decades. If you have a case and want to see where the first outstanding vintage from Alfred Tesseron is at; you will not be disappointed. This is my best score for this wine yet. Over the next decade, it might even go higher! 95 Pts
As a tip, if you're thinking about buying 2009 Pontet Canet, you might want to purchase it before Robert Parker releases his final scores. I've tasted this wine multiple times and it's stunning! As good as the 2003 Pontet Canet is, this is a better wine. Chances are Parker is going to give 2009 Pontet Canet a very big score. Along with the lamb stew, this is just food for thought.