An overview of the unique, dry and sweet wines of Tokaji wine region of Hungary, written by Ben Weinberg
Although the trip from Vienna to Budapest is short, the remainder of the journey takes several hours even at cruising speed.  This allowed me to catch up on my thoughts about where I had just been, and to plan ahead for where I was going.  But nothing prepared me for the opulence and magic of Oremus and Royal Tokaji.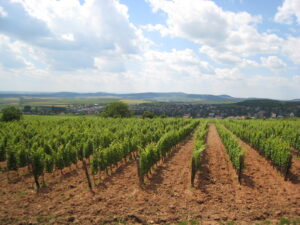 To taste Tokaji Wine in Hungary, I needed my trusty GPS only let me down once, soon after the highway changed from two lanes to one and I found myself bumping along one of the aforementioned cart paths thinking "this can't be right."  But I figured things out eventually and soon pulled up at the magnificent wrought-iron gates that guard the sanctuary of Oremus.
 Now owned by the same family that controls Vega Sicilia in Spain, Oremus is all about bringing modern winemaking and business practices to a grand name that had faded a bit during the years of Communist rule.  Due to this influx of knowledgeable capital Oremus is rising again, and through the efforts and hospitality of people like Agnes (who saw to my creature comforts) and Szabolcs (who showed me the wines and handled my Internet connections) I can confidently say that this winery is on the right track toward regaining the sparkle it once held.
Most of Tokaji's wine production is white and very dry, predominantly made from a native varietal called Furmint.  I was able to taste several vintages of Oremus's dry Furmint, all of which are currently available.  My favorite was the 2003 Dry Furmint Mandolas, which was all about sugar cookie dough (without the sugar) and velvety apricots, followed by fresh cut grass and starfruit essence.  A real revelation, the finish went on for at least a minute and brought a deep smile to my face.
As for the sweet wines, although I always enjoy the higher-sugar-level versions, I found myself attracted to the 2000 Tokaji Aszú 3 Puttonyos.  Puttonyos are 25 kilogram baskets used in the harvest of grapes that measure the addition of sweet, nobly rotten grapes known as Aszú.  The more puttonyos per gönc of dry wine, the sweeter the final product ends up.  Generally, sweet Tokaj wines range from three to six puttonyos.  Golden plums and nectarines swirl around the tongue, and the finish is all about hay and honey.  Easy to drink, and a great accompaniment to food because it's not too sweet.
I also liked the deep, nutty 2000 Tokaji Aszú 5 Puttonyos, bursting with apricots and honey, very viscous and fine.  And the 1999 Tokaji Aszú 6 Puttonyos was for me the hit of the tasting, with notes of cherries and yellow cling peaches, brown butter, vanilla and apricot brandy.  Both of these wines are quite sweet, best served with foie gras and hard, salty cheeses, especially those of the blue variety.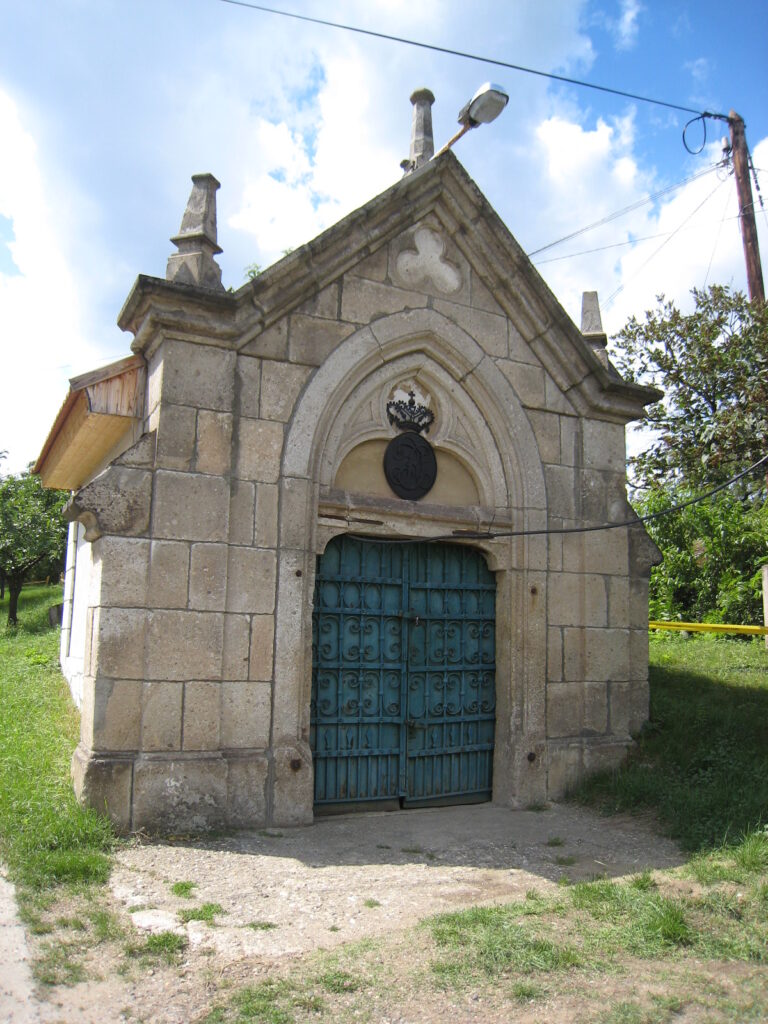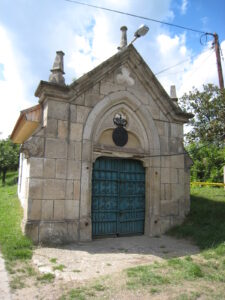 While Oremus was a revelation, I was initially (pre-Eurowine Tour 2009, that is) more sure of the quality at my next visit, Royal Tokaji, a winery whose products I've enjoyed for years.  But I wasn't even remotely prepared for the congenial, charming, extremely knowledgeable Istvan, who manages the on-site operations and who, even in the midst of a substantial renovation of the winery's facilities, found the time to spend more than four hours with me touring and tasting.  By the way, that renovation is now complete, and in 2010 the company's 20th anniversary celebrations were held in the new winery.
 Like Oremus, Royal Tokaji also produces a dry white from Furmint, this one overflowing with lime zest, olive tapenade and mint flavors, followed by roasted walnuts and fresh fruit blossoms on the finish.  As with the Oremus version, I was struck by how clean and food-friendly this was, and it deserves mention alongside any other white dinner wine I've ever had the pleasure to taste.
If you can find it, be sure to stash some 2003 Tokaji Aszú 6 Puttonyos Betsek, a melange of caramel and buttered popcorn that rounds out with bracing acidity and baking spices.  Very unusual and delicious.
 Another winner is the 1999 Tojaki Aszú 6 Puttonyos Mezes Maly.  The vineyard name translates as "honeycomb," which is entirely accurate on the palate.  There's also plenty of apricots, peaches, cherries, raspberries and melted butter.  To give some idea of the power of this wine, the last entry in my tasting note is "Wow!"
Finally, a word on Essencia, a rare wine made only from the free-run juice of nobly rotten, Aszú grapes.  It is hideously expensive, and I often find that drinking Essencia is an intellectual effort, something that must be done without any other distractions in order to fully experience the sensation.  This is somewhat antithetical to my ideas of what wine should be, but it is still a thrilling experience because of the extreme cost and rarity of wine that is made without any pressing whatsoever.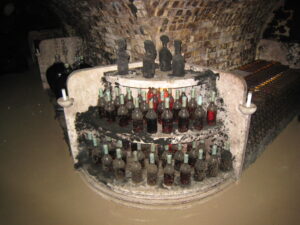 Thrilling is the only way I can describe the 2000 Royal Tokaji Essencia.  It starts out with a dark forest-floor nose that progresses to mushrooms and nuts, and the palate on this monster is ethereal.  The flavors pass by in a kaleidoscopic blur of honey, lemon pepper, apricots, peaches, currants, raspberries, and god-knows-what-else.  So velvety, so long on the finish, just so crazy good that I feel fortunate to have had the ability to taste it.  Thanks, Istvan.
So much is happening on my trip that I'm starting to fall behind in my narrative, and since the week after my Tokaji experiences was spent in regions not known for fine wine I'll try to be brief.  Budapest was a grand old city, even though all the buildings seemed to be undergoing restoration at the same time, with scaffolding and torn up streets everywhere. It's chock-full of tremendous history, a way of life that can only be described as perfectly balanced, and enough touristy vistas to keep a photographer occupied for the rest of his life.
Recommended:
White
Oremus Dry Furmint Mandolas 2003 (Tokaj, Hungary) $18
Royal Tokaji Dry Furmint 2007 (Tokaj, Hungary) $16
Dessert
Oremus Tokaji Aszú 3 Puttonyos 2000 (Tokaj, Hungary) $35/500ml
Oremus Tokaji Aszú 5 Puttonyos 2000 (Tokaj, Hungary) $55/500ml
Oremus Tokaji Aszú 6 Puttonyos 1999 (Tokaj, Hungary) $95/500ml
Royal Tokaji Tokaji Aszú 6 Puttonyos Betsek 2003 (Tokaj, Hungary) $75/500ml
Royal Tokaji Tokaji Aszú 6 Puttonyos Mezes Maly 1999 (Tokaj, Hungary) $125/500ml
Royal Tokaji Tokaji Aszú Essencia 2000 (Tokaj, Hungary) $500/500ml